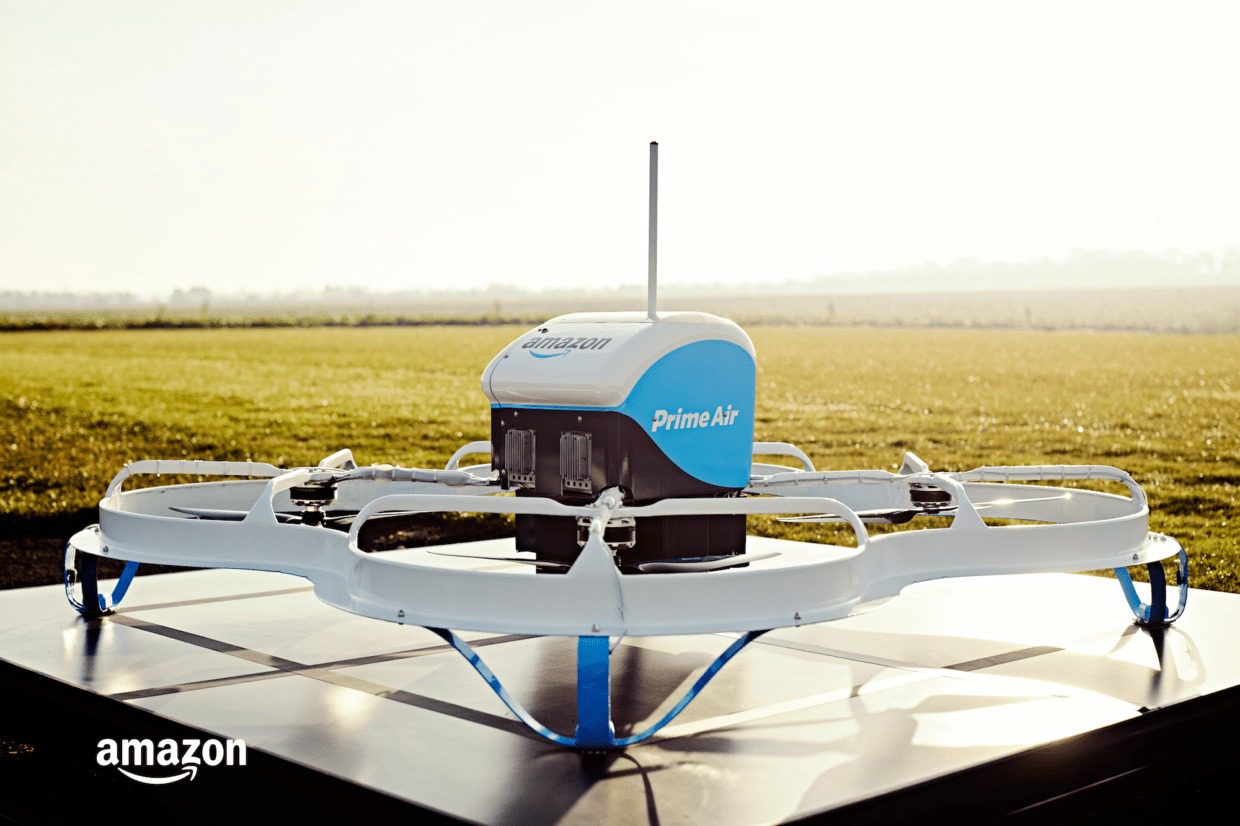 One small step for Amazon, one giant leap for retail-kind. Jeff Bezos announced on Twitter that Amazon had made its first commercial Prime Air drone delivery on Dec. 7 to an Amazon shopper in Cambridgeshire, England.
The bigger news? It took only 13 minutes from click to delivery. The first items purchased? An Amazon Fire TV streaming stick and bag of popcorn that were deposited in the yard of a nearby customer. The company says the delivery involved fully autonomous flight, with no human pilot involved in the process.
So far, the trial is only open to two customers in the UK who have a large piece of property, live close to an Amazon warehouse and order items that weigh less than five pounds. Amazon said it would now test drone deliveries with two more customers near Cambridge, where the company has a large drone testing plant. If the tests are successful, the company says it wants to expand the number of consumers who could participate in the trial to dozens in the coming months, eventually allowing hundreds to use the drone service. Amazon says it will make deliveries seven days a week during daylight hours, if the weather permits.
When Amazon CEO Jeff Bezos spoke of drones that would deliver packages to customers three years ago, retailers scoffed at the idea. But, after surmounting a myriad of regulatory hurdles and testing, Amazon's web site states that, "one day, seeing Prime Air vehicles will be as normal as seeing mail trucks on the road."
Currently, Amazon's fastest shipping option in the U.S. is its one-hour Prime Now, which costs $7.99 for delivery from a limited selection, typically delivered by a car or van. On the heels of unveiling Amazon Go, its checkout-free grocery store, the retail icon is seemingly closer to providing the ultimate in customer convenience and seamless experiences.
While Amazon's announcement is exciting, it's not necessarily a first. Chinese e-Commerce retailer — and Walmart partner — JD.com has a fleet of drones flying autonomously on round trips of a maximum of 15 miles to reach rural communities. JD.com used them during the record-breaking 2016 Singles Day.
The race for the retail skies is on.