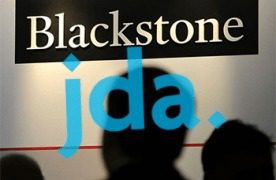 JDA has officially procured a $575 million recapitalization from investment firms Blackstone and majority shareholder New Mountain Capital.
As part of the recapitalization, which was first announced in August, JDA reduces its $2 billion total debt by approximately $500 million and lowers its cash interest charges by nearly $80 million per year. Blackstone is now entitled to a 40% stake in JDA, according to initial reports from the Wall Street Journal.
[loadposition GIAA}With this infusion of capital, JDA expects to accelerate its product innovation and growth plans to deliver cloud-based supply chain and omnichannel retail solutions, including the JDA Retail.me platform, as well as to fuel current product development and enhancement opportunities.
"This investment is a reflection of the highly attractive growth prospects for JDA and our unique ability to help customers tackle the opportunities and challenges presented by a rapidly evolving supply chain and omnichannel retail landscape," said Bal Dail, Chairman and CEO of JDA in a statement. "We are thrilled to partner with our world-class investors to further accelerate JDA's significant business momentum and pace of innovation."
The recapitalization came after New Mountain Capital decided to keep JDA rather than sell it to technology and manufacturing conglomerate Honeywell for approximately $3 billion. New Mountain Capital reached out to Blackstone during the Honeywell negotiations, proposing the structured financing deal in exchange for preferred stock and equity warrants in JDA that guaranteed returns of 7.5%.