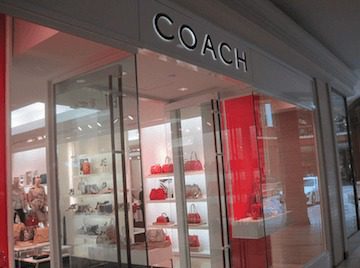 Coach is seeing the fruits of its labor two years after beginning its brand transformation, generating positive revenue and income results and achieving comparable store sales growth (of 2%) for the first time in 12 quarters. At the same time, the luxury brand also is identifying where its weaknesses continue to lie: department stores.
In its Q4/full year earnings statement, Coach reported:
Q4 net sales increased 15% to $1.15 billion;

Full year net salesincreased 7% to $4.49 billion;

Q4 net income skyrocketed from $12 million to $82 million;

Full year net income jumped 14% to $461 million.
The handbag and accessory maker is shuttering approximately 25% of its North American department store locations in response to poor sales of Coach-branded merchandise, which declined in the "high single digits" in Q4. Coach also will limit the level of markdown allowances that the remaining department stores can offer.
Considering the retailer had already put forth more effort into focusing on its outlet stores and modifying its promotion schedule when it started its repositioning effort, it's clear the brand wants to bring back some exclusivity that many consumers feel isn't provided within department store retail anymore.
Coach's pullout then becomes interesting to follow, particularly as department stores lose relevance among consumers. If Coach feels it can slowly phase its products out of unprofitable stores, it raises questions regarding the long-term future of other luxury brands and their relationships with department stores.
Only 5% of Coach's sales occur in department stores, so the company wouldn't be taking a huge revenue hit if lower performing stores were cut out of the equation. Retailers such as Michael Kors, which generate a substantial chunk of sales at department stores (40%), would be taking a bigger risk if they reduced their own department store distribution. But if the risk means eliminating the stigma of overdone promotions and markdowns, especially as consumers prefer to make discounted purchases at off-price retailers, then struggling luxury brands would at least have to consider the route.
With the full year results in hand, Coach is projecting double-digit growth in both net income and earnings per diluted share for its 2017 fiscal year, as well as a revenue boost in the low-to-mid single digits.