Over the last 10 years, Amazon has become the dominant platform that sells products to customers. There are two categories however, that Amazon has battled to conquer: apparel and furniture. In 2017, Amazon made it clear that they are trying to capture the category and place pressure on Wayfair and Williams-Sonoma.
According to Fortune, Amazon appears to be doubling down on furniture as it eyes taking a bigger piece of the $150 billion market. The company is opening a number of new warehouses to store and ship furniture as well as expanding its inventory of furniture and home goods.
The Furniture Challenge
Let's be clear about the challenge that furniture provides e-Commerce businesses:
Furniture place demands on logistics and shipping not seen with normal product purchases. The packaging required to protect goods is vastly more expensive.
Furniture products are more costly than CPG or general merchandise which creates purchase doubt for customers based on the item's higher costs.
The last-mile for furniture is significantly more capital intensive as it requires booking of delivery times, the moving of items into homes and additional set-up costs for skilled staff to ensure that the product performs as described.
Wayfair has invested significantly into an experience that is more seamless than what is seen with Amazon. It however, does not make Wayfair safe from Amazon and its formidable business. As furniture is not a commodity and contains customization, the requirements for a competitor to Wayfair will require significant investment.
Niraj Shah, speaking to CNBC, said he believes the online furniture category is different from other specialized online categories that face pressure from Amazon. "Furniture, decor, these types of items, these are non-branded items where people…want to own unique items, so they don't want to own the same exact items as everyone else. So, the way you shop for them, it's very visual in nature," he said.
After analyzing a random selection of items on Wayfair, Quartz discovered that the company often lists what appear to be identical products with different prices across its sister sites, often with completely different names. To make matters more confusing, those same pieces of furniture can often be found on completely different web sites, like Amazon, Walmart or Sears, with different names again, and different prices.
Wayfair's Challenge That Could Give Amazon The Opportunity
Wayfair's biggest challenge is logistics — getting large items to customers. The problem is that Wayfair is reliant on drop-shippers to ship items to their warehouses, which then ship the item to the customer. These drop-shippers provide Wayfair with challenges such as cancellations, the incorrect products being shipped and products damaged due to poor packaging. Wayfair has very low customer loyalty due to not owning the merchandise that they sell to customers. The problem is that Wayfair is unable to resolve this situation as the capital required to fix this would lead to potential bankruptcy.
Oversized items (over 100 lbs.) have to go via Less-Than-Truckload (LTL) or Van Lines. LTL is the most disjointed, archaic industry in the supply chain ecosystem, which leads to additional cost. LTL uses "curbside" delivery, which leaves the item on the curb. Paying for the extra person to get items off the truck and to the 'first dry area' is expensive. Van Lines can get heavy items delivered in one piece, but it takes three to four weeks for delivery. The longer a delivery takes the larger the opportunity for damage and item loss.
Large item freight leads to damage at almost twice the rate in comparison to smaller packages. Large items get lost and as they are moved multiple times via forklifts the opportunity for damage prior to delivery is high.
Most LTL carriers require a delivery appointment within a two to four hour window, so customers can be home to "receive" their item. It's like waiting for a service provider, which is highly ineffective. Wayfair requires signature delivery, which requires additional time; on average, signature deliveries take three to five days longer to deliver, especially when customers don't respond to appointment setup emails and calls.
If Amazon strategically places LTL warehouses across the U.S they would be able to deliver large items in two days nationwide. Faster shipping would place Wayfair in an almost impossible place to compete with Amazon.
Amazon has launched two private labels that focuses on the furniture category. According to Curbed, the two brands are: Rivet, a midcentury modern line aimed at Millennials, and Stone & Beam, a country-modern brand targeting families at a higher price point. Both lines focus on living room furniture and decor, featuring hundreds of pieces — including sofas, chairs, loveseats, side tables, lamps, and wall art — sold with free shipping under Amazon Prime.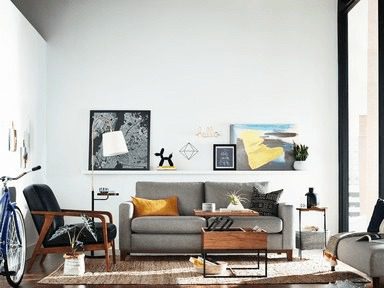 In April 2017, Furniture Today provided details of a new program Amazon was offering furniture sellers. Amazon pitched furniture stores on a change coming to its marketplace by eliminating the national delivery requirement for its furniture sellers.
Furniture retailers will set their own pricing that can change with the services an Amazon customer chooses. White glove delivery (to a dry room) is the bare minimum service requirement — no drop-off at the door — but retailers can offer additional services, including delivery to the customers' "room of choice," setup and haul away. Amazon offered a $39.99 monthly fee for an unlimited number of listings as well as 15% commission on sales and 20% on the services, according to Brett Hobson, Amazon business development representative in the furniture category. Investors showed immediate concern and Wayfair's stock price lost 5% in value.
Amazon is open to integrating furniture sellers' own financing options into listings and giving sellers the coveted Amazon Prime designation if they can prove themselves capable of handling two-day deliveries or ship products to an Amazon fulfillment center.
In November 2017, Amazon added Augmented Reality to its iPhone app to provide customers with the ability to view furniture products in their home. According to Recode, augmented reality gives customers a good sense of a product's dimensions and a decent idea of its color in relation to their home.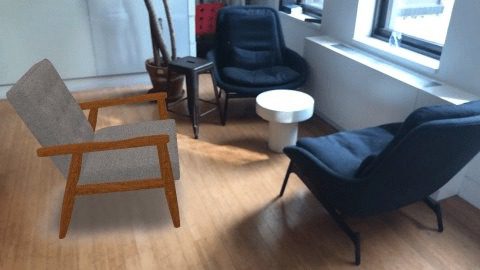 Combining these three elements together — a furniture specific program for sellers or furniture retailers, the introduction of private label furniture brands and the usage of augmented reality by Amazon for its customers' usage, and one can see that Wayfair is under threat. The "customization and that furniture category is not based on text search" argument that Niraj Shah used in 2017 has been answered by Amazon in a silent but strong manner,
Brands and furniture retailers must realize that Amazon is a platform that has customers with purchasing intent unlike any e-Commerce platform in North-America. Amazon will provide incentives to early partners who will partner with them in this new found interest in furniture and thus use this period to their benefit.
Furniture brands and furniture retailers that want to leverage this opportunity should consider using a third party to manage their Amazon business. The risk of managing it themselves is that ineffective listings and unprofitable pricing strategies could be executed. Brands that have an established dedicated team that look after their marketplace business should consider the usage of an agency or Amazon specialist service, which would be beneficial and is highly recommended.
---
Hendrik Laubscher is the Marketplace Research Director at Buy Box Experts. He is an experienced e-Commerce executive who worked for the largest emerging markets e-Commerce investor and the largest product search engine in Africa. He is an industry expert in global e-Commerce and international marketplaces.