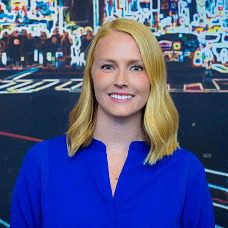 As February approaches, Super Bowl season is in full effect as teams, fans and brands prepare for the big day. While the Patriots and the Falcons prepare for the game and brands scramble to produce the best $5,000,000 (minimum) TV commercial, consumers have another mission — to buy a new TV in time for kickoff. Last year, 111.0 million viewers tuned in to Super Bowl 50 and many of those viewers were watching the Broncos and Panthers on a new HDTV.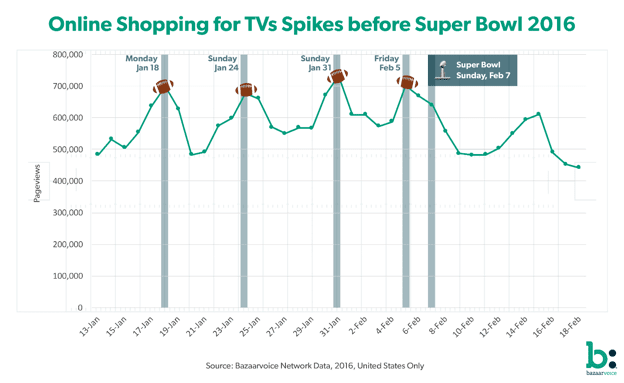 FatWallet's 2016 TV Buyer Survey revealed that at the time of publication, 26% of Americans will buy a new TV in the coming year and that of those, 25% will make that purchase during Super Bowl sales. The Bazaarvoice Network, which sees shopper behavior across more than 5,000 major brand and retailer web sites, saw this prediction come to fruition. During the pre-Super Bowl period, page view traffic for TVs increased, with the Friday and Sunday leading up to the game experiencing the highest traffic.
It is no secret that consumers want to watch the Super Bowl on the best television possible. Brands have capitalized on this by offering some of their biggest sales to not only push the latest models, but to offload the prior year's stock as well. With so many brands and retailers offering deals, it can be hard for advertisers to cut through the noise and connect with the shoppers who are in-market to purchase a TV.
Here are three tips for those looking to rise above the clutter and make the most of this year's TV sales opportunity:
1. Know Your Consumer's Path to Purchase Journey
While we know that this is prime television shopping season, what does the path to purchase actually look like? According to shopper behavior data, the average TV buyer spends seven days researching products across two separate shopping sessions. For instance, they could be cross-shopping for three different HDTV product models. Additionally, consumers often shop at a specific company, and finish their transaction at one company or within a single shopping session. While not every shopper is identical, having a firm grasp of traditional shopping patterns is an opportunity in itself to maximize exposure.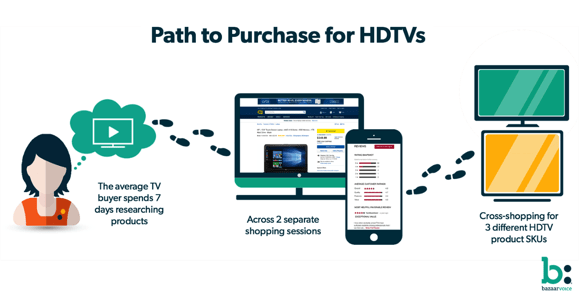 2. Know Which Features Matter Most to TV Shoppers
The next step is to know what exactly customers are looking for in a purchase. Online reviews of your products are a great indicator of this, especially considering that 82% of online electronics shoppers read reviews prior to purchase. According to our research, these are the features mentioned the most in online reviews:
Picture quality

Whether they got a good deal

Smart Features

Flat screen
Knowing what product features are important to consumers beyond price is an important step in making your advertising relevant and personalized to shoppers.
3. Leverage the Power of First-Party Data to Reach Shoppers While They're In-Market
There is only a small window for when the average TV shopper is actually in-market for a TV — just seven days from research to purchase. That means you need to be tapping into the most accurate and effective data sources to reach them in that timeframe. While many brands turn to third-party data to power their advertising campaigns, it is very possible to miss shoppers who are in-market for your product. Furthermore, you risk alienating future shoppers with outdated retargeting ads for consumers who already made the purchase. First-party data, however, is significantly more effective in finding, reaching and engaging shoppers. It enables a new level of personalization to target shoppers right as they're in that sweet spot.
The Super Bowl is not only a major sports and media event, but it's also a major boon to television retailers across the country. As we rapidly approach Super Bowl 51, retailers are under increased pressure to stand out among already fierce competition. By knowing your customers, knowing your products, and making sure you're tapping the most efficient data sources, you too can win this Super Bowl Sunday.
---
Caitlin McCulloch is the Marketing Manager for Bazaarvoice's data-driven advertising business. In this role, she primarily focuses on developing messaging and integrated marketing strategies that build awareness and drive consideration for the company's digital advertising solution. Since joining Bazaarvoice in 2016, McCulloch has helped launch the Bazaarvoice Advertising product and managed major marketing initiatives, including planning paid media campaigns and activations at top-tier adtech events, and produced thought leadership content that drives demand among key audiences. Prior to joining Bazaarvoice, McCulloch held several marketing roles at Social Media Today, an online community and resource for marketing, communications, digital strategy and customer experience professionals.