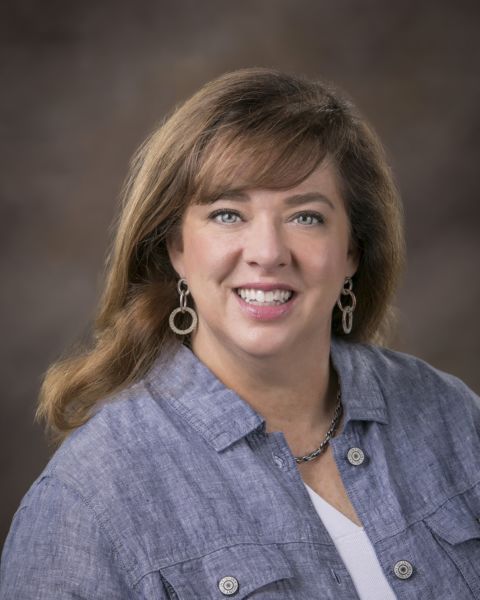 It has been said that it takes 21 days to form a habit. With most of the country having been in quarantine and ordering necessities online since mid-March (well over 21 days), e-Commerce habits forged now are likely to stick in the future.
That assumption seems to be confirmed by research published by Cotton Incorporated via their Consumer Response Surveys. The Second Wave research results from April 27, 2020 showed that 73% of respondents expect this pandemic experience to change the way they shop in the future.

This same survey also showed that since the pandemic began, 55% of consumers placed a buy online, pick up in store (BOPIS) order, with 25% doing so for the first time.
Offering BOPIS Has Quantifiable Business Benefits
According to the Q1 2020 Salesforce Shopping Index report, sites offering BOPIS grew digital revenue 92% between March 10-20, 2020 compared to 19% for sites not offering BOPIS. The good news for BOPIS continued in April. As shown in the Adobe Analytics' 2020 Digital Economy Index, BOPIS orders increased 208% for the first 20 days of April compared to the same timeframe a year ago. How retailers handle this kind of volume and create a great customer experience, while dealing with the new retail realities of contactless pickup caused by COVID, will determine their level of success in the future.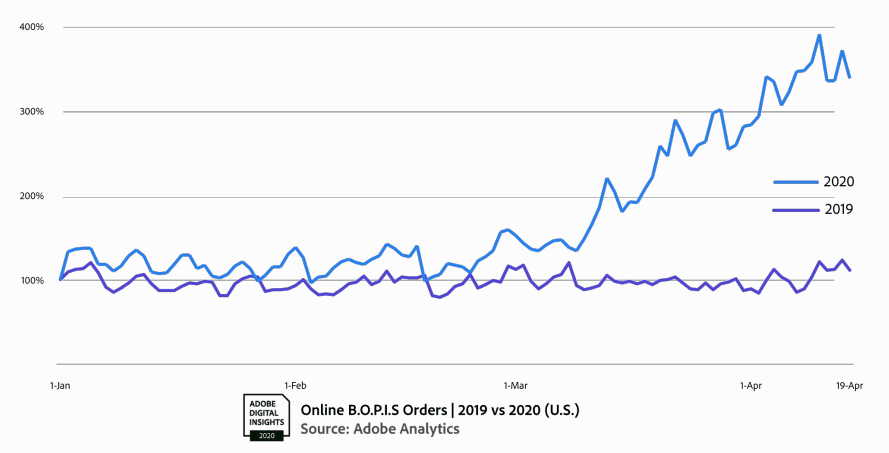 BOPIS Fulfillment Options
How retailers fulfill BOPIS is the hot topic. The most common method pre-COVID was in-store pickup at the customer service desk or a designated pickup area. This method is time- and resource-intensive and requires person-to-person contact. SaaS provider Qudini announced in a recent survey that 62% of consumers are embracing BOPIS options in order to reduce potential coronavirus exposure. A contactless way to fulfill BOPIS has become a public health necessity virtually overnight.
As brick-and-mortar retailers grappled with ways to stay connected to their customers while complying with local restrictions and guidelines imposed as a result of this pandemic, many quickly pivoted to curbside/drive-up (trunk delivery). However, these options aren't easy to implement in the short term, and are even harder to sustain in the long-term. They also add layers of complexity to the process for both the store and the customer and are time- and resource-intensive.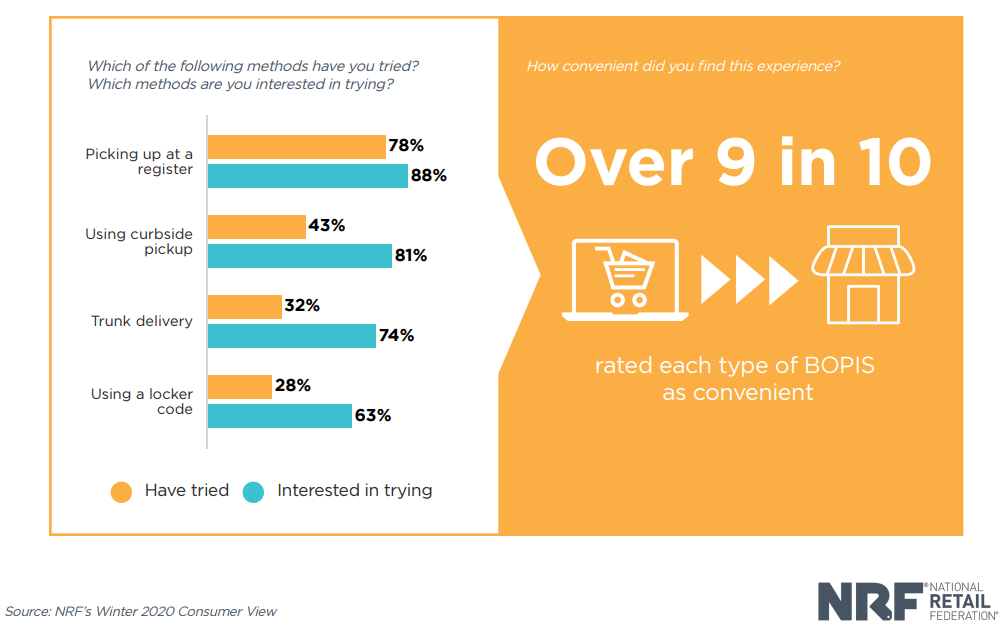 To make curbside/drive-up viable the retailer must do some heavy lifting. It requires additional infrastructure and staffing, new store processes, software updates (maybe even new software programs), as well as dedicated space for pickup, additional directional signage, a means for the customers to alert the store they have arrived and continual customer education, among other things. The logistics and overall cumbersome nature of the process is an added challenge in an already challenging time. As stores reopen and begin ramping up to full capacity, retailers will have to decide if they can realistically sustain and scale these fulfillment options.
Automated Retail Lockers As A Solution
There is another BOPIS fulfillment option that an April RIS audience poll found 16% of respondents are trying to add now, with an additional 21% expecting to implement in the next 12 months — automated retail lockers. Automating processes to streamline fulfillment for both the store and customer was important pre-COVID, but they have increased exponentially as retailers seek contactless pickup solutions.
Automated retail lockers are known to provide a consistent and predictable customer experience while improving store efficiency and freeing up employees to handle other responsibilities. Unlike some BOPIS fulfillment options, the locker experience for the store and customer is intuitive and easy. Because of the operational efficiency gains, the retail locker also allows the store to handle increased volume without increasing staff. An outdoor installation of a self-service retail locker system can extend the store hours to 24/7, offering customers the ultimate in flexibility — the ability to retrieve their orders when it's convenient for them.
Even as consumers begin venturing back to retail locations as restrictions are gradually eased, social distancing will remain in our foreseeable future. BOPIS fulfillment with automated retail lockers provides a means to help reduce the number of shoppers in the aisles, while still allowing customers to conveniently access their purchases. An automated retail locker-based contactless pickup solution limits potential exposure for both consumers and store employees — a definite win-win!
The world has changed, on that we can agree. The Boston Consulting Group has projected that the volume shift to omnichannel delivery has been accelerated by approximately two years as a result of COVID-19. This suggests that retailers that can effectively leverage store-based contactless fulfillment options to seamlessly handle the shift will come out stronger on the other side of this new normal.
---
Penny Lasater is the Senior Product Manager/Product Owner for automated retail lockers at Package Concierge, overseeing strategy, business and product development. As the only vertically integrated locker solution provider in the market, Lasater leads the software and hardware innovation efforts to address the specific needs of the dynamic retail environment. With a focus on future-proofing the retailer's locker investment, she leverages Package Concierge's experience and expertise, focusing on system flexibility and uncovering ROI-enhancing use-cases for automated retail locker systems beyond BOPIS. Prior to joining Package Concierge, Lasater spent the majority of her career in consumer products focusing on product development for global brands including Coleman outdoor equipment, Bell helmets and Mattel toys.