Moving to a new home is one of the most economically impactful life triggers. With more than $11,000 on average spent per move, new movers present a major opportunity for retailers to boost customer acquisition and drive revenue.
One of the most powerful forces today in the housing market is millennials. Between the ages of 25 to 40 years old, millennials are at a prime age to purchase a home. In 2021, 37% of homebuyers were millennials, higher than any other generation. They were also responsible for over half (53%) of new home mortgages.
Millennials are the new kids on the block and they are spending on numerous items and services throughout the move process. Like every generation, millennials have unique traits and behaviors related to how they shop and engage with brands. They are tech-savvy, social and mobile-first. So what does this mean for retail marketers trying to reach millennial movers?
Millennials and Brand Loyalty
According to V12's 2021 New Mover Trends Report, millennial movers are open to trying new brands and services, with 92% willing to try new brands and 89% willing to try new service providers.
With brand loyalty being so fluid during the move, it is imperative that brands implement strategies to identify millennials on the move. Using data and technology, retailers can develop a rich understanding of these audiences in order to strategically target movers across multiple channels and with the right message throughout the moving process.
Millennial Movers Shop Early
Millennials aren't waiting until they're settled into their new home to make move-related purchases. They are early shoppers, with 67% of millennials purchasing items prior to moving and 54% switching service providers prior to moving.
With so many millennials starting their shopping before the move, brands should be actively engaging as soon as a consumer is signaling pre-move behaviors.
Today, richer sources of data and faster, more innovative technology allow brands to identify and reach out to movers well before the move. For example, brands can market to possible movers, who are browsing for move-related products and services. This timeframe averages one to three months before a move.
Retailers can also target potential movers, which is when a consumer lists their home but is not definitely moving.
Another essential audience is verified pre-movers. These consumers typically have their home under contract and are in the inspection, moving, or financing process. During this two-to-six-week pre-move period, consumers actively shop for move-related goods and services, making it one of the most valuable opportunities for marketers.
Following the move, post-movers will continue to shop for their new homes, and retailers should continue to market their products and services to stay top of mind.
Digital Natives
Millennial movers rely on digital channels to research move-related products and services, with 46% reporting that they use online research, 43% online reviews, 32% online advertisements, 27% local online forums and 26% email.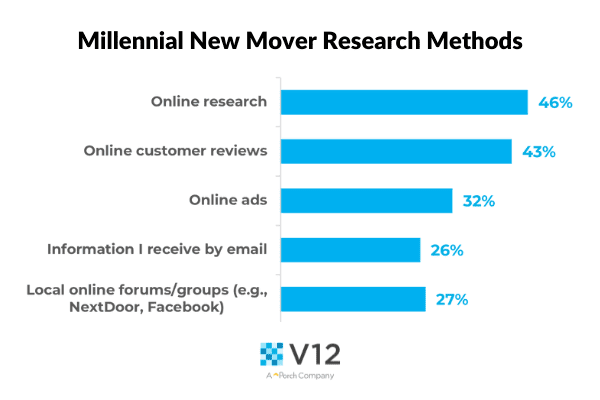 Historically, when marketers have thought of mover marketing, direct mail such as postcards and catalogs often comes to mind. However, retailers need to think beyond the mailbox and modernize how they engage with digital-first millennial movers.
Especially during an event such as moving, time is of the essence, and digital channels allow for real-time engagement. Millennial consumers use multiple channels when researching and purchasing products and services, and messaging should also be spread across multiple touch points, such as email, social, display and mobile.
Millennial Movers Open Their Wallets
Millennial movers spend on numerous products and services, with an average of:
$1,946 on furniture/home décor
$1,605 on flooring
$1,593 on solar panels
$1,470 on home remodeling and repair services
$1,429 on windows
$1,177 on home improvement repair and supplies
$1,149 on appliances
$1,064 on flooring installation
$956 on landscaping and lawn equipment
Millennials are the largest group of shoppers with the most buying power. To capture spending share during the move, retailers will need to be present online. Millennials make approximately 54% of purchases online compared to other generations. They often read online reviews and are shopping using mobile devices as well, so the experience must be streamlined, user-friendly and authentic in order to win the hearts — and wallets — of this generation.
There's a prime opportunity for retail marketers to capture the spending power of millennial movers. Understanding how millennial movers shop and spend is the first step in attracting and engaging the new kids on the block.
---
Anders Ekman serves as President of V12 and works with leading brands to realize the economic and customer experience potential of modern mover marketing. Ekman led the transformation of the company into an omnichannel marketing and data powerhouse and played a pivotal role in Porch Group, Inc.'s acquisition of V12 in 2021. Previously, Ekman was EVP of MRM Worldwide, serving as Eastern Region head and Chief Growth Officer. Prior to MRM Worldwide, he was an SVP at Digitas. Ekman is a graduate of Bowdoin College.