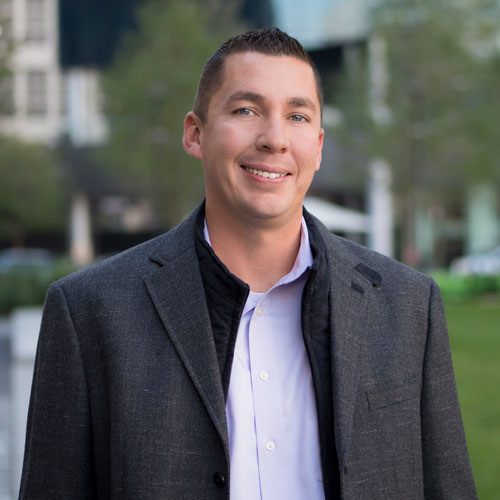 A major chapter of the digital era is morphing into a new one. From Google's elimination of third-party cookies to Apple's AppTrackingTransparency policy to GDPR, data practices are being upended. The way marketers follow shoppers around the web will forever change in the privacy-first digital era.
But that doesn't mean marketers will be handcuffed. They will be able to use first-party data to understand their audience. Google will continue developing its privacy sandbox to serve ads to like-minded groups of people, just not individuals. Some consumers will still opt in to tracking. Machine learning and other artificial intelligence technologies will continue to create performance benefits from digital advertising.
Operating in the new era will not come easy to every marketer. This article discusses the skills you personally develop, how you hire in-house and external talent, and the priorities and processes you drive on your team. As a marketing leader myself, I see several actionable takeaways to develop your team for the privacy-first digital era.
1. Groom collaborators and data-driven decision makers. Certain data that marketers rely on is going away in the privacy-first era, but that doesn't mean marketers want to be, or should be, any less data-driven. According to Sidecar's 2021 E-commerce Marketer Survey, 33% of ecommerce marketers say that "data-driven decisions" are a primary success factor for their team — one of the top three success factors reported. Another 33% said "strong collaboration" is a big success factor. These findings emphasize the need to increasingly center your team's expertise in these areas.
2. Pair data-savvy marketers with data scientists and analysts. I'll take that last idea one step further. When we talk about collaboration and data-driven decision making, think about how you can pair data-savvy marketers with analysts. Marketing will continue to be an art and a science, but we're seeing marketers report a surprising lack of emphasis on the science part. Only 38% of marketers surveyed said that their team makes at least half of their decisions based on data as opposed to instinct. Moving forward, there is a lot of room to continue building data-driven decision making capabilities by adding training, talent and/or external partners, and combining those capabilities with human expertise. For instance, in a privacy-first world, marketers might have less ability to create narrow direct response audiences. Instead, top-of-funnel efforts like branding and customer experience will take on even greater importance to rebuild trust and affinity. Cultivating the top of the funnel requires a combination of smart instincts, solid experience and accurate data.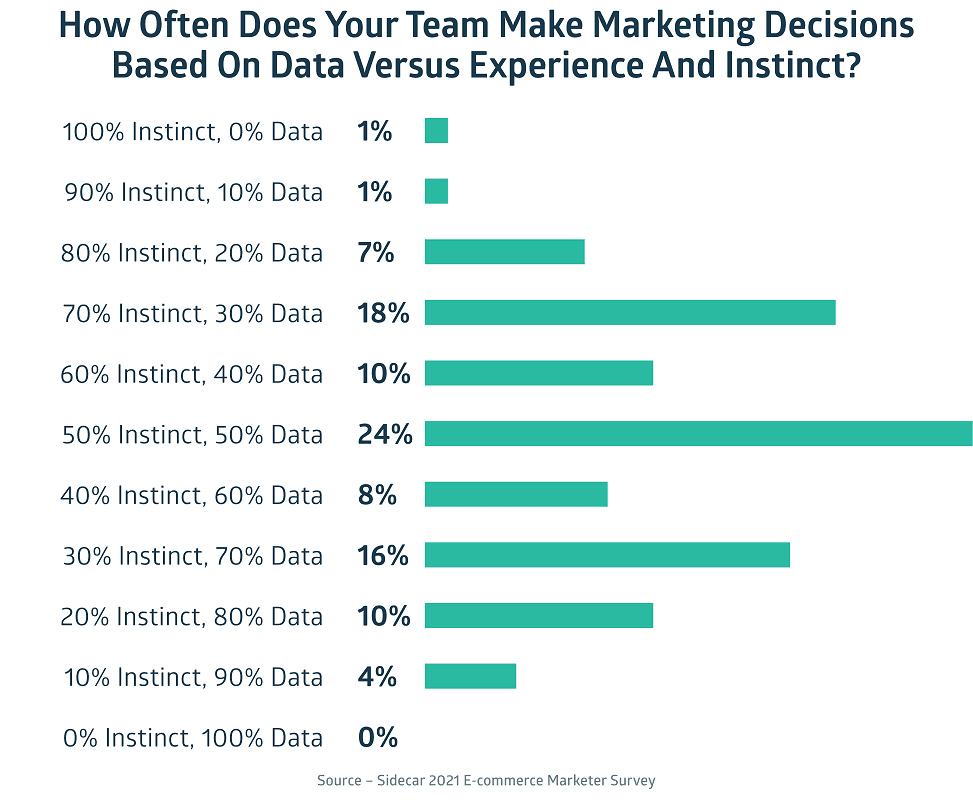 3. Balance strategic control and time savings with automation. Automation has a time and a place in the new digital era. Highly automated marketing approaches tend to save time at the cost of strategic control (approaches like Google Smart Shopping). By contrast, highly manual approaches tend to provide high strategic control and low time savings. The best approach will be to land in the middle. Again, find the optimal mix of data, technology and people. Sidecar's survey found that marketers want to automate time-consuming and data-intensive tasks like bid adjustments (62% agreed), retargeting (47% agreed) and keyword analysis (40% agreed). But few marketers seek to automate strategic and highly creative activities like cross-channel strategy and ad creative, with 8% agreeing to automate each of these tasks. These findings are a telling indicator of how to consider leveraging automation.
4. Recognize that social media is a highly competitive area for talent and topline revenue. Social media marketing is the #1 most-hired role in ecommerce over the past 12 months. What's more, social media marketing remains the most popular hire for the next 12 months, according to Sidecar's survey. Indeed, marketers in the retail industry see social media as a critical channel for their goals into the future. When we asked about the channels marketers wish they could spend more time with, the #2 response was Facebook Advertising (41% agreed), which came on the heels of Google paid search (42% agreed). Both the value and complexity of these platforms continue to grow in the face of a changing digital landscape. Marketers who give these platforms sufficient attention and time will see the payoff.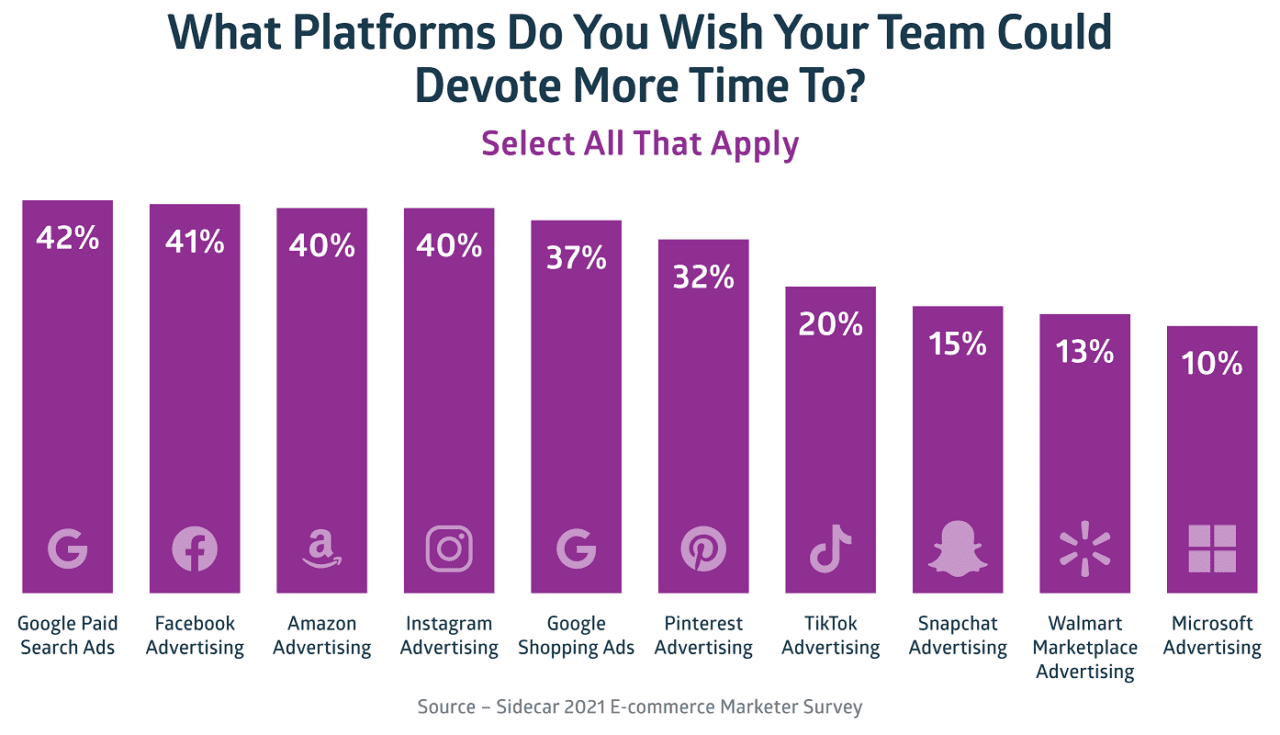 5. Audit marketing processes. Although the privacy-first era will bring about many changes, two things that will remain the same are limited time and budget. In fact, these factors are the top two challenges that marketers reported in Sidecar's survey. With time and budget under constraint and pressure, it's critical to audit your marketing processes. Changes to process can be sources of time savings, cost savings, and better collaboration and knowledge sharing. Examine who handles which tasks, how knowledge sharing occurs and methods for collaboration with internal and external team members. Identify how your campaigns can generate more success simply by changing the processes around them.
Take a step back and assess how you're doing in each of the areas above. Can you check these boxes? To what extent? Your assessment might reveal your readiness for the new digital era. Given these insights, what's your next move to further develop your team and your contribution to your organization?
---
Mike Farrell is a marketer and advisor who thinks about the digital transformation of retail. His current position is Senior Director of Integrated Digital Strategy at Sidecar, the performance marketing technology company serving retail. Farrell has guided hundreds of marketers in the context of their business goals and the retail industry at large. He is fluent in the channels that matter most to online retail and how they interact with one another strategically, including paid search, shopping ads, paid social and marketplaces. He contributes regularly to retail and marketing publications.