Some of the biggest retailers in the U.S., including Amazon, Target and Macy's, have announced their plans for holiday hiring, but all told this season may see one of lowest levels of seasonal hiring since 2008, according to report by Challenger, Gray & Christmas shared with Reuters.
The report found that increased labor costs and shaky consumer confidence are impacting holiday hiring plans, with retailers forecast to add a total of 410,000 seasonal jobs this season. Holiday hiring was also down year-over-year in 2022, with employers adding 519,400 jobs, a 26% decline from 2021.
However, so far major retailers' hiring plans are not dramatically lower than last year:
Amazon is planning to hire 250,000 (up from 150,000 in 2022);
Target — 100,000 (same as 2022 and 2021);
Macy's — 38,000 (same as 2022); with
Gifting company 1-800-Flowers.com announced plans to hire 8,000 workers across its brands such as Harry & David, PersonalizationMall.com and The Popcorn Factory, as well in its multi-brand distribution centers.
And many retailers, seeking to snag the best staff, have announced competitive hourly wage rates and flexible payment options that offer anytime access to earned pay. That's not to mention the potential of a longer-term position — Macy's, for example, touted the fact nearly one-third of its store leadership started with the company during the holiday season.
Amazon: 250,000 + $1.3B Toward Pay Increases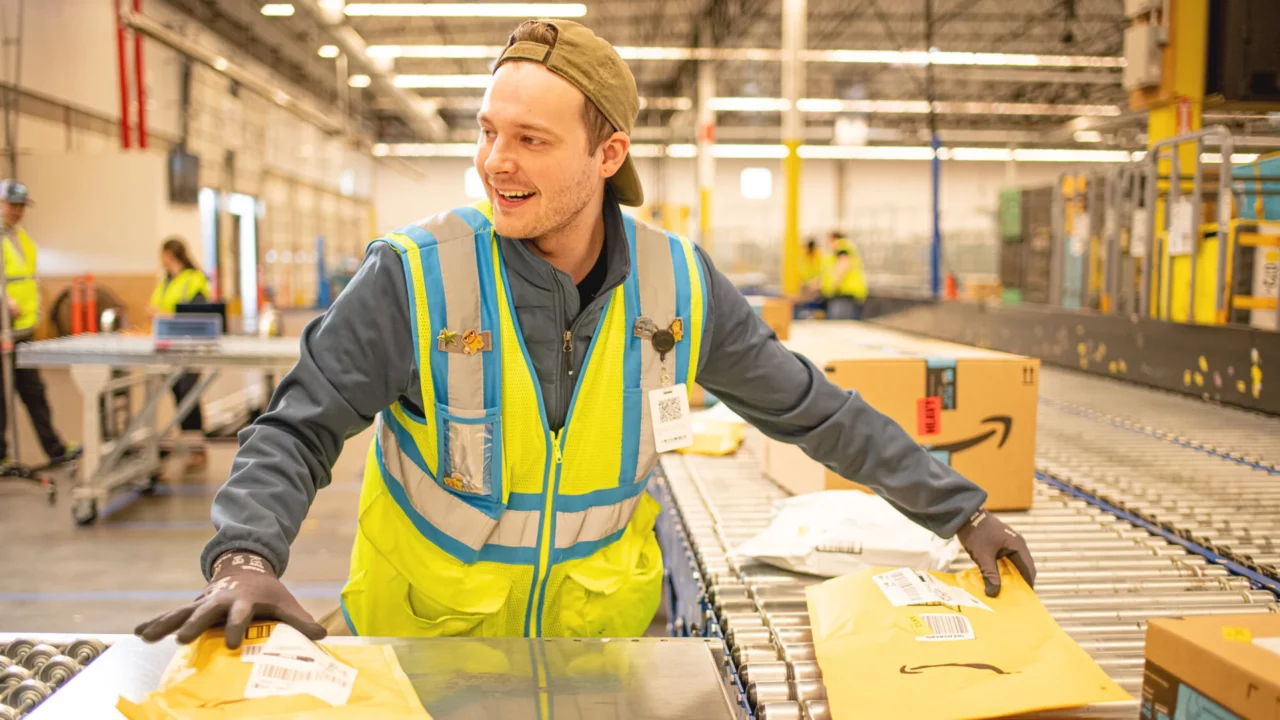 Amazon has opened more than 50 new fulfillment centers, delivery stations and same-day delivery sites in the U.S. this year, adding hundreds of thousands of new jobs, and now the company is looking to staff up even further in advance of the holiday rush. The ecommerce giant plans to hire 250,000 full-time, part-time and seasonal workers for fulfillment center and transportation roles in hundreds of cities across the U.S.
Jobs in Amazon's operations network include stowing, picking, packing, sorting, shipping customer orders and more, with employees earning between $17 and $28 per hour depending on the position and location. In select locations the company also is offering signing bonuses of $1,000 to $3,000.
In conjunction with its holiday hiring plans, Amazon also announced that it is investing $1.3 billion this year toward pay increases for customer fulfillment and transportation employees, bringing the average pay for those roles to over $20.50 per hour (a more than 50% increase over five years), with some locations offering as much as $28 per hour. Amazon said it increases hourly wages every year, and over the last five years it already has invested more than $10 billion in hourly pay.
"Whether someone is looking for a short-term way to make extra money or is hoping to take their first step toward a fulfilling and rewarding career at Amazon, there's a role available for them," said John Felton, SVP of Worldwide Operations at Amazon in a statement. "A fulfillment or transportation employee who starts with us today will see a 13% increase in pay over the next three years — likely more, including our annual wage investments — and that's on top of offerings like prepaid college tuition with Career Choice and health care benefits from day one."
All employees receive "anytime access" to earned pay, health, vision and dental insurance from the first day on the job as well as a number of other benefits, including new additions this year such as an emergency savings program and a financial assistance pilot program. Amazon also touted the fact that new employees and rehires will receive improved safety training, an important point for the company, which has come under fire recently for the working conditions in its warehouses.
Target: 100,000 + 45,000 On-Demand Employees
In addition to offering existing employees more hours and its team of 45,000 "On Demand" employees, Target also hopes to hire an additional 100,000 workers this holiday season.
The majority of these seasonal roles are for positions in Target stores, although some jobs are available in the retailer's warehouses as well. Among the in-store roles Target is looking to fill this holiday season are guest advocate, front-of-store attendant, fulfillment expert, general merchandising expert, food and beverage expert and style consultants.
This holiday season, Target also will be drawing on its On Demand team, a flexible workforce that the company has established over the course of the past few years. These employees have the option to pick up shifts on an as-desired basis to fit their schedule. The company said that its On Demand offering had helped it retain experienced employees and reduce dependence on seasonal staffing. On Demand positions aren't currently available at Target's supply chain facilities or for seasonal hires, but those team members will have the opportunity to discuss transitioning to an On Demand role following the holiday season.
Seasonal team members will have access to a starting wage ranging from $15 to $24 per hour, health and well-being benefits, opportunities for growth and development, flexible schedules, discounts on merchandise and more.
"The holiday season is a special time at Target — and our team makes it all possible," said Emily Hebert, SVP of Stores HR at Target in a statement. "Delivering an exceptional shopping experience is at the heart of how Team Target operates and is driven by our culture of caring, growing and winning together. Just as we care for our guests, we care deeply about creating fulfilling career experiences for team members."
Macy's, Inc.: 38,000 Across Macy's, Bloomingdale's and Bluemercury
Macy's, Inc. plans to hire for more than 38,000 full- and part-time seasonal positions at its Macy's, Bloomingdale's and Bluemercury stores, as well as its distribution centers, a number consistent with the company's 2022 holiday hiring.
In addition to accepting applications online and in stores, Macy's also will hold two nationwide in-person holiday hiring events at all stores and supply chain locations, on Sept. 21 and Oct. 19. Many of the open positions start at a minimum of $15 per hour, and all employees also receive instant access to earned wages, flexible scheduling options and a merchandise discount.
"The holidays are one of Macy's, Inc.'s most important seasons to deliver a great shopping experience for our customers, and our colleagues are the company's greatest brand ambassadors at this special time of year," said Danielle Kirgan, Chief Transformation and Human Resources Officer at Macy's, Inc. in a statement. "We are pleased to enhance our team of customer service professionals during the holidays with more than 38,000 seasonal positions. Whether they are looking for extra income for the season or the start of a new career in retail, we offer an unmatched culture, competitive pay and fulfilling retail career opportunities."