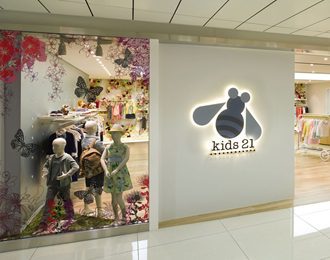 Understanding customer wants and needs is paramount to retail success. The ability to expand on a global scale especially hinges on a retailers' ability to tailor marketing and online shopping experiences to the preferences of specific customer segments.
Kids 21, a division of the Club 21 retail company, is tapping IBM to bring the luxury children's brand into 15 countries across the Asia-Pacific. The retailers' assortment of coveted names, including Dolce & Gabbana and Armani, certainly pique consumer interest. But without the right marketing tactics implemented across channels, the retailer runs the risk of falling under the radar, especially with the variety of boutique fashion web sites cropping up.
Carrying more than 80 international labels for children 0 to 16 years old, Kids 21 markets luxury designer wear through print and out-of-home advertising, electronic direct mailers and through our social media assets such as Facebook, Instagram and Pinterest, according to E-Len Fu, Director of Kids 21. "Our clientele wants to have a physical and digital engagement with Kids 21 as the digital competency grows and we want to be ahead of the curve in engaging our clients where they like to be engaged, both in a physical store and online."
Affluent customers are top prospects for luxury brands worldwide. Because this consumer group also is considered savvy about social media and technology, Kids 21 required a partner that could help create a seamless, cross-channel experience, but also tailor the online experience to the customs and tastes of specific countries.
"Since 1972, Club 21 has been on a growth trend with regional expansion and then, global stores," explained Fu in an interview with Retail TouchPoints. "Kids 21 is the result of Club 21's growth path as we see the growth of the luxury market with the economic success in Asia. With the Asian trend of smaller families and growing wealth, it would impact our business positively."
Fu added that the retailer's decision to focus on expanding in the Asia-Pacific is in line with overall retail market growth projections. Noting a market study by Euromonitor, an international market research firm, Fu explained that Asia Pacific is expected to be the biggest region in the world by 2018 for luxury goods. This is due to the growth in China, but also the emerging Asian markets like Malaysia, Indonesia and India. Nine luxury categories, including apparel, accessories and jewelry, have access to this growth opportunity.
Kids 21 and IBM are collaborating on an e-Commerce revamp, set to be completed between the fall and winter of 2014. Using the cloud, e-Commerce and analytics software from IBM, Kids 21 will be able to deliver personalized experiences while expanding its online presence worldwide.
Improving Brand Awareness And Equity
With approximately 20 years of experience in the luxury children's wear space, Kids 21 has built a reputation for bringing quality designers to consumers around the world, which has had a positive impact on overall brand equity.
But now, "we are now focused on growing this brand equity in the rest of the region and our online adventure has just begun," Fu said. "This will be complemented with digital, media and e-Commerce strategies. In addition, our existing customers who have wanted to engage with us online will now have the option of a physical store or an online store, and their brand experience will be the same."
IBM WebSphere Commerce software, which is delivered through the IBM SoftLayer cloud platform, will provide Kids 21 with a customer interaction platform for omnichannel commerce.
"We are looking at e-Commerce as a long -term strategy, not just selling online," Fu said. "The IBM commerce platform is robust and it is able to deliver a consistent shopping experience across all channels. We want to benefit from the rich capabilities of their software and also their experience in the retail and particularly fashion retail space."
IBM will help Kids 21 further expand into the omnichannel arena, "including integration across channels and deeper connections with social commerce and more sophisticated marketing techniques for a richer customer experience," Fu said. "The primary challenge is to ensure that the brand and customer experience online will be the consistent either within or outside the four walls of the store."
Kids 21 also will implement the cloud-based digital analytics solution across all branded storefronts to identify real-time shopping trends and deliver tailored promotions based on unique customer preferences.
"Digital analytics will give a deeper insight into the shopper's behavior," Fu explained. "This being an online effort, we have to understand the customer cues and gain intelligence on the customer. We can then translate this intelligence into actionable insights to design rewarding customer experiences and execute on our customer promise. We want to understand not only the geographical trends but also the individual shopper. This would naturally lead to better customer engagement, satisfied customers which can only be good for the business."