The holiday season has always been a core period for retailers to level up their in-store experiences. Design and visual merchandising teams in particular rise to the occasion, finding creative themes, materials, lighting and more to evoke delight and holiday spirit among consumers of all ages. This year their efforts aligned with consumers who not only felt more comfortable but were actually eager to bring their holiday shopping back to physical stores. 
 
The 2022 Winning Windows competition celebrates the brands and retailers, and especially the creative professionals, who are turning consumers' return to brick-and-mortar into a true moment. A team of judges — Alicia Esposito, Vice President of Content for Retail TouchPoints; Anne Kong, Associate Professor, program coordinator for visual presentation and exhibition design at the Fashion Institute of Technology; and Judy Bell, Founder of Energetic Retail — analyzed the submissions and recognized the following brands for their work:  

The winners were revealed and celebrated at the 2022 PAVE Gala earlier in December in New York City, and now we're spotlighting their craftsmanship with a special report and interview series featuring the leaders driving these projects.
Below is part one of this series. Part two will be revealed in this same experience on December 27.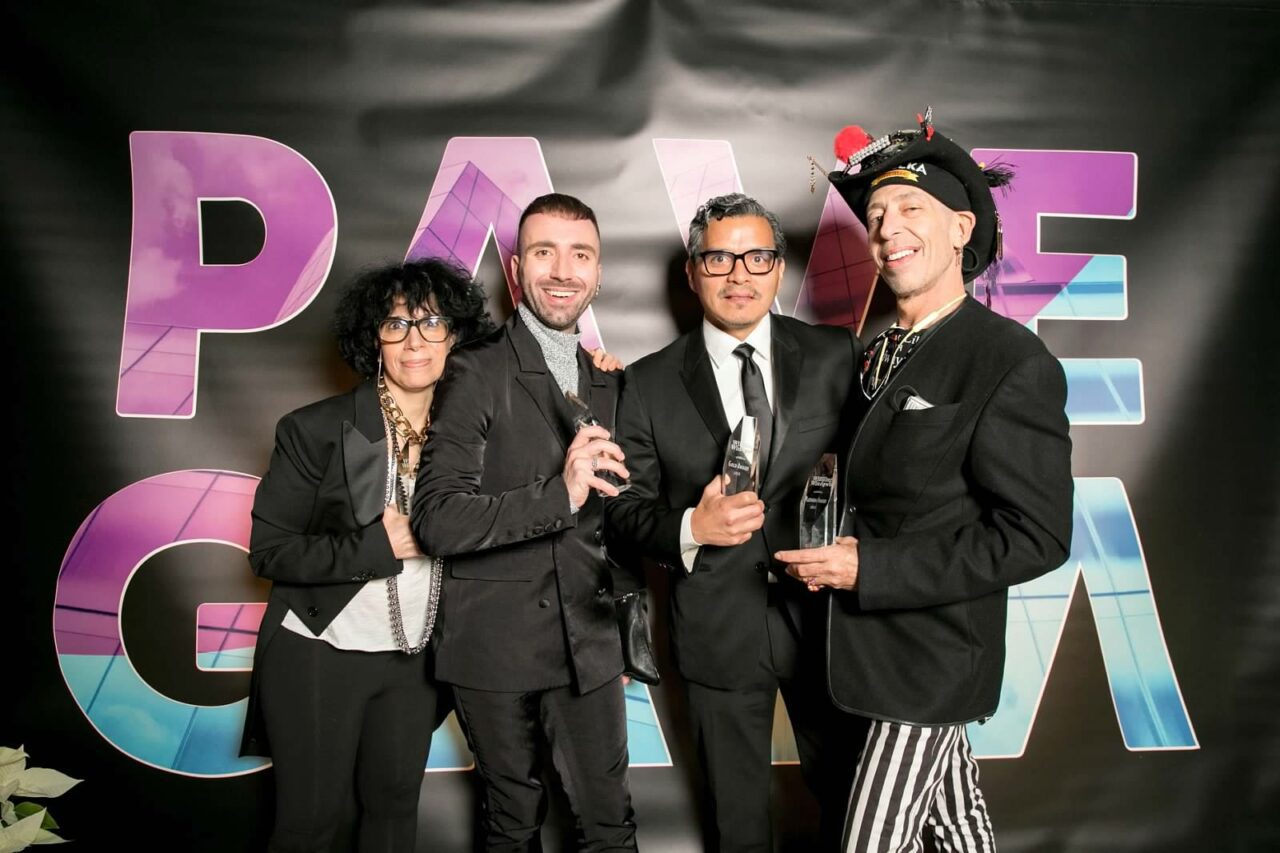 Judges' Choice Award: Saks Fifth Avenue
The Judges' Choice award was initially created during the pandemic to allow brands and retailers across the U.S. to submit their holiday windows. As the world opened back up, the Retail TouchPoints team decided to keep this award in place and also expand the judging criteria to encompass not just windows but overall design, store experience and even holiday marketing strategy. 
 
This year, Saks Fifth Avenue represented the core of what we believe the Judges' Choice award represents: brands that have pushed creative limits and found new ways to activate audiences and create a feeling of joy. Saks turned its partnership with the Rocket Fund – the Elton John AIDS Foundation – into a powerful vehicle for creative inspiration and omnichannel engagement. The performer allowed Saks to feature a series of Gucci looks from his personal collection in a series of windows and unveiled the displays at a special holiday light show and concert featuring Sir Elton John himself. Saks also donated $1 million to the Rocket Fund and amplified a unique capsule collection and digital content across channels.  
 
"Saks wrapped their arms around the community and stole the judges' hearts," said Judy Bell, Founder of Energetic Retail and a Winning Windows judge. "In a departure from traditional holiday music during the evening hours lightshow, Elton John's spirited tunes rocked the avenue. Accentuating the brilliant lightshow on the building exterior, three windows marketed exclusive products with proceeds going to The Rocket Fund, along with Elton John's own Gucci tour costumes."  
 
The six main windows at Saks also show a new level of creativity. The windows team, led by Connor Matz, Director of Windows, found ways to reimagine traditional holiday toys and embrace futuristic lighting and materials to spark imagination. In an interview with Retail TouchPoints, Matz provided an inside look into the creative process, and what he loves most about this year's holiday windows.  

Retail TouchPoints (RTP): What was your inspiration for this year's windows theme? 
Connor Matz: This year, we challenged ourselves to pull our inspiration from the reimagined light show on the exterior of the building, and to bring that experience inside the windows through brilliant and surprising uses of integrated lighting, vibrant color and over-the-top whimsical animations. 
For the center six windows, we wanted to take iconic and nostalgic toys and memories from childhood, and filter them through that brilliant, modern and radiant lens to create fantastical worlds out of the heartwarming and familial. 
RTP: How did you ideate the concept and materials used for the final windows? 
Matz: We started conceptualizing the window designs in January 2022. We went through multiple iterations of renderings and prototyping before moving into final production. It was important to us to maintain the straightforward simplicity of the traditional toys and memories that inspired the windows, but to have a design language that felt uniquely modern and presented them in a totally new and unexpected way. 
RTP: What was your overall timeline like, from concept to execution? 
Matz: We always have a goal to start [the process] a year out. I begin to nail down potential themes and aesthetic direction in January and then start the design and sketching process for each window between February and March. From there, concepts are all presented and then we work collectively as a team to collaborate on final direction and treatments. Designs are all finalized between April and May, and we begin prototyping and material sampling in June. The July through October timeframe is always reserved for production! 
RTP: How large is the team that helps design and execute your holiday windows, and who is responsible for which tasks?  
Matz: At Saks, we have an incredible and tight-knit windows team of eight. Different stylists are dedicated to everything from fashion presentation to mannequin hair and makeup, as well as lighting and production. For the holiday windows, we also partner with production houses and artisans to produce larger-scale elements and animated components. We had three dedicated teams this year — and put in thousands of hours collectively — to create and bring these windows to life. 
RTP: How did you collaborate with other teams and functions within Saks, especially given the charitable component? 
Matz: We were so excited to partner with the Elton John Aids Foundation this year. His team was an absolute pleasure to work with and collaborating on these windows was definitely a highlight of the season for me personally. We partnered with the Foundation's charity leadership team, along with the team at Gucci, to present our window concepts and ensure that everyone was comfortable with and excited about the artistic direction and treatments. With any partnership, there are always a lot of moving pieces; to work collectively together and see the windows come alive was truly a privilege. The window featuring Sir Elton John's personal fashion and costumes, provided courtesy of Gucci, is a favorite of mine! 
RTP: Were there any notable lessons from the process this year that you plan to apply in the future? 
Matz: Like every year, we learn so much throughout the process. We wanted to embrace a different design approach this year and challenged ourselves to find and select materials that really set us apart from how we've traditionally built holiday windows in the past. 
Lots of these newer material choices, along with the complexity of the designs, presented challenges we had to troubleshoot through as we moved forward. For example, to accomplish the chromed finish on the giant scale spinning top, we had to find and have this applied at an auto body specialist shop due to the oversized and curved nature of the piece. 
RTP: What inspiration would you offer to your peers in other organizations as the world of store design and visual merchandising continues to evolve? 
Matz: What I love and appreciate about Saks is that we truly have the freedom to approach the windows with unbridled creativity and excellence. Internally, we have such a collaborative and ambitious culture, and the process of pushing ourselves as the windows are designed and created is such a deeply rewarding experience. It's always important for me to remind myself that the only creative limits that really exist are often the ones that we place on ourselves. 
Nothing will ever beat the feeling of seeing crowds on the sidewalk, captivated in awe as they see the windows unveiled for the first time. That's when we know we've done our part. Having the opportunity to lead and deliver these windows truly is a gift, and I could not be more proud and thankful to have and work with the team that we have here at Saks. 
Platinum Award: Bergdorf Goodman
When you think of New York retail, Bergdorf Goodman very likely comes to mind. And when you think of holiday windows, you will definitely think of this iconic New York institution. Although the retailer's designs are always show-stoppers, this year saw highly intricate yet whimsical windows that tied into an incredibly magical theme.  
 
Titled "Magic in the Making: A Celebration of Crafts," Bergdorf Goodman's 2022 holiday windows were inspired by the artists and artisans that collaborate closely with the retailer every day. The windows are a result of more than 10,000 hours of work spanning 10 months. If you look closely at each window, you can not only see but feel the care and attention that went into every detail to represent distinct crafts, from paper sculpture to metalcraft.  
 
"Can a holiday window scene generate energy?" Bell asked. "Can it lift your emotions to a state of awe? Can it transport you to a place of wonder? Bergdorf's themed windows tipped the scales to achieve all three."

Bell added that her personal favorite was the metalcraft window, which showcased a chamber orchestra scene of flutes, French horns, violins, trumpets and drums, "all artfully arranged around a shimmering mannequin figure. The scene stopped time for me while I focused on all of the expertly lit, shining elements." 
 
David Hoey, Senior Director of Visual Presentation at Bergdorf Goodman, collaborates closely with Windows Production Manager Demetrios Argyropoulos on bringing the holiday windows to life. Below, Hoey shares his inspiration and learnings from the 2022 project.

Retail TouchPoints (RTP): What was your inspiration for this year's theme?
David Hoey: Our holiday windows are always very "crafty," so this year we took the next step and proclaimed craft itself as the theme. Each of the seven windows focused on a different craft: woodworking, paper sculpture, dressmaking, mosaic and more. The mad variety of materials used overall was held together visually by adopting a red and green color scheme for the entire project. We wanted to stun people with a cavalcade of handmade objects of all kinds.
RTP: How did you ideate the concept and materials used for the final windows?
Hoey: Over the years, we have developed a stable of freelance artists and artisans. With their particular specialties in mind, we chose the specific crafts. Some of the windows this year were done in our signature 'ultra-maxed-out' style, where we purposely overfilled the windows, so literally hundreds of objects were required. Other windows were less dense, but still required exquisite craftmanship. Our artistic collaborators rose to the occasion, and we love them for it.
RTP: How large is your team that helps design and execute your holiday windows?
Hoey: The full-time Bergdorf's window department is a four-person team. Functioning as an in-house production company, we commissioned a multitude of independent contractors and firms to produce various components for the windows. In the end, we had approximately 100 people that worked on the windows in some way.
RTP: What was your overall timeline?
Hoey: We established the theme in February, in consultation with our marketing department. I envisioned the whole concept in a "big bang" and started sketching immediately. In March and April, we gathered prototypes from our collaborating artists. By May, some of the windows were already in production. Most of the windows required a full nine months to produce. Items from many studios and mini factories started arriving on-site on December 1; installation was a madcap 17 days. We estimate that the windows took 10,000 person-hours to complete.
RTP: Were there any notable learnings or lessons from the process this year?
Hoey: This holiday season, we reconfirmed our main principle: If you're in the window-display business, you're in show business.
RTP: What inspiration would you offer to your peers in other organizations as the world of store design and visual merchandising continues to evolve?
Hoey: The purpose of a window display is to induce aesthetic delirium, so go all out. Be monumental. Splurge. Be baroque and modern at the same time. Use every window to razzle-dazzle 'em.
Last year, Macy's was named the Silver Award winner for its windows, which told the heartwarming story of TipToe. The lovable reindeer (and new holiday spokesperson for the retailer) is back again with a new series of windows based on the theme of GIVE LOVE. 
 
TipToe visits with her woodland friends to celebrate and spread holiday cheer. The woodland critters exude their own unique personalities and the combination of different themes and materials, from glass to yarn, truly bring the story to life and keep things interesting for passersby. There even is an interactive digital element where consumers can take real-time photos of themselves which then are displayed in the windows.
"Macy's Tiptoe's woodland trip to visit friends (smiling mice, bears, and bunnies) was accompanied by a steady stream of passersby swooning as they relived their childhoods along with children making new memories," Bell said. "Heartwarming and exuberant, windows like the Fox Family photo drew everyone in for a closer look as they tried to identify the personalities that echoed those in their own families."

Manuel Urquizo, Director of Storewide Visual Campaigns & Windows at Macy's, shares his experiences bringing this new TipToe story to life.


Retail TouchPoints (RTP): How did you ideate the concept and materials used for the final windows? 
Manuel Urquizo: We started ideation and concepting back in February/ March. Through the many different concepts and ideas, the one that stuck out to me and carried through was the use of different materials and textures. We really wanted to capture the artistry and craftmanship in each window, while also tying back to the theme of holiday traditions. We also carried on the story of our lovable reindeer, TipToe. She was introduced in our windows last year as a reindeer that could fly but was scared to. With the help of her friends, she learned to believe in herself and reach her goal of pulling Santa's sled. This year, she is eager to spread joy and cheer visiting her woodland friends.

RTP: How large is your team that helps design and execute your holiday windows? Who does which tasks? 
Urquizo: Our Macy's windows team is comprised of eight team members, not including the in-store carpenters and electricians that also help. Since the holiday windows are such a large production, we also partner with different fabricators, craftsmen, artisans and animators that help bring our holiday windows to life. There are hundreds of hands and thousands of hours that go into making these windows.

RTP: What was your overall timeline like, from concept to execution?
Urquizo: We begin ideation in February/March, but really we are thinking about next year once the current windows are installed. There are many rounds of changes until the concept and storyline really feels like they tie together the message of our theme. Next, we go into final approvals and sign-offs by the end of June. Things might change slightly but the overall design and concept are there. At this time, we are also getting samples of materials and working through any animations. Finally we start the actual fabrication in late July/early August. Each window is built, put together and tested before going into the actual window space the week before Thanksgiving.

RTP: How do you collaborate with other teams or functions to amplify the reach and impact of the windows?
Urquizo: We work closely with our marketing team to make sure the Macy's holiday message works with the holiday window theme of the year. On 34th St., we have our Macy's fashion windows, which we work very closely with our fashion office to make sure we are selecting the best trends and fashions Macy's offers. We also partner with other vendor and brands. This year, we also had our Toys R Us holiday windows based on Macy's toy factory with Geoffrey as the toy inspector with many partnerships from different toy brands.

RTP: Were there any notable learnings or lessons from the process this year?
Urquizo: Every year we learn something new. Post-COVID scarcity and cost of materials have gone up and we will need a longer lead times depending on selection. People are back to touching things again, so a daily glass cleaning is a must for next year with stronger interactive buttons!

RTP: What do you love most about your work at Macy's? 
Urquizo: I love the creativity and the support Macy's provides to really make these windows magical for our customers and visitors year after year. All the talented people I get to work with starting with my team, the craftsmen and artisans; each one a true master of their crafts. I love the accomplishment of standing back and seeing the thousands of people that come through looking at our windows, the children smiling pointing at different things, not to mention my kids when I get to walk them through. I am truly honored to be in this position and be able to carry on this tradition. I never forget who we are doing this for.
Silver Award: Bloomingdale's
During the holiday season, brands should strive to create fun and magic. They should find ways to convey the love, warmth and memories associated with the holidays, while also bringing new elements into the mix to stand out.  
 
Bloomingdale's successfully accomplished all of these goals with its holiday windows, which had the apropos theme of BEST HOLIDAY EVER. Oversized sculptures, metallic finishes and even little mannequins dressed as workshop mice turn the windows into a fun and magical experience. Each vignette has a traditional theme, such as "Seasons Greetings," "Let It Snow" and "Making Magical Memories," but they were executed in ways that were anything but traditional.  
 
Leigh Ann Tischler, Director, Window Design for Bloomingdale's, shared how her team balanced holiday storytelling goals with a critical brand milestone. 

Retail TouchPoints (RTP): What was your inspiration for this year's windows theme?  
 
Leigh Ann Tischler: We just wanted to get back to the 'basics.' BEST HOLIDAY EVER was our storewide marketing campaign. Given the post-COVID climate of the past few holiday seasons, we were excited to return to more [of the] normalcy of years' past, including a live window unveiling performance, which we hadn't had since 2019. We also had a nod to Bloomingdale's 150th Anniversary, which kicked off in September. 
We just wanted to show some fun traditional holiday icons in the windows, but in a modern way, simply to make people smile. We created a modern toy workshop and oversized ornaments with sparkle and shine. We also subliminally added nods to Bloomingdale's 150th Anniversary. The storewide campaign had a starting runway of black and gold colors, so we used a shiny gold polished sewing machine and other shiny colors. We also wanted to incorporate traditional holiday elements like the plaid ribbon running throughout the windows. And finally, we showed a version of a "holiday hoop skirt" on a mannequin in the "toy workshop" window, which was our connection to the brand's anniversary.  
 
RTP: How large is your team that helps design and execute your holiday windows? Who does which tasks?   
Tischler: The window team was five people strong this year. With only a few outside freelance costumers, we are a small but mighty team. Each team member has a specialty for mannequins, styling, lighting, motion graphics and prop production. 
 
RTP: What was your overall timeline like, from concept to execution?  
Tischler: We had started concepts early but truthfully pivoted late. The luxury would be eight months for us, but this year, we were mixing a few windows up as late as August and September. I am super proud at what my team pulled off! 
 
RTP: Were there any notable learnings or lessons from the process this year? 
Tischler: We learned how to pivot with still-existing post-COVID supply chain issues and inflated prices on many materials that were our first choices. 
 
RTP: What inspiration would you offer to your peers in other organizations as the world of store design and visual merchandising continues to evolve? 
Tischler: I love how we tell our stories in a "Bloomingdale's original way. " I feel that Bloomingdale's holiday windows show more of the artistry that we do in-house and with a few selected outside artists. They are not "manufactured" windows but show true hands at work. I would tell others to always be curious. It is hard to think out of the box and do something that has never been done in a window before, but never give up! We can all tell the same story in a new way, especially with the technology we have today.