Crate & Barrel has opened the doors of its new New York City flagship in a historic building in the Flatiron district. Serving as the brand's first-ever immersive design store, the location features a two-level "Design Desk" staffed by design professionals, a Crate & Kids shop-in-shop and a range of services, including floral arrangements and monogramming. For visitors that can't make it to the store in person, Crate & Barrel also has created a virtual version of the new flagship that can be visited by customers around the world.
The 'Palace of Trade' Reimagined
The circa-1868 building at 881 Broadway was once known as New York's Palace of Trade, when it was home to the city's largest department store. The 23,000-square-foot, two-level store was carefully renovated by Crate & Barrel's in-house architecture and design team in order to preserve the building's rich history while paying homage to the energy and dynamics of the city with new features like a volcanic ash tile wall.
"This historic building embodies Crate & Barrel, blending classic and timeless design with a modern vision for a true flagship experience that feels right at home in the heart of New York City," said Sebastian Brauer, SVP of Product Design and Visual at Crate & Barrel in a statement. "We preserved the original neoclassical columns, brought in natural light with a modern staircase and a custom tile wall, and included special shopping features like our most expansive whiteware wall, a curated botanical shop with a layer of local artisan goods, a designated Crate & Kids shop and two state-of-the-art design areas to help customers select product to fit their homes."
As with the architecture, the assortment and services inside the store were curated for the brand's New York City clientele. Customers will find Crate & Barrel's classic whole-home design as well as personalized experiences and a selection of artisanal home goods exclusive to the location.
The store also features a "Design Desk" that spans both floors and is staffed by NYC-based designers who will offer free design and trade services alongside more than 50 feet of tangible design inspiration, including swatches, hardware, fixtures and wood samples. Customers also can schedule to meet with a Design Desk designer in-store, virtually or in their homes.
"Our customers are prioritizing functionality, ease and personal style in their homes in all projects, from refreshing a small space to a full home renovation," said Alicia Waters, Brand President of Crate & Barrel and Crate & Kids in a statement. "Crate & Barrel Design Desk professionals merge our customers' vision with our latest technology to bring their vision from concept to reality."
The store also features the largest-ever Crate & Kids shop-in-shop, as well as range of services including:
Monogramming services to personalize any textile in-person at the store;
Floral arrangements: The store offers an expansive botanical shop and an expanded assortment of dried botanicals for DIY arrangements or on-site styling by an expert;
One-day delivery;
The Crate & Barrel Trade Program, featuring an expanded selection of home renovation products for every client, from bathroom vanities exclusive to this store to access to dinnerware and entertaining options for restaurant professionals; and
An expanded gift registry that gives couples the opportunity to see more options as they create their registries.
The Crate & Kids shop-in-shop features a range of specialized kid and baby products curated for city parents' needs, including toys, gear and wall décor that can be found only at the Flatiron location.
"This flagship store embodies our commitment to inspiring and supporting customers at every step of their home shopping journey," said Crate & Barrel CEO Janet Hayes in a statement. "As we continue to invest in our customer experience, we know the ability to experience our brand and services is essential to creating a home with purpose."
To celebrate the store opening, Crate & Barrel will host the Flatiron Food & Design Festival onsite from Nov. 18 through Dec. 19. Events will include design discussion panels, food demos, in-person monogramming and more.
A Virtual Replica for Global Customers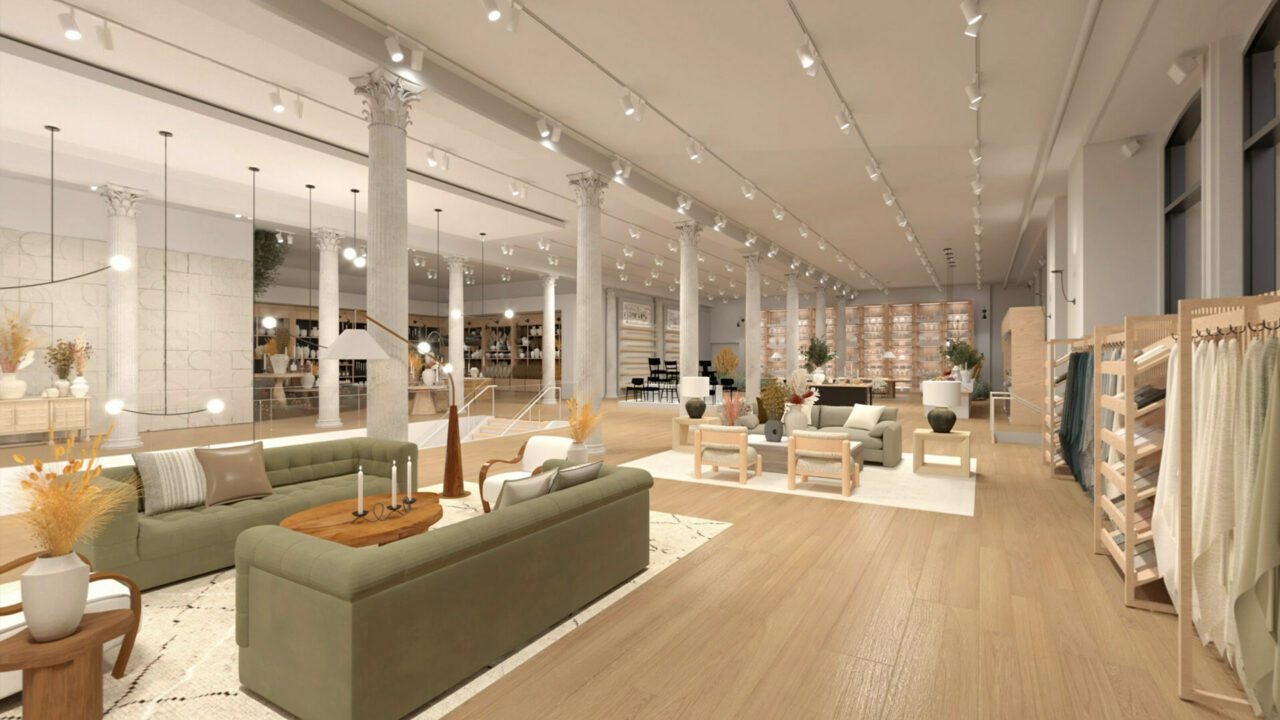 In tandem with the Flatiron store opening, Crate & Barrel also has launched its first-ever virtual store, which replicates the flagship and allows customers to experience and try out more than 450 products digitally. The fully shoppable virtual environment was created in partnership with Obsess and features engaging animations and interactive personalization tools that let customers visualize their own sofa and living room set and build their own floral bouquet using the brand's selection of vases and botanicals.
The virtual store is among the largest fully 3D-rendered spaces that Obsess has created to date, offering eight interactive room environments, including separate dining, kitchen, living room, botanical shop and Crate & Kids areas. And as in the physical location, the virtual store's Design Desk will offer free design and trade services with Crate & Barrel design experts to help customers bring their vision to life.
"Our virtual store in partnership with Obsess is a first-of-its-kind for us as a brand, and we're looking forward to helping our online global customers envision and experience our new physical flagship in NYC," said Sebastian Brauer, SVP of Product Design, Visual and Head of Web3 at Crate & Barrel in a statement. "We want to help our customers dream up their perfect space wherever they are, and this interactive tour allows them to find everything from tableware to furniture, lighting, décor and more."