The streets of New York City's SoHo are a far cry from the fields of Northern Israel. And yet with the opening of its new flagship store on Broadway, Naot Footwear is marking the latest milestone in an 80-year journey that began on a kibbutz in Upper Galilee (good thing Naot shoes are famed for their comfort).
"Opening a flagship store in New York City has been a dream of ours for many years," said Steve Lax, who began as Naot's U.S. distributor in the '90s and eventually bought the brand with his wife Susan Lax in 2014. "Our shoes truly are works of art — handmade in Israel from the highest-quality leathers and materials, the advanced designs deserve to be displayed alongside the art of SoHo," he said in a statement.
Intricate family ties have shaped this company throughout its eight decades in business and continue to drive the direction of Naot today, along with these basic tenets:
Sustainable sourcing and manufacturing (Naot shoes are still completely handmade, with 50 people working on each pair);
An unwavering focus on comfort through a fashion lens; and
A strong emphasis on relationships with its suppliers, sellers, customers, employees and community.
The Store as Brand Showcase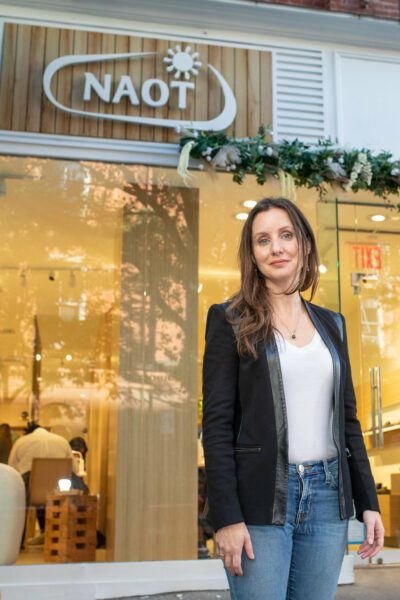 The new SoHo store — only the brand's second in the U.S. — is intended to showcase all of that (along with the shoes, of course). "This store has both a retail but also a marketing strategy to it," said Ayelet Lax Levy, President of Naot's U.S. operations, and one of Steve and Susan Lax's three daughters, in an interview with Retail TouchPoints. "The idea is to allow consumers not only to see the name and the brand, but also to experience the depth of the line in a way they may not in [our wholesale partners'] retail stores, as well as understand more of the brand's story."
Unlike many other SoHo debuts, Naot's new store doesn't signal the beginning of a large brick-and-mortar expansion. Naot currently has a strong standalone retail presence in Israel (60 stores) and Canada (10 stores), but in the U.S. its model is focused on wholesale. The brand's network of distributors is made up primarily of local independents, but Naot also has relationships with national retailers like Zappos, Nordstrom and The Walking Company. And Lax Levy wants to keep it that way.
"We don't have an overall strategy to open up like 100 retail stores in the U.S.," she said. "We still strongly believe in our retail partners and we certainly don't want to compete with the retailers that have brought us to the place where we are today."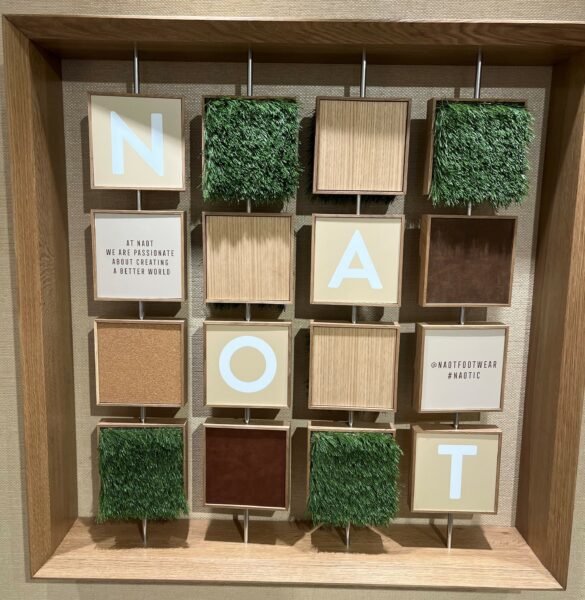 What the SoHo store is intended to do is bring customers inside the Naot brand, embodying its ethos through the design and showcasing a broader assortment than customers typically see at other retailers. "Our shoes are all about comfort and bringing a sense of comfort to people, so we really wanted to create a space where we could show the line, but also give a sense of calm and tell the brand story in a bigger way," said Lax Levy.
The 800-square-foot store, developed by Meir Sucher Designs and Equatorial Renovations, features an understated elegance in warm and welcoming neutrals. The shoes are the centerpiece, but they don't overwhelm the space, a delicate balance navigated by visual merchandiser Raylin Diaz.
Interspersed throughout the store are various nature-inspired art elements, including moss art pieces by Eco Brooklyn and a mural on the store's back wall designed by SPAETH Designs that features pieces of the actual cork and leather used to make Naot shoes. On the exterior, a floral arch by Roslyn Bala sets the mood before customers even enter.
Balancing Heritage with the World of Modern Retail
The comfort and ease that Lax Levy hopes the new SoHo store evokes, and for which the Naot brand is known, is clearly a point of pride for the executive. "I think a lot of brands throw around the word 'comfort,' but when you try on our shoes it's what we call that 'oh my gosh comfort feeling,'" she said. "People fall in love with our shoes, they wear them and then they become what we call Naotics. Some of our retail partners say that we have a cult-like following." As an example, Lax Levy mentioned a recent event her parents attended, where they met a woman who had just purchased her 124th pair of Naot shoes.
And the passion with which Lax Levy speaks about the brand and its customers extends to Naot's broader business partners. She shares with pride the details of the cork operation in Portugal, where the material for Naot soles is sourced, and the craftsmanship of the family-owned tanneries in Italy where the company gets it leather.
The same goes for Naot's retail partners. In fact, Naot is so committed to its wholesale operation that even its own website is not a typical direct-to-consumer operation, but instead deploys a marketplace-style model with 10 of the brand's top retail partners — rather than handling online sales themselves (and taking the higher margins that come along with that), Naot outsources the sale to whichever of the 10 retailers involved is closest to the order delivery location.
"The idea is that we can help support the retailers that support us instead of saying 'Okay, thank you for getting us here, but now that we're big enough to do DTC we don't need you,'" she said. "The idea with all of our partnerships is that it's got to be win-win all along the way. The reason we have phenomenal relationships with both the vendors that we buy from and the partners that we sell to is we treat people the way we want to be treated."
All of this combines to very organically create the kind of brand that many consumers today want to spend their money with: consciously sourced and made by hand, designed to last (Lax Levy said most Naot shoes last 15 to 20 years) and crafted with the customer in mind. The company also has an ongoing donation program that gives 150 to 500 pairs of shoes each week to local charities, often in partnership with regional retailers. For example, when Hurricane Ian hit Fort Myers, Fla., the company organized a shoe donation event in the parking lot of a local Peltz Shoes store.
Finding the balance between maintaining the brand's heritage and staying on top of current trends isn't easy, but Lax Levy said it was a friend who helped her hit on one simple solution years ago: "One of the things we do is we have women designing for women, which I know sounds [obvious] but when you enter the shoe industry [you realize it's not the norm]," she said. "About 15 years ago I took my best friend to a show in Milan. Now, I've grown up in this industry and sometimes when you grow up around things you don't see them, but when we got out of this trade show my friend said 'Wow, so many middle-aged men making decisions about women's fashion.' I realized she was right, and now we have a design team run and led by women."
Which isn't to say the brand doesn't have a men's offering; in fact, Lax Levy even hinted that there were big things to come on that front in 2023. And if one thing is sure, it's that thus far, Naot has proved to be a master of evolution, evidenced by its newest permutation in SoHo.
A New York Dream 80 Years in the Making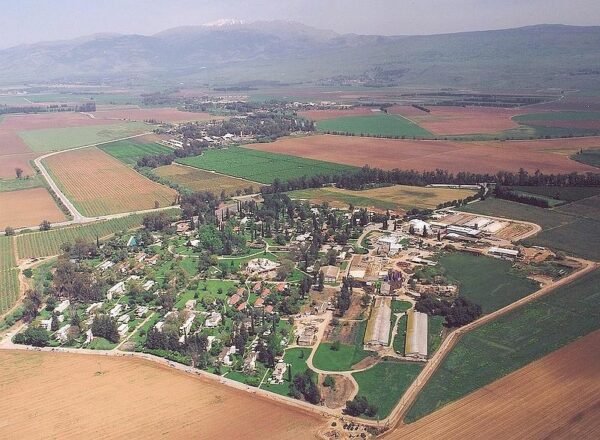 The SoHo store, and the scale of the entire business, represent a long journey from a modest beginning. Launched in 1942 in a one-room workshop on the Kibbutz Neot Mordechai  — a kibbutz, for those unfamiliar, is a communal settlement that typically engages in farming activities — the brand hit hard times in the '80s when the shoe industry took a downturn. An enterprising young businessman, Ami Bar-Nahor, turned things around by making Naot shoes not just comfortable but fashionable and bringing them to the world.
Steve Lax entered the picture in the late-'80s. He and his family had immigrated to America, but he knew of Naot because his sister- and brother-in-law lived on Neot Mordechai. So when he heard that the brand was looking to expand in America he took his chance, beating out two other groups that were bidding for the business to become Naot's U.S. distributor.
The company he and Susan founded to run the business — called Yaleet (derived from the combination of their two oldest daughter's names, Ayelet and Yonit) — eventually bought the whole Naot business in 2014, a risky financial gamble for the couple that they felt was necessary in order to keep manufacturing from being outsourced to China, as other bidders intended. Naot shoes are still made at that kibbutz today, and in addition to Lax Levy's role as U.S. President, her younger sister Netta-Lee Lax is also taking an active role in the business, serving as project manager for the SoHo store's development. (Yonit also lives in New York, working as a pediatrician.)
As Naot enters this latest chapter by marking its place at the heart of American fashion and retail, the legacy that the senior Laxes have worked so hard to protect will almost surely guide the family and the brand into the next 80 years.