Claire's is celebrating the opening of its next-generation store in Paris with a Fashion Week event on March 6, 2023 that will spotlight the brand's partnership with fashion designer Nicola Formichetti and V Magazine. At the same time the brand also is expanding its presence across grocery stores in the U.S.
Parisian Store Offers Glimpse into Claire's Future
The 1,200-square-foot Parisian store was designed in collaboration with Formichetti, who is currently serving as Claire's Creative Director in Residence. Designed for total brand immersion with experiences and social storytelling at its core, the company said the new location on Rue Faubourg St. Antoine will give visitors a peek into the "future of the brand."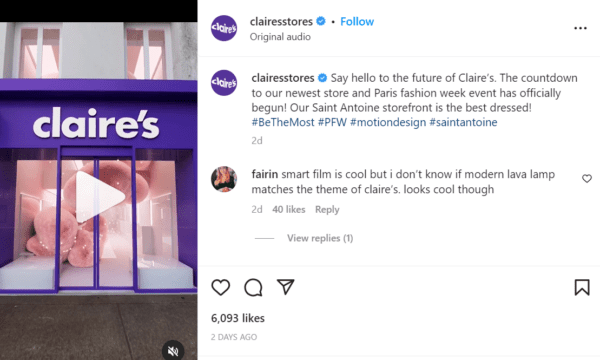 An ear-shaped "chandel-ear" designed by Formichetti welcomes shoppers and highlights the brand's #EarPrint campaign promoting its ear-piercing services. Two dedicated ear-piercing studios in the Paris store also showcase the service, and an in-store content creation studio invites consumers to get creative. The store will serve as a launch pad for exclusive new products and test lines, as well as hosting a steady rotation of experiential and pop-up events.
"We want our customers to feel inspired — through our product, our content and our innovative creative partnerships — but most importantly, through the shopping experience itself," said Richard Flint, President of Europe for Claire's in a statement. "The new Paris store is a portal into our brand world and a glimpse into our future. Full of immersive experiences and innovative touches, we're inviting consumers to have fun, experiment and co-create with Claire's."
The Fashion Week event will not only celebrate the store opening but also shine a spotlight on Mini V, a new publication developed through the Claire's partnership with Formichetti and V Magazine. Aimed at bringing a youthful lens to photography, fashion, music and culture for the new 'Generation Zalpha' (Gen Z and Gen Alpha), Mini V debuted in December 2022 and will release its second issue this spring. The publication will explore the latest fashion and pop culture trends and tackle topics like cyberbullying, self-acceptance and political policies through essays penned by Gen Z activists, artists and politicians.
"Gen Zalpha is fearless, authentic and wildly creative in the ways they show up, and our brand is a platform that creates space for them to express all sides of themselves," said Kristin Patrick, EVP and Chief Marketing Officer at Claire's in a statement. "Through our creation of Mini V, we are championing them in a whole new way and giving a powerful place for their voices to be heard."
2 New Grocery Partners and 230 More Locations to be Added in Next 3 Months
Claire's also is expanding its offerings to Gen Zalpha in the U.S. through a growing roster of consumer products partnerships with national and regional grocers.
Over the last two years, the brand has increased its distribution to grocery store locations by 300%; it's currently present in more than 2,200 locations across 10 grocery partners. In the next three months Claire's plans to add 230 more grocery store locations.
Grocery partners include Albertsons and Kroger as well as regional chains such as Food City, Winco, Giant Eagle, Smart and Final and Schnucks. Claire's will add two additional partners this spring, but did not identify the grocers.
These partnerships build on the brand's partnerships with more than 30 retailers across grocery, drug, toy, apparel, department stores and specialty, which include Walmart and, most recently, Macy's.
To fit each grocery partner's needs, Claire's creates custom programs to serve the unique space available within each store location in order to showcase the best of Claire's accessories, jewelry and cosmetics through colorful displays. The company said it has found success driving weekly sales across both smaller displays at checkout and through a larger brand presence in-aisle, with seasonal items remaining a standout category.
"Our successful consumer products partnership business has seen significant global growth, and our grocery partners are a key part of helping us harness the power of our brand," said Ryan Vero, CEO of Claire's in a statement.
For the last few years Claire's has been hyper-focused on once again becoming the go-to brand of tweens, and those efforts appear to be bearing fruit. In addition to the buzzy new store in Paris and expanding consumer products programs, the retailer also was recently named No. 2 in the retail sector in Fast Company's World's Most Innovative Companies list for 2023.
"Claire's has been on a journey of transformation, strengthening our brand power and reach through strategic initiatives to connect with consumers across the touch points where they are spending their time — from our compelling consumer products partnerships business to our diversified retail footprint and our entry into the metaverse," said Vero.