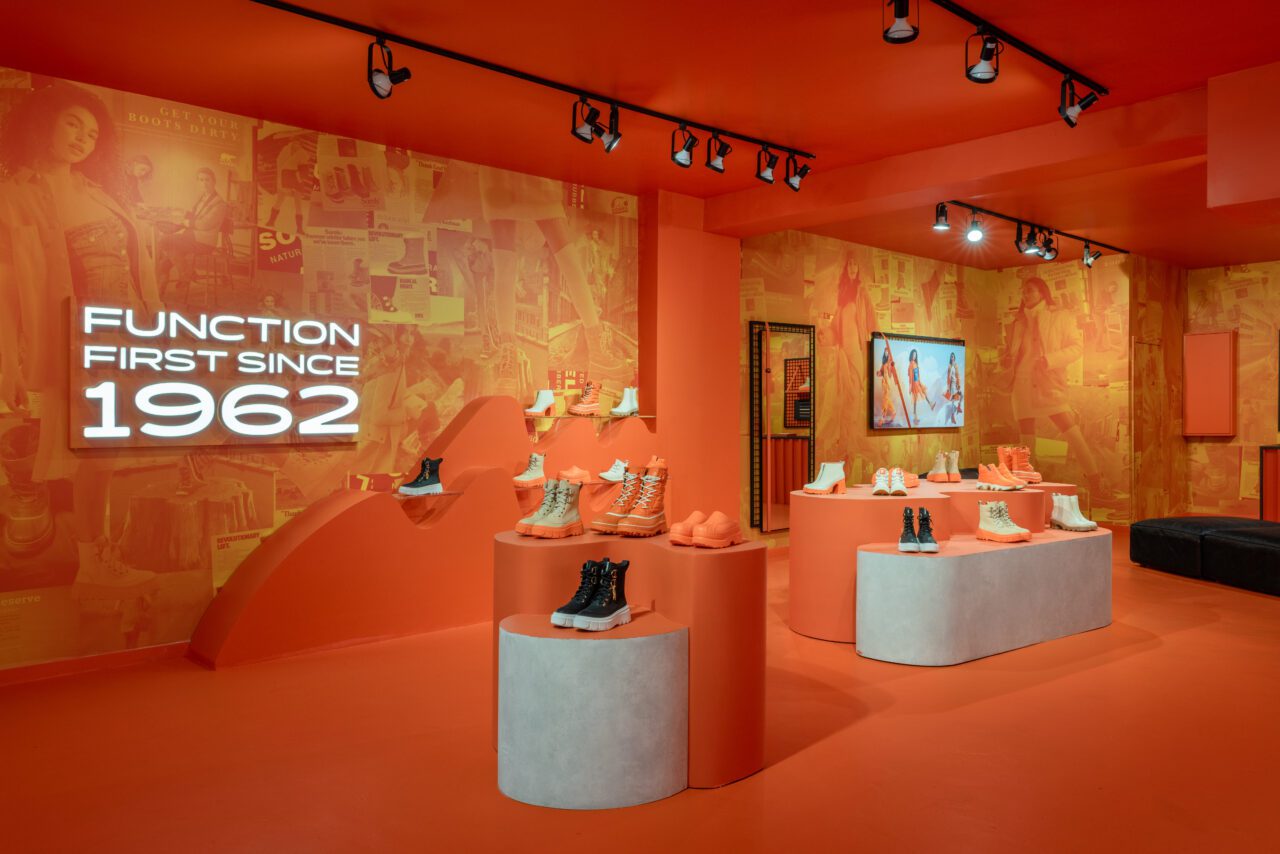 (Hover over a photo in the gallery above to read more details in the captions, or click on a photo to expand and open the full-size images.)
Visitors entering the new LEGO flagship on New York City's famed 5th Avenue are greeted by Lady Liberty herself, built out of mint green LEGO blocks, of course. As the talking Statue of Liberty welcomes customers (yes, she talks), another green icon — a life-size Hulk — sits to the side waiting for his photo op on an NYC park bench.
Impressive as they might be, these familiar faces are just the sideshow: the entrance is dominated by a rainbow-colored "Tree of Discovery" that stretches from floor to ceiling, begging to be climbed on. Luckily it was designed for just that purpose, with a base made out of the same rubbery surface found on playgrounds, inviting visitors to climb right up to the colorful LEGO-brick trunk and peer inside the tree's hollows for more surprises. (Fun fact: The tree is made up of more than 880,000 bricks and took 1,900 hours to build.)
Travis Blue, VP of Retail for the Americas at The LEGO Group, describes the tree as an Easter egg hunt with something new to find everywhere you look, and the store itself could be described the same way.
Experiential retail is nothing new for the LEGO brand, but this new store model — which will serve as a proving ground for up to 100 additional stores worldwide — takes "experience" to new heights, literally and figuratively. LEGO renditions of Batman and Spider-Man hang from the rafters, and the stairwell to the second floor is lined with a two-story LEGO mural of NYC skyscrapers populated with characters from DC Comics, Broadway, the LEGO movies and Ghostbusters.
"The store will periodically do something that most don't, which is make you look up. So you'll notice that Spider-Man is swinging over there, or Thor or Iron Man, and they are also pulling you upstairs to another area," said Blue at a press event unveiling the new store design.
Another thing that makes this store different from the 730+ other LEGO locations across the world is its modular design. The layout is created to be fully flexible: not only can it be changed frequently, but its elements can eventually be brought to LEGO stores of all sizes, including third-party retail partners. LEGO said it plans to open 120 more stores this year, some of which will feature elements of this new store design.
Building Lifelong Fans
An hour and a half into our tour of the 7,175-square-foot store, we still hadn't looked at a single product beyond those incorporated into experiences. And that's the point, according to Shian-Li Tsang, LEGO Group's Head of Retail Marketing for the Americas, who said the time customers spend in the store is "invaluable" even if they don't make a purchase. In fact, Blue likened the store to the LEGOLAND amusement parks in that the focus of this space is on nurturing and building lifelong fans — transactions are secondary.
"Our shoppers are looking for more memorable experiences that are unique to the LEGO brand, so over the last few years we've been investing in and expanding our brand footprint globally," said Claire Waugh, VP of the Retail Marketing Group at The LEGO Group during a session at NRF Retail Converge. "[This new format] will focus on both physical and digital experiences, making our retail stores much more of a destination rather than just a shopping convenience. We're developing ways for the customer to have more hands-on experiences that are unique to our brand but also drive a deeper connection."
That's not to say there's nothing to buy. The walls are lined with products, and two of the best experiences in the store cost extra:
For $15 you can spend 20 minutes in the Brick Lab, a bookable experience in which your real-world LEGO creations are brought to life in a digital, interactive LEGO landscape projected onto the walls and floors of a curtained-off room; and
For $11.99 you can design your own personalized Minifigure, with custom shirt designs printed on-site while you watch.
While most of the other experiences in the NYC store have appeared at other LEGO locations, this is the world's first Brick Lab. Families enter the room with a box of basic bricks, and the room itself features interactive projections on all four walls and the floor that react to touch and movement. Visitors are given seven minutes to build a creation with their bricks. Those creations are then loaded into a scanner that takes 1,000 photos in 40 seconds, then brings the creation to life on the walls where it can be played with in the digital world as well as the physical.
A Shift in Timing but Not Strategy
This new flagship location was scheduled to open in 2020, but like so many plans last year was delayed because of the pandemic. The license plate on the full-size LEGO taxi sitting in the front window still reads 2020, but fans will almost certainly forgive that small detail, or even see it as a tribute to a year in which the world stood still in so many ways.
The store's deferred public debut arrives as New York City comes back to life in many ways, with tourists returning, offices reopening and subway platforms becoming crowded once again. Set at the corner of 51st Street and 5th Avenue, it is mere blocks away from the brand's previous flagship at Rockefeller Center — a move necessitated by space requirements. All these experiences need room, after all.
Despite the delay, plans for the store didn't change — they are the result of two years of research, development and planning in partnership with brand and retail consultancy Landor & Fitch (which also is behind the new experiential M&M's store at the Mall of America), said Tsang.
Localized Offerings and New Tech Create a One-of-a-Kind Store
A location on 5th Ave means you have to bring your A-game when it comes to the windows, especially with neighbors like Cartier and Versace. LEGO doesn't disappoint. Hyper-detailed LEGO brick renditions of the Brooklyn Bridge and Rockefeller Center fill the glass frames. A Christmas tree is ready and waiting in the back to be placed at the iconic ice rink come the holidays, said Rachel Black, the store's Senior Manager.
Like all LEGO flagships, the NYC store is localized with a plethora of themed, regional content both to look at and buy. That content also will change and be continually updated around holidays and other events. Blue mentioned, for example, the possibility of doing special store treatments when Broadway reopens this fall.
"Ultimately nothing beats going into a store to see or touch or explore a product, and so we're leaning into that even more now that we're starting to see [lockdown] restrictions lift," said Waugh. "And with these new formats, we'll be looking at ways to explore how we can offer new digital experiences that unite physical and digital worlds to take LEGO play to an entirely new level using innovative technology. These experiences intend to surprise and delight whilst also allowing children, adults and fans to share their ideas and creativity."
LEGO's latest take on experiential retail feels fuller and more dimensional than other recent efforts (the Toys 'R' Us blink-and-you-missed-it mall-based revival comes to mind). You can easily spend an hour in the store, never make a purchase and still leave completely satisfied. Of course, LEGO is banking on the fact that customers will want to continue the fun at home with a building set or two, and to be honest, that seems like a pretty solid bet.