PetSmart has launched PetSmart Veterinary Services (PVS) in a bid to fill empty clinic spaces in its stores while simultaneously helping veterinarians launch their own private practices.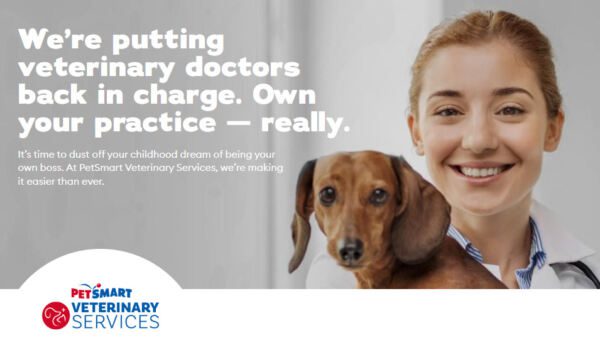 Individually owned veterinary medical practices have been shrinking across the U.S. as the industry consolidates, and many veterinarians have been out-priced or out-positioned in the market by larger conglomerates. With PVS, veterinarians can go independent and own their business through a franchised practice, at what PetSmart said is "a fraction of the cost" of starting a new practice on their own. PVS veterinarians will receive the support of PetSmart's industry experts as well as a location with built-in foot traffic.
"PetSmart already has one of the largest veterinary offerings with more than 700 partnering veterinary hospitals inside our stores providing convenient access to quality pet care," said J.K. Symancyk, President and CEO of PetSmart in a statement. "With the PVS independent ownership model, we can bring our size, capabilities and expertise as the leading pet retailer to support veterinarians seeking the independence and rewards of owning a practice. These efforts will provide critical veterinary care to the rising number of pets and pet parents and is an important part of our growth strategy to give our customers all the products, services, solutions and care they need within one location."
PVS will provide each practice owner with built-in resources for marketing, information technology, construction, training, reporting and ongoing consultation. To ensure the highest standard of care, every PVS hospital will be required to maintain American Animal Hospital Association accreditation. 
"We're on a mission to empower veterinarians and ensure greater access to care for pets," said John Bork, SVP of Vet Health Services at PetSmart. "With PetSmart Veterinary Services, we are able to support [veterinarians] in achieving their dreams and help them thrive as practice owners."
PetSmart isn't alone in seeing an opportunity to bring the medtail movement to the animal care industry (aka "vet-tail"):
In 2019, Walmart significantly expanded its pet health care network from 21 locations to 100 and launched an online pet pharmacy. Then in 2020 the retailer added pet insurance to its roster of offerings, as well as boarding and walking services through a partnership with Rover;
Petco has also teamed up with Rover for pet sitting and dog walking services and offers a Vital Care health and wellness membership program that includes unlimited routine vet exams as well as discounts on other services and products;
PetSmart has its own Rx delivery service through a partnership with Allivet;
Pet Supplies Plus offers VIP Petcare clinic pop-ups and permanent animal wellness centers at many of its locations; and
Online competitor Chewy continues to expand into pet health care offerings with telehealth and pet insurance, as well as its Practice Hub for vet offices, which allows vets to sell their own products and "petscriptions" on the Chewy marketplace and provides them with help in areas such as office management.