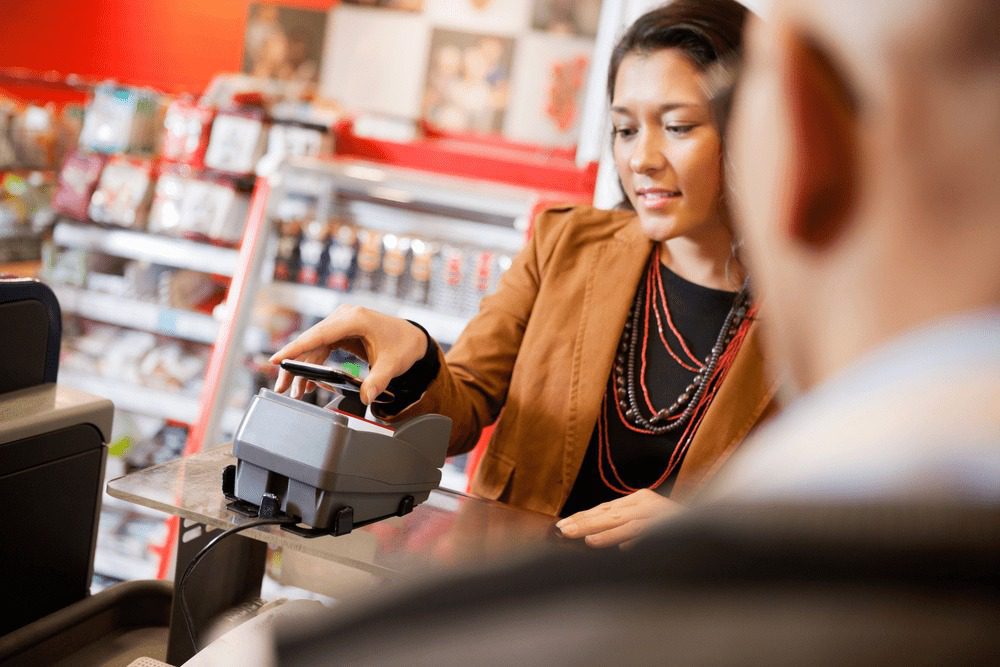 The race to replace cash has spawned a crowded landscape of innovative payments technologies, from wearable devices to chip-enabled cards. But while some seem better suited to a sci-fi flick than a retail store, others are fast gaining a foothold in the mainstream market. In fact, from 2012 to 2013, the volume of traditional cash transactions dropped by 10%, a total of $86 billion, and is forecasted to plummet further over the next six years, according to a 2014 report by Javelin Strategy & Research.
Among the most recent cash-replacement contenders is Apple Pay. With an expected launch date in October 2014, Apple Pay is a mobile payments system that works with iPhone 6 and iPhone 6 Plus. Featuring a built-in Near Field Communication (NFC) antennae, device owners simply tap their iPhone on a store's contactless credit card terminal to make a payment. Actual card numbers are not stored on the device or on Apple servers; and Apple's Touch ID sensor technology — which uses a customer's fingerprint as a passcode — helps to prevent fraud.
Apple is not the first company to roll out an NFC-powered contactless payments system: Google and Softcard (formally Isis Wallet) already offer their own versions. But Apple's brand name power could give the emerging technology a much-needed nudge towards mainstream acceptance.
"Apple is one of the few players in the world that can move the market because they have such a strong followership of users," said Daniela Mielke, Chief Strategy and Product Officer for Vantiv, a provider of payment processing solutions and a member of the Retail Solutions Provider Association (RSPA).
This clout could help to increase adoption among both consumers and retailers. "There's a real chance now that NFC will become the de facto standard for proximity payments," said Mielke.
Another upside of Apple Pay is the convenience it offers both merchants and consumers. From a merchant perspective, Apple Pay does not require the implementation of any proprietary technology.
Solutions like Apple Pay also simplify the payment process. "On all other digital wallets, you have to authenticate your phone, then you have to open your app or digital wallet, and then you may have to enter another password," said Mielke. "Many times there are at least three additional steps the consumer has to take."
Increasing Consumer Adoption
The most successful mobile payment systems are the ones that have minimized additional steps needed to complete transactions. Convenience, for example, is central to the ongoing success of Starbucks' mobile payment system. In addition to recently adding a barista tipping module and shake-to-pay features to its mobile app, the beverage behemoth currently is testing a new service that will let customers pre-order coffee and food, anytime, anywhere. More than 11% of Starbucks' customer payments are generated via its mobile app — a success story that analysts say could give merchant-branded mobile initiatives a significant leg-up over digital wallets from players like Google, Amazon and PayPal.
"When it comes to in-store transactions, no one has figured out how to get consumers to adopt digital wallets," said Nikhil Joseph, a Mercator Advisory Group analyst. "Starbucks has been the only success story. They've built their own app from scratch, and they use a simple QR code implementation, which is why they've grown very fast."
James Wester, Research Director of Global Payments at IDC, agrees: "All these digital wallets are trying to do the same thing that Starbucks did — to capture that lightning in a bottle and see if they can bundle it across merchants. But I'm not exactly certain they can just yet."
Competing In A Crowded Space
The number of technologies available to implement mobile payments can present obstacles to adoption and implementation. A disadvantage of NFC payments is that the technology requires often requires upgrades for both retailers and shoppers. Some options ease this burden.
LoopWallet is one new entrant in the payments technology space that's shaking things up by not requiring any modifications to a merchant's card reader, or a consumer's phone. The system allows users to make purchases using either a detachable fob with a built-in card reader, or a smartphone case that's capable of communicating with more than 90%of existing POS devices via a magnetic field, not unlike the magnetic stripe found on a credit card. Both LoopPay Fob and LoopPay ChargeCase work in tandem with a mobile app that stores all of a users' credit and debit card information.
"Right now, Loop requires some add-ons from consumers, but I expect that they will move quickly to make it a more seamless experience and embed [digital wallet] capabilities into a handset as well," said Denee Carrington, Senior Analyst, Forrester Research.
Other payment technologies on the horizon include Coin's replacement for the credit card. The company is currently taking pre-orders on a device that can store up to eight payment options, such as a debit card and a corporate credit card, on a single, credit card shaped device. By pressing a button on the card, shoppers can choose how they'd like to pay. The device swipes exactly like the cards shoppers are already used to, and removes the necessity to carry multiple cards. Coin is currently in beta testing, and the company expects a full release in 2015.
There is, however, a cautionary case study Coin could examine. Similar to Coin, iCache's Geode also promised the ability to store multiple payment options on a single device — focusing on Apple's iPhone 4. Geode aimed to combine an iPhone case with a card that served as a payment option. It received more than $350,000 in funding on Kickstarter — well more than the company's $50,000 goal. Unfortunately, manufacturing problems led to delays and anxiety for the Kickstarter backers. Once the devices shipped, some users reported problems getting the programmable magnetic stripe card to work. Finally, the company did not adapt when Apple changed the form factor of its iPhone with the release of the iPhone 5. Former employees and consultants filed lawsuits, the board of directors shrank to just one member and the company pulled down its web site. The Kickstarter page, however, is still live.

In the meantime, the Merchant Customer Exchange (MCX) is gearing up for the 2015 launch of its own mobile payment system. Dubbed CurrentC, the QR-code smartphone payment platform was built by a consortium of retailers including Walmart, Best Buy and Target. Consumers will be able to use the network to complete purchases at more than 110,000 store locations across the U.S., while at the same time earning merchant loyalty rewards and coupon savings. Currently, CurrentC is in private pilot mode in select locations across the U.S.
"It's an open field as far as digital wallets go," said Joseph.
Another development shaping the future of payments technology is the growing adoption of EMV chip technology. This summer, big-box retailers Walmart and Sam's Club rolled out a chip-enabled MasterCard, prompting cardholders to embrace a payment process more secure than swiping. Until now, U.S.-based retailers have been slow to accept EMV compared to other countries, but as the October 2015 deadline looms, big-box retailers' adoption of EMV is "a positive sign that we're moving in the right direction," said Carrington, noting that EMV still requires "an enormous investment" from both merchant and credit card issuers. Arguably, EMV adoption also will succeed in large part based on consumer acceptance.
The retail payment environment is fast-moving and quickly changing. While debating the benefits of NFC and EMV, retailers also have their eye on the next frontier: Wearable technology. BeautifulLab, for example, has developed a wearable payment app that lets consumers pay for items with their Pebble smartwatch. And mobile payments company Wallaby Financial recently unveiled a new smartwatch app for Samsung's Gear 2, hoping to secure terrain in what's sure to be another hot payments trend.