One of the few major retailers making strides in mobile commerce, Sears has enabled consumers to buy on the mobile phone and pick up in store with its Sears2Go service, launched before the 2008 holiday shopping season. Tom Emmons, Team Leader of Mobile Innovation, shared key insight into Sears' mobile strategy at today's Mobile Commerce Spotlight Event, sponsored by Mobile Marketer and DMA Mobile Marketing Council.
"There are a ton of ways to think about retail in mobile," Emmons started. "Sears is moving toward changing the way purchasing works." The Sears2go service for mobile has sold appliances, automotive parts, apparel, computers and electronics and tools, among other items. Emmons said last Sunday the retailer sold a $3,000 lawnmower on the mobile device, framing the demand for big-ticket items.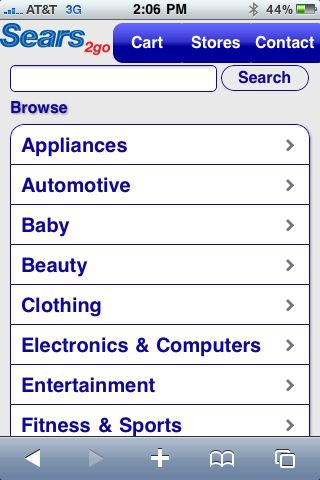 While the buzz about mobile commerce is alive and well, Emmons urges retailers to think about the benefits of mobile for your individual organization before jumping on the bandwagon.
Developing a Good Mobile Use Case:
Why would anyone use your app or mobile site? Be sure your customer is plugged into the mobile device and the messaging is relevant, rich and worthy of their time.
Mobile scorecard- Assess technology and its potential usage as it relates to your business. Be sure to keep in mind your customer's resources and what types of problems you can help address with mobile technology.
Choose a technology for your application or site (SMS, WAP, application, etc.)
Comparing the mobile craze with the early days of the Internet, Emmons says we're in 1997 for mobile commerce. "We have a lot of people out there with high end phones, like iPhones and Blackberrys," he said. "The question is how many more people are there out there like this who don't have these devices? The device adoption is growing due to the cost coming down and technology advances. I think we'll see potential users go up." Emmons said the growth of iPhone usage will also spawn more opportunity for mobile commerce and messaging.
The role of mobile, according to Emmons, is to serve as an extension of ecommerce transactions and a facilitator between Web sites and stores. Mobile can also help customers access information and reviews, whether in-store or from remote locations for on-the-go shopping.
Other sessions from the DMA event included: "Mobile Commerce: The Opportunity for Incremental Sales from On-the-Go Consumers;" "Essential Elements of Mobile Commerce: People, Tools, Applications, Marketing, Biling, Payment and Fulfillment;" "How to Create and Deploy a Mobile Commerce Web site;" "Mobile Coupons: The Ideal Customer Acquisition and Retention Tool;" "Adding a Mobile Component to the Catalog, Retail Store, DRTV and Ecommerce Channels;" "How to Create and Execute Mobile Marketing Campaigns for Retailers, Catalogers and Direct Marketers," and "The Dos and Don'ts of Mobile Commerce."