Bankruptcies and store closures are, unfortunately, ongoing features of the retail ecosystem. However, COVID-19 has undoubtedly accelerated both. Many of the affected companies, such as JCPenney and Neiman Marcus, faced financial hardships before the pandemic, however, these closures reaffirmed that many legacy, store-focused businesses have failed to prioritize the in-store experience.

However, the industry is witnessing the emergence of a new brick-and-mortar era that is giving brands and retailers alike more opportunities to innovate and differentiate, including:
New brand partnerships poised to help revive the mall experience;
Data-driven, agile store design strategies that meet evolving customer needs; and
Verticalized business models that combine products, services and communities.

'At-Home' Categories Weather the COVID Storm
In its latest US & UK Store Openings & Closures report, Coresight Research reported that U.S. retailers announced 8,013 closures and UK retailers announced 2,094 closures year-to-date. In comparison, the U.S. and UK reported 9,832 and 771 closures, respectively, in all of 2019.

However, it's important to note that U.S. and UK retailers announced nearly 3,900 store openings in 2020, according to the Coresight report. Deeper analysis from CoStar reveals that "a significant portion of the retailers that have announced the most space to open this year are discount retailers, such as Dollar General, Dollar Tree and Family Dollar," said Kevin Cody, Senior Consultant for CoStar in an interview with Retail TouchPoints. "There are also several discount grocers, such as Food Lion, Lidl and Aldi. These types of retailers have generally experienced strong sales throughout the pandemic."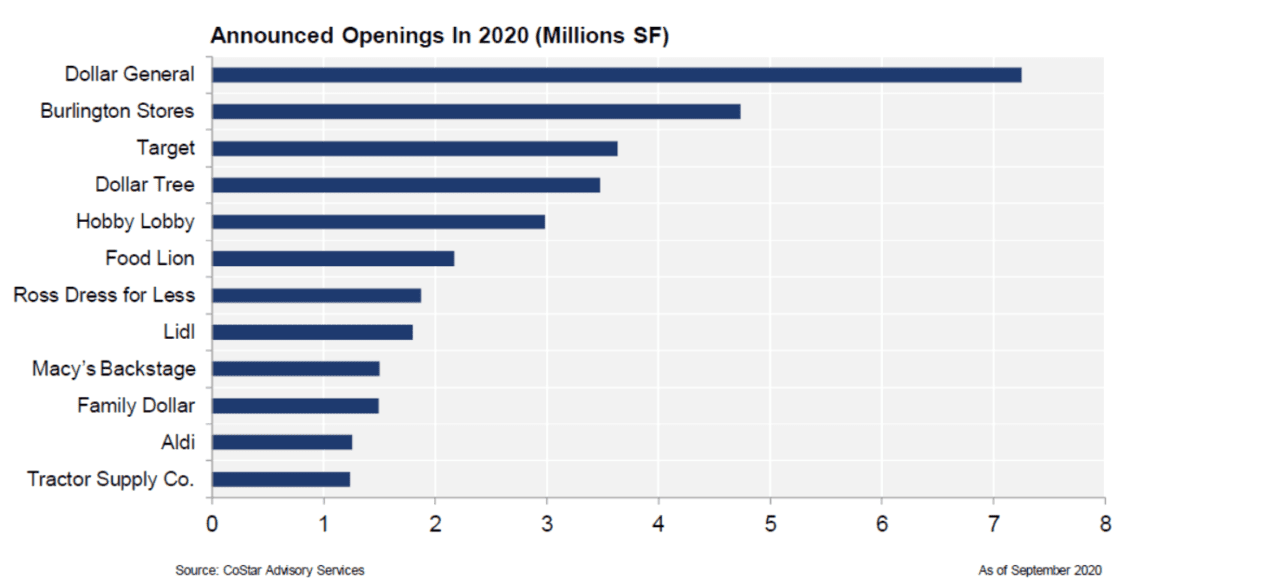 Four additional verticals have been able to weather the pandemic storm, encouraging some brands and retailers to bolster their brick-and-mortar footprints. These retailers largely aligned with "at-home" needs and activities, including:
Home Improvement & Gardening: Tractor Supply recently opened its 1,900th store, demonstrating the boom in the home improvement and gardening sector. The Coresight Research report noted that the category increased approximately 12% year-over-year in August, and that brick-and-mortar sales were a significant contributor to this growth. The report added: "Even as ecommerce grows, we see retailers with stores retaining a significant advantage over online-only retailers for browsing, advice and immediacy of availability."

Sporting Goods & Fitness: As consumers strive to prioritize personal health and wellness, retailers such as DICK'S Sporting Goods are seeing growth opportunities. The retailer plans to open 11 new U.S. stores across its portfolio, including DICK'S Sporting Goods outlets, Golf Galaxy and DICK'S Sporting Goods Warehouse Sale outlets.

Athleisure: Brands offering workout and leisure apparel have seen a surge in sales as many households continue to work and learn from home. Lululemon experienced strong online sales growth when stores closed, with comparable sales increasing 157% compared to the same period in 2019. Now some of this demand is transitioning to stores, so Lululemon is planning to open dozens of new locations through the end of 2020, as well as more than 70 seasonal shops, according to CEO Calvin McDonald.

Off-Price Retail: Like dollar stores, off-price retailers tend to thrive in times of economic uncertainty. That is why Burlington announced plans to open 62 new stores in its FY 2020, which will end in February 2021. "We believe that the COVID-19 pandemic is likely to create an even stronger consumer need and desire for value, and it's also likely to increase the number and the pace of competitor store closures," said Burlington CEO Michael O'Sullivan during an earnings call. "So if both of those things turn out to happen, then the pandemic could actually increase the longer-term market share opportunity for off-price."

3 Trends Driving the Future of Brick-and-Mortar Strategy
While there are a multitude of trends large and small that have accelerated because of COVID-19, two fundamental realities are driving the future of brick-and-mortar strategy. As more consumers relied on ecommerce during lockdowns, many first-time users discovered its ease and convenience, making it more crucial for brick-and-mortar stores to differentiate their experiences. In addition, heightened demand for contactless commerce and fulfillment options have brought omnichannel alignment and visibility to the forefront, making it the linchpin for all best-in-class store experiences

Built upon these foundational realities are three connecting trends driving strategic and tactical decisions, including store openings, design, merchandising and customer engagement efforts:
1. Mall Developers Focus on Shaking Up the Brand Mix
Nearly 500 of the enclosed shopping malls across the U.S. are "at risk due to their location being poor" or "due to their dependence" on office workers or tourism for foot traffic, according to analysis from CoStar's Cody.

Steven Dennis, author and Founder of SageBerry Consulting, agrees, noting that "malls and traditional shopping centers will continue to consolidate or be massively repurposed at a faster rate than we've seen in recent years."
"Most retailers and mall developers need to get much more creative, as aggregate demand will remain tepid and the shift to online is accelerated."

Steven Dennis, author, Remarkable Retail
To that end, both Cody and Dennis pointed to malls' need to revitalize their experiences by combining food, entertainment and partnerships with new, exciting brands — especially those in the digitally native direct-to-consumer (DTC) realm.

"With the rise of ecommerce, traditional tenants like department stores and apparel stores were struggling, and consumers were increasingly craving experiences in their shopping trips," said Cody in an interview with Retail TouchPoints. "While the virus has hit the experiential sector hard, and we expect it to have a slow recovery post-pandemic, we do prefer experiential retailers over traditional retailers in the long-term."

Up-and-coming DTC brands in particular have a ripe opportunity to enter shopping malls, as rents drop and developers rethink their lease agreements to favor short-term partnerships and pop-ups.

"Landlords will need to be even more open-minded about lease terms and structures," explained Melissa Gonzalez, CEO and Chief Pop-up Architect of The Lionesque Group, an MG2 Company. "Many brands will expect a shorter-term option, or a 'good guy' clause to get out if sales performance isn't there on longer term leases. Additionally, the base rent will likely be lower, with rent being more attributable to sales performance."

2. Agile Strategy Supports Shifting Regulations and Consumer Needs
"Agility" was a hot buzzword even before COVID, but it has acquired new urgency in the brick-and-mortar realm. In many cases, physical retailers are tasked with adapting and responding to constantly changing health regulations and requirements, while also being respectful of consumer needs and comfort levels.

For example, Walmart recently unveiled a reimagined store design to create a more digitally enabled, and at times contactless, shopping experience. The retailer emphasized seamless store navigation and product layouts designed to improve item visibility and support consumers as they move safely throughout the store. As retailers get into the heart of the holiday season, experts believe the ability to monitor consumer behaviors, and to intelligently move fixtures and modular store elements in response to those behaviors, will be crucial to winning customer trust and maximizing revenue opportunities.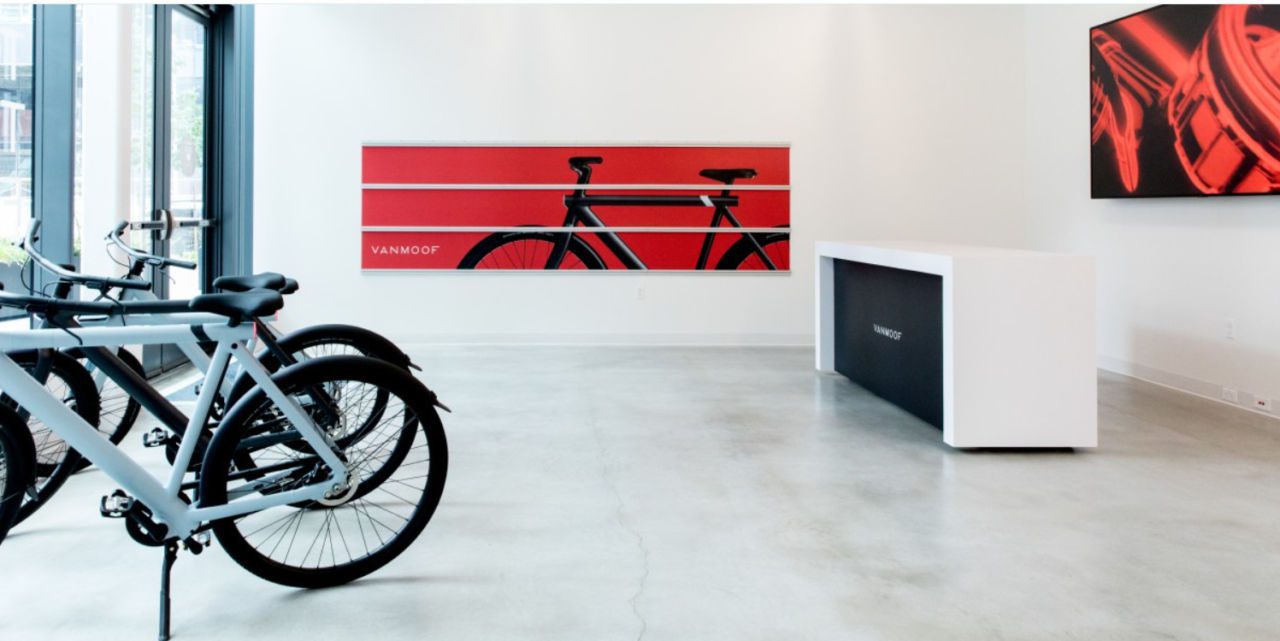 Due to their potential value, agile design strategies are expanding to the developer level, creating inroads for brick-and-mortar innovation in the form of rotating pop-up models and curated concepts. This summer, the Lionesque Group launched Periodic: A Pop-Up Shop in Seattle, which is designed to be a curated pop-up experience featuring a rotating selection of specialty brands. Brands including electric bike company Van Moof, Glassybaby and Sensebellum have already been featured, while 4Twenty4, a local boutique, is opening its doors on October 23.

"Pop-up retail will be a relevant and sustainable approach to brick-and-mortar retail in the future," said Gonzalez. "Pop-up retail will provide brands and retailers a platform to test new locations, new formats, new technologies, new partnerships and beyond. Additionally, as retailers have consolidated their national footprints during COVID, they are doing the homework of evaluating which locations justify a presence 12 months a year, and which would be better optimized with target shorter-term (pop-up retail) activations."
3. Verticalization Connects Commerce and Services
With store closures, brands and retailers have had to bolster their omnichannel strategies. For some, the focus was all on fulfillment as they sought to provide consumers with quick, easy and contactless delivery and pickup options. Other brands prioritized digitizing services and experiences to maximize existing customer relationships and generate revenue.

Moving forward, the brands and retailers that win in-store will have a verticalized model that combines the best of brick-and-mortar engagement, digital content and services, according to Michael Brown, a Partner in the consumer practice of Kearney. Peloton is a notable leader in this space, building on a very focused product assortment to include a monthly revenue model via exercise classes, community and more. Following its acquisition of MIRROR, Lululemon is looking at the device as a channel that connects consumers to their peers in the digital community, as well as to brand ambassadors and store associates.

"Retailers need to evolve from just being a seller of goods to becoming a platform, a hub for content, community and commerce," Brown explained. This platform helps "bring the consumer to them for all of those purposes, and it continues to reduce the [cost of] acquisition of consumers through advertising, engages them in a more personal way, and allows [brands and retailers] to draw insights not only from their purchases, but from the content and services that they engage in."
Although physical retail is likely to continue experiencing challenges and disruptions going into 2021, Brown notes that "the future of retail is still grounded in brick-and-mortar." However, "retailers need to look at their store portfolio, and reset it for the way that consumers shop today. That doesn't mean just closing unprofitable stores in a slow spiral to eventually close them all. It means looking at the role of the store, rethinking the network and considering different formats of stores."

Part of this rethinking means considering the role technology can play in augmenting the experience and creating better integration between channels, which Gonzalez believes will drive positive change for the industry in the long run.

"I think brick-and-mortar experiences will be better [moving forward] because 2020 accelerated innovation and technology integration, and is forcing brands and retailers to take a more curated approach when it comes to thinking about the customer journey," said Gonzalez. "Many retailers are finding ways to mimic the in-person shopping experience by escalating the rollout of tools and services that make unified commerce possible, and all are working to streamline strategies to better bridge the gap between online and offline worlds."