The National Retail Federation (NRF) and CNBC have teamed up to launch a new retail sales tracker, the CNBC/NRF Retail Monitor. The new tracker aims to offer more accurate and timely insights by using actual, real-time debit and credit card purchase data from Affinity Solutions, which compiles data from more than 140 million credit and debit cards and nearly 9 billion transactions annually.
The companies announced the debut of the CNBC/NRF Retail Monitor on CNBC's Squawk Box. Every month Retail Monitor data will be announced approximately one week prior to the U.S. Census Bureau's Retail Sales figures, with CNBC providing in-depth analysis across its multiple platforms. Regular features will include monthly and annual retail sales performance figures:
Total retail sales (excluding auto, gas);
Core retail sales (excluding auto, gas and restaurants); and
Nine retail sectors, plus restaurants.
"The CNBC/NRF Retail Monitor will provide comprehensive, granular and timely insights that measure monthly retail sales and gauge the state of the retail industry, the consumer and the broader economy," said Matthew Shay, President and CEO of the NRF in a statement. "The CNBC/NRF Retail Monitor will modernize how retail sales are tracked and measured, and Affinity Solutions' vast dataset of how, what and where the consumer is spending will identify how key demographics and channels are performing for the industry generally and for specific retail sectors."
The data will be shown both seasonally and not seasonally adjusted, and unlike survey-based measures, once the CNBC/NRF Retail Monitor data is released, it is final and will not be revised monthly or annually.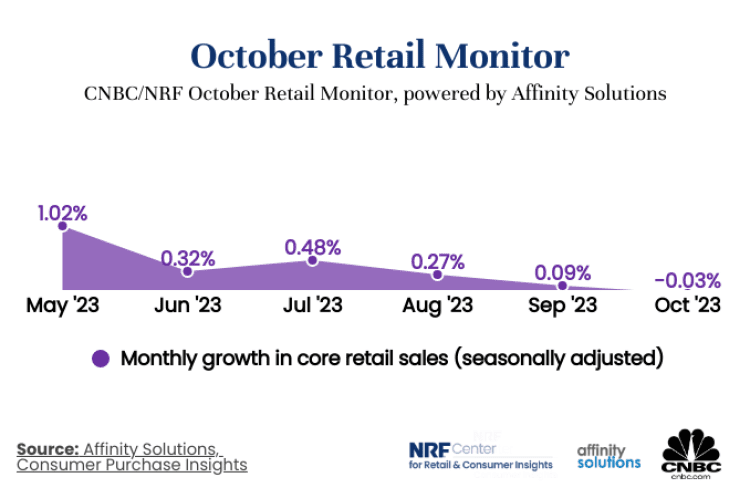 In October, total retail sales, excluding automobiles and gas, were essentially flat, down .08% from September and up 2.57% year over year. That compared with increases of 0.23% month-over-month and 4.93% year-over-year in September.
The CNBC/NRF Retail Monitor was jointly developed by CNBC and NRF's new Center for Retail & Consumer Insights, together with Affinity Solutions.
"The Retail Monitor heralds a new era of retail intelligence, where data isn't just a resource — it's a roadmap to understanding and engaging with the modern consumer," said Jonathan Silver, CEO and Founder of Affinity Solutions in a statement. "Through Affinity Solutions' work with NRF and CNBC, we're equipping businesses with the power to anticipate and adapt to the fast-paced and iterative retail market."
"CNBC is pleased to join with NRF and Affinity to offer this data," said Dan Colarusso, SVP of Business News at CNBC in a statement. "Our audience, investors and executives alike, will now be armed with dynamic insights that go beyond headline numbers to show emerging trends and critical detail."