Well known for its innovative approach customer relationship management, home furnishings retailer IKEA has been giving customers all over the world something to talk about. Focused on providing consumers with the ultimate in function, design and price, Founder Ingvar Kamprad believed in saving in every way possible—except on ideas and quality. Store traffic has steadily increased, with nearly 650 million visitors in 2008 alone.
Largely attributed to the company's commitment to customer service, IKEA continues on inspiration and innovation. Retail TouchPoints recently caught up with IKEA US execs Tracey Kelly (Communications Manager) and Marty McGuire (Direct Marketing Manager) to discuss the company's approach to loyalty and the upcoming holiday shopping season, as well as new plans to tap into the new media goldmine that is, the mobile phone.
Retail TouchPoints: IKEA has established itself as a prominent player in the furniture industry with strong brand power and a commitment to customer service. What are some the fundamentals of IKEA's business model?
Tracey Kelly: IKEA's business idea is to offer a wide range of well designed, functional home furnishings products at prices so low that as many people as possible will be able to afford them. For more than 60 years IKEA has been learning about everyday life at home for people all over the world. We use that knowledge and experience to offer solutions that meet our customer's needs. We believe that although people may live on a limited budget, they still want to create a beautiful and functional home.  IKEA stores sell everything to furnish the home under one roof. The room settings in our stores show the range in an inspiring way that offers customers ideas and smart solutions for their homes. Most IKEA furniture is available to take home today so that customers can begin to enjoy their purchase immediately.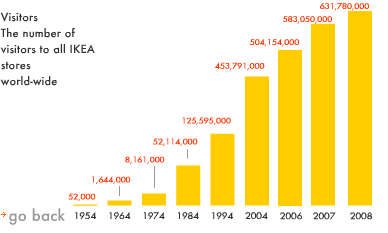 RTP: Can you speak to IKEA's loyalty program and how it integrates into customer service? What feedback have you seen from the recent deployment of IKEA FAMILY registration kiosks in Belgium? Is this an effort that might be expanded into the US market?
Marty McGuire: Our global loyalty program "IKEA FAMILY" will be introduced in the US, but we are still working on the timing and how it will be integrated into the full shopping experience. Kiosks will play a role in our US program, benefiting from the IKEA experiences gained from other countries in addition to our own research.
RTP: The mobile phone has really been established as an additional channel in retail, and IKEA has taken full advantage of that by using it to build a database of customers. The response has been impressive, as Mobile Marketer reported 23,000 opt ins as of June. Are you seeing this number grow? How is IKEA putting this information to work? Targeted offers?
McGuire: Interest in IKEA Mobile content from our customers is increasing rapidly. There is a lot of opportunity to better serve our customers' needs by providing content that is optimized for their smartphone's display size and embraces the features they already use (SMS, GPS, Web access, downloadable apps, email, etc.). Mobile presence by retailers is expected from many consumers today, and we will increasingly be supporting existing and new customers through the mobile channel as smartphone penetration increases in the US.  IKEA US customers can now sign up for IKEA Mobile SMS notifications by texting "JOIN" to 62345, by visiting our IKEA US Mobile Web site at http://m.IKEA.us or via our Web site at www.IKEA-USA.com/signup.
RTP: From an overall retail perspective, how do you see customer behavior and purchasing patterns shifting going into holiday? What are some of the ways IKEA is driving in store traffic in the coming months?
Kelley: The biggest selling period for IKEA is when we distribute our annual catalog during August, not during the holidays as it might be with other retailers. Given the current economic conditions, we felt now is the time to lower prices even further on some of our best selling products for our new catalog. These are the products that our customers love; many of them have been in the IKEA range offering for many years. Based on our experience we know that by doing this we will drive traffic to our stores. We will continue to lower prices on many of our best sellers throughout the coming year.