Fishing is one of the world's most popular hobbies, and if you're a fishing enthusiast (or know one) then you know how passionate practitioners of the sport can be. Fishbrain has harnessed that passion through its vertical social platform, bringing together more than 14 million anglers from around the world through its community-focused app and website.
While the platform began as a social network, it has since expanded — first into a vast database and now a marketplace — where anglers can not only share their epic catches but also gather intel and purchase gear. It's a prime example of the growing arena of community commerce — ecommerce ecosystems that cater to groups of like-minded individuals.
Key to the community commerce model is the fact that transactions are not the focus. Commerce, when it happens, feels simply like a natural outcome of engagement in the community.
For Fishbrain's creators, adding a marketplace felt very much like a natural expansion of what they were already doing — even if building the commerce functionality represented a plunge into the deep end for the company. "It's not like we were in ecommerce and were just going to add a marketplace; we're in a totally different business, so it's been a wild ride," said Lisa Kennelly, Chief Marketing Officer of Fishbrain in an interview with Retail TouchPoints.
Along for the ride has been marketplace solution Marketplacer, which has worked closely with Fishbrain on its journey into the waters of digital commerce. The marketplace model has turned out to be an ideal solution for Fishbrain, which:
Wanted to add a new revenue stream but wasn't equipped to take on the inventory and fulfillment challenges of a traditional retailer;
Was looking for a way to continue to grow its community of fishing enthusiasts and connect them with the larger fishing industry, much of which is still relatively low-tech in terms of retail operations; and
Needed a scalable solution that will allow eventual expansion, both geographically and into other business areas such as services or branded merchandise.
From Monetizing Fishing Intel to Selling Gear
Fishbrain launched in 2010 as a free app for fishing enthusiasts. "It started as a social network for people to connect with other anglers, share pics next to your fish, things like that," recounted Kennelly. "But from that we started to collect a lot of data, and we were able to put it all into a map to share information, like 'here's where other people have caught fish around you, here's the best time to go fishing, here's what gear you should use, here's the best weather' — all these things to help you plan your fishing trip better."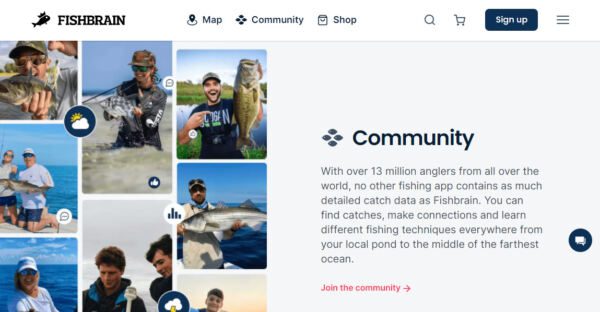 That fishing intel became so valuable that it's now the app's premium option. Anglers can still join the social network for free, but the data is accessible only to subscribers. Over the past decade, Fishbrain has become the largest fishing community app in the world, offering data on more than 1.7 million water systems and 2,800 fish species. And while the company is based out of Sweden, 85% of its users are in the U.S.
With members already sharing details of what gear they were using, adding the ability to buy that gear within the app felt like a natural next step, said Kennelly. What didn't feel natural, however, was becoming a retailer: "We didn't want to have to worry about holding inventory and calculating demand," she said. "We wanted to partner with all the great fishing brands out there and provide the B2C connection."
A marketplace model was a great fit. Working with Marketplacer, Fishbrain was able to go live with its marketplace in six weeks. "We were able to launch super fast, which at the time was really important for us because we had gotten a lot of venture capital from investors who were like, 'Okay, you've shown us this commerce vision, now put it into play.' But then you realize, wait, building a marketplace is really hard; we can't do this ourselves," said Kennelly.
Community First, Commerce Second
"Fishbrain is really a perfect use case [for a marketplace] in that they had a clear unfair advantage with their 14 million fishing enthusiasts and an app that was already successful," said Brooke Camov, VP of Strategy and Operations at Marketplacer in an interview with Retail TouchPoints. "They already had that element of trust and credibility. What they didn't have was the ability to engage their audience in a clear path to commercialize that. For them, commerce just became the outcome as they worked to engage the community further."
Indeed, while Fishbrain was hoping to bring in additional revenue with its marketplace, that wasn't the primary goal. "Revenue is important, but right now in the scheme of things the marketplace's contribution to revenue is still relatively small compared to subscriptions," said Kennelly. "What was more important was the customer value we could bring, and carving out this unique position in the market. For us, it's more about defensibility in the market."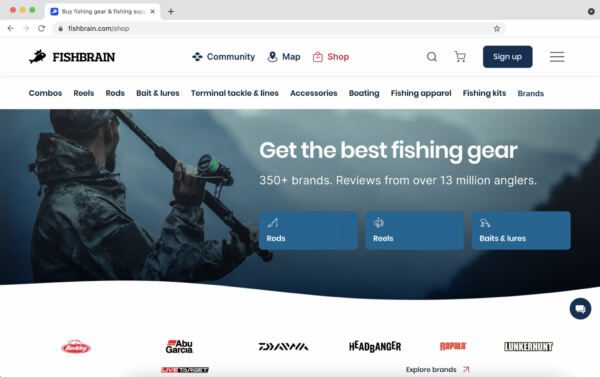 One of the most interesting outcomes of Fishbrain's marketplace launch has been how it has expanded the company's community. "The vast majority of sales come through the website, and it's actually a different customer profile," said Kennelly, noting that only about 10% to 20% of sales come through the app. "It's still within a similar segment, they're not wildly different customers, but we are reaching a different audience. Now the question is how we feed them into our community."
The Fishbrain marketplace also is helping expand the digital reach of the brands it sells, in an industry that is not necessarily known for high-tech commerce operations. "The fishing industry is really not very digital, so Fishbrain has been a way for a lot of the big fishing brands that were mostly selling into retailers to go direct to consumer," said Kennelly.
Because of this, Fishbrain does a lot of the legwork involved in finding and onboarding third-party sellers. The company now has a dedicated business development team that reaches out to brands and manufacturers and then onboards them with the help of Marketplacer.
"A big part of our partnership approach centers around seller strategy, helping them to identify and engage with sellers from a technology perspective," said Camov of Marketplacer. "However, there are a lot of really fundamental things you have to do to onboard a seller that go well beyond the technology. You have to think about what your service-level agreement looks like, how to make sure your sellers are shipping on time, things like that."
A Different Kind of Marketplace
When one hears the word "marketplace," big names like Amazon, eBay and Walmart are likely what first comes to mind. But Fishbrain illustrates the vast potential and flexibility of the marketplace model. The marketplace that Fishbrain has created is quite the opposite of Amazon's "Everything Store" — it's focused on one hyper-specific niche with no intention of expanding beyond that, and its primary aim is not commerce but rather to drive the larger business goal of community engagement.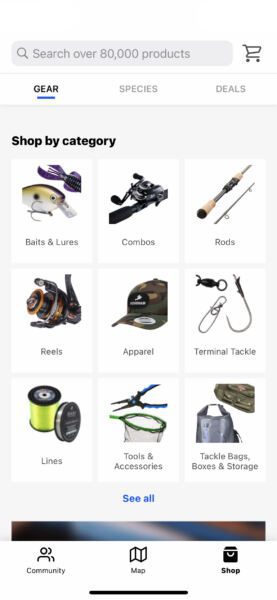 "What Fishbrain does really well, and what's going to ensure their success long term, is that they center around community and their engaged network; it's so authentic," said Camov. "Businesses that are able to cultivate that community have high trust, they're credible, they mean something. Commerce will just be an outcome of that rather than the driving force. This is how businesses can be defensive and successful against some of the majors."
For now, Fishbrain's marketplace is only available in the U.S., but the company has plans to take it global down the line. And from there the sky's the limit, with Kennelly mentioning the potential for a line of Fishbrain-branded products that could be developed based on insights from marketplace sales, and even expanding the marketplace's offerings to include services like guided fishing tours.
"Our biggest advantage is we have so much [category-specific] data and we can feed that into the shop to make recommendations that are really relevant — nobody else can do that," said Kennelly. "We look at other competitors, even someone like Amazon, and yes, they might have more products, and they may have better deals and have faster shipping, but they will never be able to have the data that we do."