What a difference a year can make. In March 2020, the retail (and general economic) situation looked dire, with lockdowns shuttering stores across the U.S. and retailers scrambling to scale their online offerings. Cut to March 2021 — a second stimulus package, the American Rescue Plan (ARP), is signed into law, and online spending surges to record-breaking heights.
Americans spent $78 billion online in March 2021, a 49% increase YoY, according to recently released data in the Digital Economy Index from Adobe, with toys, furniture and bedding, video games and auto parts coming in as the top categories.
In fact, in the three weeks following the ARP's passage on March 11, 2021, U.S. consumers spent $8 billion more online than the normally projected total for that period. This data indicates a sales surge almost on the level of Black Friday 2020, when consumers spent $9 billion.
And that wasn't any normal Black Friday either, capping as it did a year of record growth in online retail propelled by the pandemic. In 2020, Adobe reports that Americans spent $183 billion more online than they did in 2019, for a total of $813 billion, a 42% increase YoY. If the first three months of this year are any indicator, then that growth is set to continue in 2021.
"While the $8 billion growth in online spending in March can largely be attributed to the new stimulus checks, we've seen strong underlying trends in ecommerce growth due to the global pandemic," said Taylor Schreiner, Director at Adobe Digital Insights in an interview with Retail TouchPoints. "And while the year-over-year growth rates in the coming months may be lower (or even negative) compared to 2020, if you look at the overall ecommerce trend, it is one of constant growth, and we expect this year to be extremely strong."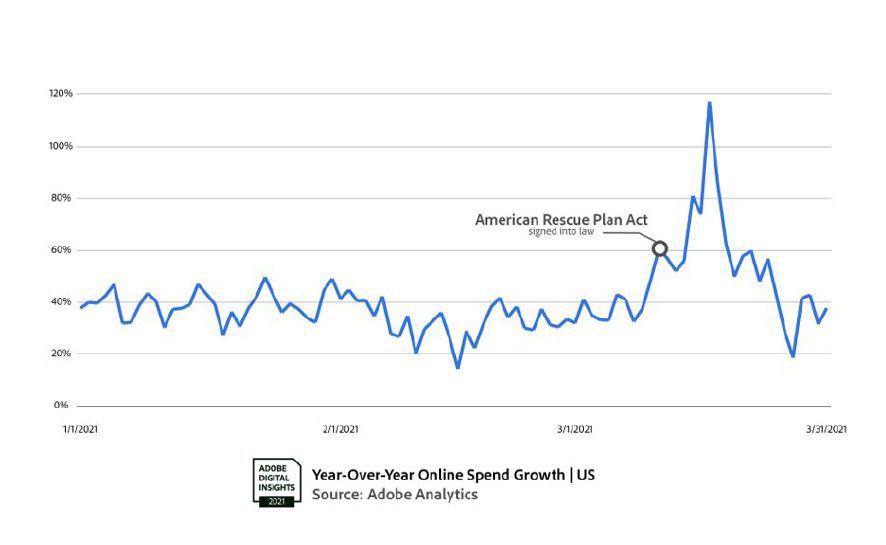 Sales numbers might have been even higher, but the combination of greater consumer demand with lingering supply chain issues caused out-of-stocks to climb. In February 2021, consumers shopping for baby and toddler products saw 3.2X more out-of-stock messages than average, according to Adobe. Grocery was not far behind at 3.1X above average, while jewelry was at 2.8X above average.
"The out-of-stock numbers we've seen earlier this year were a function of both supply and demand," explained Schreiner. "In categories like electronics and computers, we still see chip shortages creating out-of-stock events and keeping prices from falling at their normal rate. There was also an increased demand for electronics during the pandemic as more people worked from home and parents had to contend with distance learning. In other areas, the move toward consumers buying everyday staples online has changed our expected rate for out-of-stocks in categories like groceries. In this case, it is the growth in demand for a wider variety of goods that is driving up the out-of-stock numbers."
Not a U.S.-Only Phenomenon: Global Ecommerce Set to Reach $4.2 Trillion in 2021
The continued surge in U.S. online spending was mirrored in markets around the world. Adobe reports that global ecommerce hit $876 billion in the first three months of 2021 alone; that's an increase of 38% YoY. In fact, at current growth rates, Adobe forecasts that global ecommerce spend will hit $4.2 trillion this year.
A significant portion of the overall growth has come from consumers who are ecommerce newcomers, with 15% of UK consumers saying they had never purchased anything online prior to March 2020. In the U.S. and Japan, 9% and 8% of online shoppers were first-timers, respectively.
A closer look at the numbers, however, shows that while total spend is up, there's still room for improvement in the ecommerce experience. Increases in web traffic and average order value were the primary drivers of surging sales, but conversion remained flat. According to Adobe this indicates that despite increased consumer interest in ecommerce, a significant portion of shoppers are abandoning carts, or foregoing online altogether, after finding that the experience doesn't meet their needs.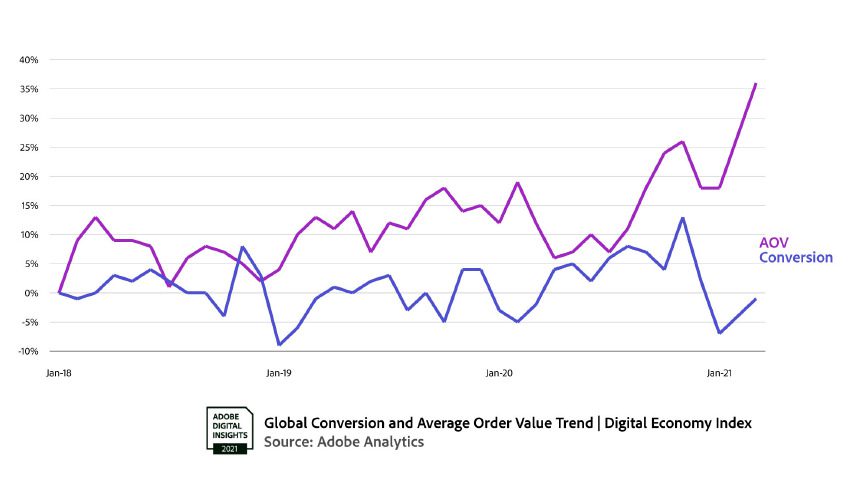 In Addition to Stores, Consumers are Hitting the Skies
In another sign of shifting consumer sentiment, the travel industry also is showing signs of recovery. As more Americans get vaccinated, flight bookings saw a significant jump in March 2021, growing 111% compared to the weeks leading up to the vaccine rollout (defined by Adobe as Nov. 30-Dec. 13, 2020). Hotel bookings grew 50% during this same period.
Travel also picked up compared to the first two months of the new year, with flight bookings in March 2021 growing 57% over February 2021 and 79% over January 2021, while hotel bookings grew 41% over February 2021 and 54% over January 2021.
Things still aren't quite back to pre-pandemic levels though, with flight bookings down 22% and hotel bookings down 18% compared to March 2019. That said, consumers are taking advantage of low fares to book holiday travel earlier than ever: Christmas flight bookings are up 17% and Thanksgiving flight bookings are up 9% compared to March 2019 levels.
And travel is slowly regaining its share of wallet against consumer goods. In April 2020, consumers held back travel spend and directed their dollars toward physical goods. Now, data from February 2021 shows that travel is regaining lost ground, with the gap in growth rates between the two industries down to just 37% (compared to a 99% gap in January 2021).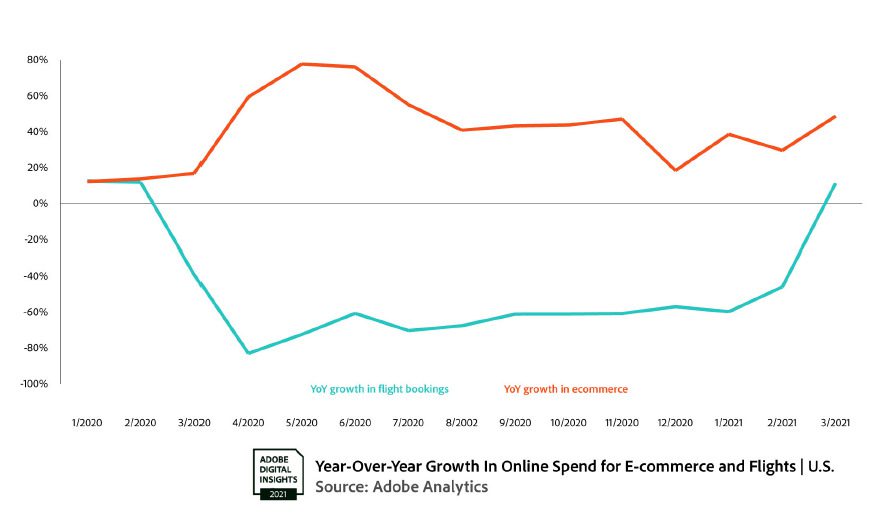 "There are already strong indicators that people are looking to travel and have other out-of-home experiences," said Schreiner. "These will certainly take a share of people's wallets, but the evidence to-date suggests that this will not affect the overall ecommerce spend, as online shopping for goods, services and experiences are all on a very strong growth trajectory.
"Overall, we see a strong turn toward growth in ecommerce," he added. "Particularly in the last year, most people have moved their shopping online, and we see no sign of that trend slowing or reversing. The open questions for 2021 revolve around vaccinations (and how fast all physical businesses will open up), and people's pent-up need for experiences and social interactions."