More retailers are acknowledging the importance of supporting brands with diverse owners. REI, known for its progressive stances, is building its own partnerships through Path Ahead Ventures, an accelerator program focused on startups owned by people of color. Path Ahead Ventures, which celebrated its first anniversary on Oct. 29, featured six companies from its Navigate program at a pop-up event in its Seattle flagship called the Founders Market.
The participants in Path Ahead Ventures have launched a wide variety of outdoors-focused products, from apparel to experiences, and so it makes sense that each company has its own needs. REI has provided them with a variety of tools, including capital investment, mentorship opportunities, assistance with building capacity and creating connections to customers, to help these newcomers thrive.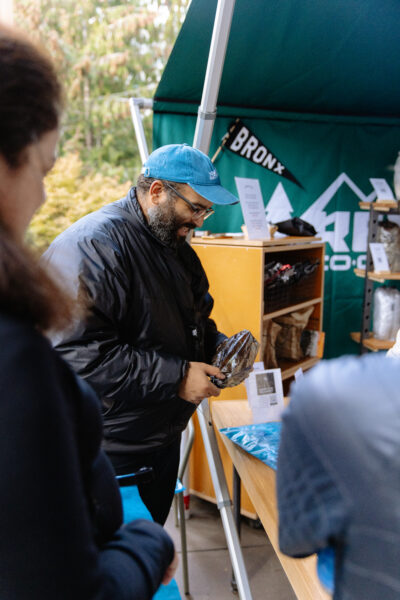 "All founders who come through our programs and investment receive guidance on critical elements needed to progress their businesses," said Dan Kihanya, Director of Path Ahead Ventures at REI in an interview with Retail TouchPoints. "That can include supply chain, product roadmap, brand development, distribution strategy and financial management. The goal for Path Ahead Ventures is to help aspiring and emerging brands led by founders of color to ultimately build sustainable, profitable companies. Path Ahead Ventures leverages both internal and external resources and expertise to provide founders with the right guidance at the right stage."
The Founders Market, a pop-up event that took place over three hours, was the culmination of the experience. The event not only generated thousands of dollars in sales; it also provided feedback from sources beyond Path Ahead mentors.
Pop-Up Experience Helps Allmansright Tell its Story
For allmansright, a two-person Bronx, N.Y.-based startup focused on eco-friendly and human-focused camping gear such as stake sacks and backpacks, the Founders Market was an opportunity for the founders to interact directly with shoppers.
"We've been on the sales floor before, but this was different," said Liv Melo, Co-founder of allmansright. "It was pretty amazing and I learned so much. I was able to make transactions in person and gauge folks' reaction to our products. We learned a bit about which products are more popular than we thought. We learned what people were looking for in our products. It was great insight, and it was amazing to see the kind of support that folks were willing to provide — folks that came through from all sorts of places to check out what we were up to."
The live experience proved to be valuable for developing the brand's longer-term strategy. Speaking with shoppers directly provided both founders with greater insight into not just what customers like about their products, but what aspects of their story best resonates with the target audience.
"What was really cool and put things in perspective was being in person and interacting with the customer face-to-face," said Jennifer Jacobsson, Co-founder of allmansright. "It turns something on inside of you in terms of putting on a little bit of that sales hat, but also being able to communicate your brand story — how we got started, what we're about, all the stuff about our product. It felt really good being able to verbalize that. Then I thought, 'Okay, here is what we're telling our customers. This makes sense. This is what we should be telling in our website better.'"
Finding the best way to tell the brand story is particularly important for a company like allmansright, whose founders are dedicated to helping everyone discover the great outdoors — including those in cities. Making camping and hiking accessible and comfortable is built right into the products themselves in ways other brands may not think about.
"We bring a highly human-centric approach to design," said Melo. "We consider everything, from how your fingers are going to feel on a cold morning to the way your elbow is going to bend, when we think about where we're putting zippers. That's allowed us to improve a product no one has ever bothered to look at."
Retail-Focused Insights Help OYA Femtech Apparel Empower Women
Even in extremely popular categories, major players can suffer from blind spots in how they design their products. More and more companies are jumping into women's activewear, but OYA Femtech Apparel, another Founders Market participant, may be the only one thinking about the impact these garments can have on health and comfort.
"We're the first brand in activewear that really was designed with a woman's feminine health in mind, and trying to help women prevent feminine health issues," said Mitch Gilbert, CEO and Co-founder of OYA Femtech Apparel in an interview with Retail TouchPoints. "We're trying to keep you from getting a yeast infection in general, and that ties into our marketing, where we are fierce advocates."
OYA's efforts extend to social media, where Gilbert is working to normalize discussion of feminine hygiene issues. She noted that 75% of women will have a yeast infection at some point in their life. The brand also is working with the community to offer events that can help women feel more empowered, ranging from free wellness classes to baking cookies in the shape of female genitalia.
Gilbert has experience as an advocate for her brands on the business side — she has raised millions in venture capital — but the mentorship opportunities provided by a major retailer like REI provide insight from an angle other investors can't match. Networking with other retail leaders and having the opportunity to present your product in person are experiences that companies outside the industry are ill-suited to provide.
"Venture capital has more tech-focused people talking about things like SaaS models — which is important — but REI was the first time we got to actually sit down with retail people and learn about some of the things that we should be working toward," said Gilbert. "We just had a pop-up and it was really just enlightening to me around everything that goes into building a brand."
Minority-focused programs like Path Ahead Ventures also are important for levelling the overall playing field. Supporting entrepreneurs of color can deepen a retailer's commitment to social issues and help people with good ideas overcome institutional barriers that might otherwise prevent them from bringing unique products to market.
"It's still less than 3% of venture capital that goes to women," said Gilbert. "That means over 97% goes to men. Then add on to that people of color. If you're a woman of color, now you're looking at probably less than 1% of funding. Don't go into this thinking it's going to be a cakewalk. It honestly would have been easier for me to be an Olympian, even statistically, so be very aware of that. Then the last thing I would say is ally yourself with either a community or institution, because people will take you more seriously when there's clout behind the name."
REI's own journey in this space is just beginning — Path Ahead Ventures is aiming to partner with 300 entrepreneurs of color by 2030. The retailer remains committed to refining existing resources and programs, as well as building new ones, for founders in the program.