After making its mark initially with supermarkets and consumer product brands, mobile couponing is extending its reach into other retail verticals. Matching its target demographic of young, tech savvy consumers, GameStop recently signed with Cellfire to use its service to distribute mobile coupons which are redeemable at its more than 4,200 stores in U.S. and Puerto Rico.

GameStop, the world's largest video game and entertainment software retailer, is partnering with Cellfire to deliver a unique mobile experience that will add a dimension of fun and convenience to the retail experience for its customers.  The program allows customers to simply show the coupon displayed on their cell phone at the register to receive a discount.
"As the mobile Web emerges as a viable marketing channel, reaching our customers through their cell phones is a natural progression," said John Brittell, VP of E-commerce and Direct Marketing of GameStop.
    
Gamers can take advantage of these exclusive deals at GameStop by subscribing to the Cellfire mobile coupon service at http://www.cellfire.com or they can text keywords to have the respective offer clipped to their Cellfire account where it can be accessed on-demand. The promotional offers are targeting customers who are trading in or exchanging games, as well as a discount toward the purchase of a used game.
Mobile couponing is also catching on with quick serve restaurants as Arby's announced plans back in August to partner with San Jose, CA-based Cellfire to use its service to distribute mobile coupons redeemable at 250 locations throughout the country.  
The Arby's offers included coupons for a Buy One, Get One free sandwich, discounts on premium drinks and free sandwich offers with the purchase of fry and drink.  "Cellfire's mobile coupons help us deliver value right into our customers' hands when they are on-the-go, hungry for f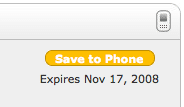 resh, great tasting quality food and looking for a deal," said Cyndi Richardson, Vice President, Company Marketing, Arby's Restaurant Group, Inc.
Consumers access the free Cellfire mobile coupon service through a mobile application that resides on their cell phone or through a mobile Web browser.  While consumers can use text messages to initiate Cellfire registration and save offers for future use, Cellfire is not a text message coupon service.