There has been an idea circulating for some time that when it comes to luxury, the U.S. is still a developing market. And while Erwan Rambourg, author of Future Luxe: What's Ahead for the Business of Luxury, points out that that characterization isn't exactly true to begin with, the pandemic may put the idea to rest for good.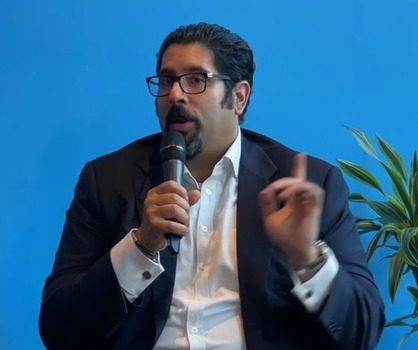 Following a sharp contraction in 2020, the global luxury market surpassed pre-pandemic sales levels in 2021 — a resurgence powered by the U.S. and China, according to Bain & Company. Bain reports that the Americas are now the largest region in the world for luxury sales, representing $101.9 billion (31%) of the total global market.
To understand this momentous structural shift and its implications for the future of luxury, Rambourg sat down with Anish Melwani, Chairman & CEO of LVMH Inc., the U.S.-based subsidiary of global luxury giant LVMH, at an event hosted by the French Institute Alliance Française (FIAF) of New York in November 2021. The two discussed American consumers' shifting attitudes toward luxury and how the pandemic has reshaped the luxury market in the U.S., including:
The pandemic made it clear that luxury ecommerce is not an oxymoron, with shoppers becoming increasingly channel-agnostic even for high-end purchases;
Homebound U.S. consumers found refuge in "the dream" of luxury during the pandemic, leading to surges in both brand engagement and spending; and
With tourism and business travel down, secondary markets like Atlanta and Houston rose in prominence, and this type of geographic reshuffling will continue.
Pandemic Propels New Growth in U.S. Luxury
LVMH holds a dominant position in the world of luxury, with some of the biggest names in fashion, spirits, cosmetics and jewelry. But even for these brands, the U.S. has been a tough nut to crack. The problem is less about the undeniable power of names like Louis Vuitton and Hennessy and more about the nature of the American market.
"Sidney Toledano, who was our chief executive at Dior for many years and now runs our fashion division, always said that the U.S. is a value market," explained Melwani at the FIAF event. "This is the market of TJ Maxx, of off-price retailers, of outlet centers. Fundamentally the understanding of luxury has not penetrated American culture to nearly the extent of European culture, especially Western European culture. That's the promise of this market — if it could reach even 50% of the level of penetration culturally that exists in Europe, then the demand potential is extraordinary."

Turns out the global pandemic has given the U.S. a huge push toward realizing that potential. "The post-COVID principle is a bit awkward, especially if you're based in Asia today, but the rest of the world has reopened somewhat and we've seen quite a bit of activity [in the luxury sector] in Europe and even more so here [in the U.S.]," said Rambourg. "When I published my book a year ago a lot of people said, 'You're so naïve, you're too optimistic.' The reality in hindsight is I was probably not bullish enough. Asia recouped pretty quickly, we've seen good potential with local European consumers, but the bulk of the positive surprise came from luxury demand in the U.S."
Melwani believes LVMH has made 10 years of progress in the last two years in terms of U.S. market penetration. "People had disposable income but nothing to spend it on," he noted, not to mention that with so much scary stuff happening in the world consumers were looking for ways to feel good. This spending effect has been reflected across a number of categories over the past two years, but the luxury sector in particular was aided by the fact that despite a general economic downturn, the equity and property markets remained strong.
"We just did some consumer research and the preliminary results are showing that two-thirds of the customers that we saw during this pandemic report being more engaged in luxury than ever before," said Melwani. "They weren't necessarily new to luxury; in fact, 98% of them had bought some luxury [items] in the past, but they became more engaged — they were visiting our websites more often, they were making appointments to come in, they were standing on lines.
"People were seeking out things to inspire them and make them feel good," he added. "Luxury is very much about the dream. Now [that consumers] have taken the time to really engage with the luxury maisons and the luxury storytelling, I think this gives the industry an opportunity to further the penetration of luxury into American culture."
Responding to the Rise of Secondary Markets and Channel-Agnostic Consumers
Beyond expanding the reach of luxury among U.S. consumers, the pandemic also is transforming the shape of luxury in America, both in terms of store footprints and digital engagement.
Melwani said that LVMH is seeing its brick-and-mortar presence spread out from the big cities. At the same time that traffic is down in locations like Manhattan, visits are up at what were previously considered secondary markets — cities like Atlanta, Houston, Troy, Mich. and Phoenix. "This is evidence of the deepening of penetration across the U.S.," said Melwani. "Now people see luxury as something that they can buy close to home, not only as an indulgence when they go on a business trip to New York or vacation in Las Vegas or California."
This trend is driving LVMH to reconsider its store allocation across the U.S.. While most LVMH maisons already have a presence in these secondary markets, in many of them brands are transitioning out of a wholesale mindset and even consider freestanding stores: "It's an enhancement of the network in these areas that historically wouldn't have justified that level of investment in staffing," he said.
At the same time, the pandemic has forced all luxury brands to reconsider their position on ecommerce and abandon old stereotypes about what people will and won't buy digitally. "I have colleagues in Europe who say, 'But who would want to buy a $25,000 watch online?' They say this as they are looking at the sales of $25,000 watches online. [Whether online is compatible with luxury] is really a rhetorical question at this point," said Melwani.
Indeed, Melwani and his executives have come to the same realization as their counterparts across the retail industry — consumers, even luxury consumers, are becoming increasingly channel-agnostic. In fact, Melwani said that at one of its maisons the company found that 10% of its online business was coming from their top 2% of brick-and-mortar customers.
"The customer doesn't see themselves as an online shopper or a brick-and-mortar shopper," Melwani said. "The customer shops in stores when they can, when it's convenient and when it's something they want to do. But sometimes it's two o'clock in the morning and they're awake and they want to shop. These aren't separate customers."
What Will Endure and What Will Fade
This is of course a very unique moment in time. As to the long-term impact of the pandemic, Melwani said he thinks some of the "euphoric spending" that helped propel luxury to new heights last year will fade as the pandemic drags on and inflation impacts equity markets.
"I have some concerns about 2022," he said. "My observation has been that luxury is much more sensitive to the 'wealth effect' than the 'income effect.' You can raise taxes by a couple of percentage points and nobody changes their spending habits materially. On the other hand, when the market goes down by 15%, everybody feels poor all of a sudden. Even if the market had been up 30% before that, all of a sudden it causes a retrenchment of spending from an emotional perspective."
But Melwani doesn't think that a potential dip in 2022 will lead to a reversal of the growth the U.S. has seen in the last two years, even as spending on other discretionary categories like travel and experiences returns. "Once you discover luxury, once you discover what it means in terms of quality, in terms of heritage, and you decide to make those things part of your identity as an individual, it's not so easy to reverse that," he said. "If you've developed as part of your identity that you now wear Dior sneakers, for example, and you've been wearing those at home, are you not going to wear them when you go on your first vacation to a fancy hotel? Or are you going to want to actually continue to project that identity that you have been developing? My hypothesis is more of the latter than the former."