While most retailers are struggling to deal with product delays and shortages this holiday season, one retail sector has a seemingly unlimited supply of goods – resale.
New research from recommerce platform Mercari found that American households are currently sitting on $580 billion of products they're no longer using, the equivalent of 23.6 billion items. And increasingly, consumers are reselling those items rather than leaving them to gather dust or putting them out on the curb — particularly as a growing number of digital resale platforms make that process easier than ever before.
This supply influx is echoed in reports from other resale platforms. For example, online apparel reseller ThredUP recently announced plans for a new 600,000-square-foot distribution center in Texas that will expand its capacity by 150% to meet growing demand on the part of both sellers and buyers of used goods.
Add this product surplus to heightened consumer concern about shipping times and product availability, and you have all the makings of a secondhand-heavy holiday season. "Retailers are grappling with shortages across the country, and at the same time American households are actually filled to the brim with products that people are no longer using," said Tiffany Olson, Trend Expert at Mercari in an interview with Retail TouchPoints. "This is all an opportunity for the resale economy."
In fact, 77% of American adults expect to buy at least one secondhand item this holiday season leading to a 24% increase in spending from holiday 2020, according to the Mercari study, which also found that:
With 62% of shoppers concerned about product availability, resale platforms are positioned as a reliable alternative to traditional retailers for holiday purchases;
More than half of secondhand shoppers proudly share their purchases on social media, pointing to a paradigm shift in social attitudes toward used goods; and
Americans will receive an average of 3.8 unwanted gifts this holiday season, and with more consumers selling used goods online than ever before, resale's supply chain advantage looks set to continue.
'Tis the Season for Secondhand
The rise of resale couldn't have come at a better time. Mercari's recent "Secondhand Holidays" study, conducted in partnership with GlobalData, found that 59% of consumers are concerned about shipping delays this holiday season, and 62% are concerned about product availability.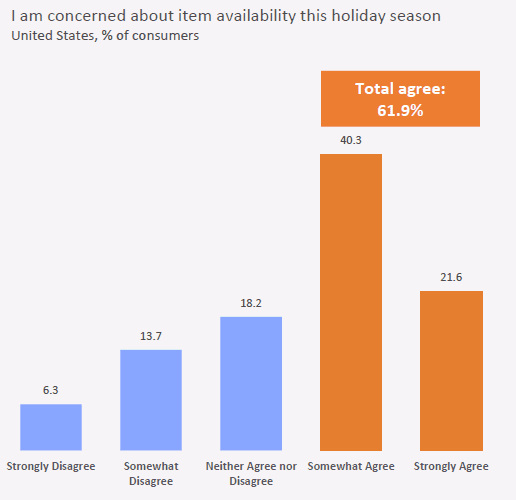 As a result, 38% of consumers plan to buy secondhand gifts this year, while 49% will buy something secondhand for themselves or their homes. Collectively, that would account for approximately $69.2 billion in spending on previously owned items in 2021, an increase of 24% from the $55.9 billion spent last year.
The top reason for shopping secondhand, according to the survey, is to save money(72%), but other motivators include:
Finding deals on new or like-new items (36%);
Ease of the secondhand shopping experience (32%);
Sustainability concerns (22%); and
Supply chain issues (10%).
"Our research suggests that 20 million people in the U.S. will shop secondhand as a way of avoiding supply chain issues, and we estimate they will contribute $7 billion in resale revenues," said John Lagerling, CEO of Mercari U.S. in the report. "Not only is this great news for the overall reuse ecosystem, but we are excited to see how many Americans are finding a new appreciation for secondhand gifting."
The most popular secondhand holiday gifts this season will include:
Clothing (40%);
Toys and games (36%);
Home décor (35%);
Electronics (27%); and
Handbags (27%).
Perhaps not surprisingly, the majority of these categories are those expected to be most impacted by supply chain snags, in particular toys and consumer electronics, both of which have been the focus of doomsday headlines since early fall.
Shifting Consumer Sentiment Lifts Secondhand Stigma
In the past, the idea of buying used goods was generally seen as a secondary option, and certainly not something to be broadcast widely. But as consumers become increasingly aware of the environmental impact of their consumption choices, a shift in the general mindset around used goods has taken place.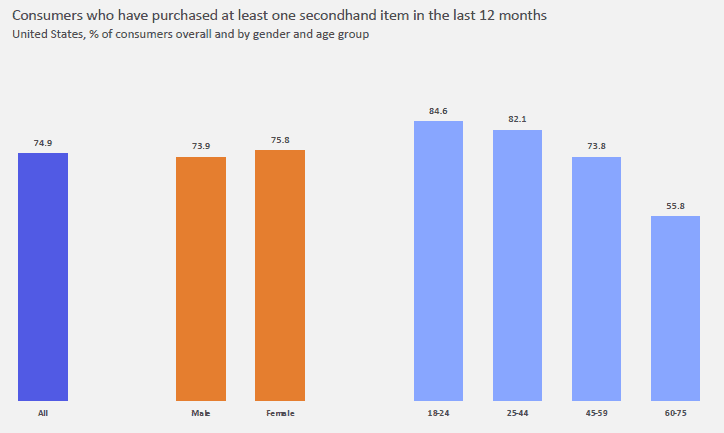 "People are more conscious of their spending and the way that they're consuming items," said Olson. "They want to make sure [the things they buy are] not only good for their wallet but also the environment, and so rather than buying something new, they're finding really great products on resale platforms."
Mercari found that half of consumers now believe that giving secondhand gifts is socially acceptable, and 56.8% of those planning to buy resale gifts say they will proudly share that the item was bought secondhand. In fact, among the secondhand shoppers Mercari surveyed, nearly 53% said they share their purchases on social media.
Perhaps more than any other, this statistic showcases the engine that is driving the rise of resale — the idea that not just buying but also gifting secondhand goods is something to proudly share. That's backed up by the Mercari study, which found that the total resale market (including all categories of consumer goods except used cars) has grown 53.5% over the past five years.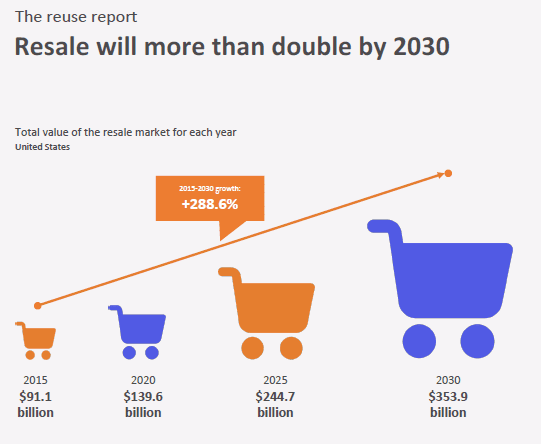 Mercari projects that U.S. spend on secondhand items will top $160.1 billion this year. Not only is that an increase of 14.6% from the $139.6 billion spent in 2020, but the sector is expected to continue growing at a similar pace throughout the decade, reaching $244.7 billion by 2025 and $353.9 billion by 2030. That's 3.2X the total growth anticipated for the retail sector through 2030.
"While resale is sometimes thought of as a niche market, its size indicates it is a mainstream part of the consumer economy," said Lagerling. "In the past 12 months, 197 million Americans bought at least one secondhand item. Three-quarters of adults participating in the reuse ecosystem shows that buying secondhand is now as commonplace as going to the grocery store."
While apparel currently dominates the resale sector (and headlines about it), a number of other categories experienced huge growth in secondhand sales on Mercari in 2020, including trading cards (up 494% YoY), games and puzzles (up 366%), computers (up 174%) and pet products (up 168%).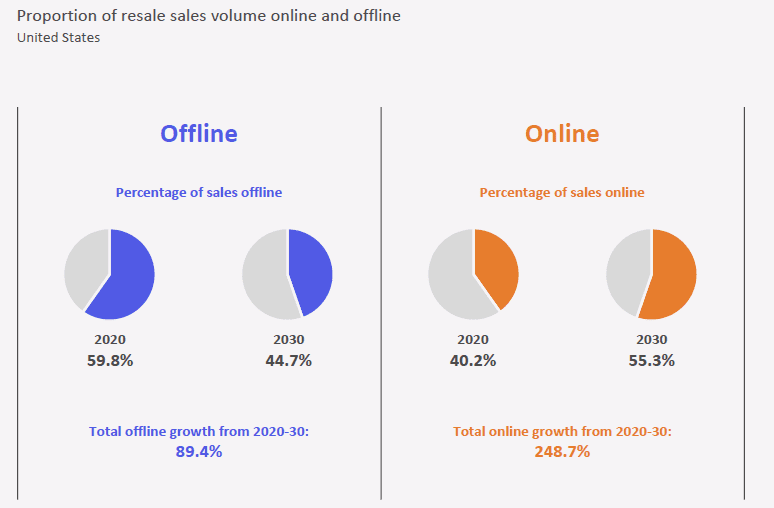 Another critical factor contributing to resale's growth is the digitization of thrifting, which is reducing the friction involved in shopping for and selling used products. Online currently accounts for an impressive 40% of the resale market, and Mercari predicts that figure will bump up to 55% by 2030, with online growing 1.8X faster than offline resale and accounting for the majority of all resale by 2026.
"Before, [shopping secondhand] was considered more of a niche behavior, but the numbers are clearly showing that it's a conventional way of shopping now, rather than the exception," said Olson. "Everybody is getting involved, from Gen Z to Boomers."
Holidays to Further Feed Resale's Supply Advantage
In addition to being a source for holiday shoppers, secondhand inventory will be replenished by seasonal gift-giving. In other words, it's not only fruitcakes that will be passed along to a never-ending chain of recipients. Mercari predicts that with consumers expected to receive an average of 3.8 unwanted gifts, nearly 1 billion items could eventually be resold.
"Typically unwanted items that are received over the holidays end up sitting around the house or in the attic, but now people are deciding to sell them and make some extra money," said Olson. "We also found that [consumers] then use that money to buy new gifts for other people, so it's a really great story about the circular economy and the way that reuse is working."
The selling of used goods is becoming increasingly common in the U.S. Mercari found that 165 million Americans, or 62.9% of the adult population, have sold at least one secondhand item in the past 12 months. Of those sellers, 51.8% do it as a side hustle to make extra cash, and 12.3% say selling used items is now their primary income stream.
"It's really about ease of use and accessibility," explained Olson "You can do it all from your house. You don't have to have an awkward meetup with a stranger or sit for hours in your driveway at a garage sale. You can just upload something in a matter of minutes. Everybody's doing everything on their phones these days and resale's the same way."
All of this points to one overarching fact: resale has gone mainstream, or as Mercari CEO Lagerling put it: "We've reached a turning point where reuse is becoming a conventional way of life, rather than the exception."