On Dec. 15, 2016, Massachusetts became the eighth U.S. state to legalize the recreational use of marijuana — joining California, Colorado, Alaska, Maine, Nevada, Oregon and Washington. The cannabis industry is just beginning to flourish, which gives retailers an opportunity to pioneer a new segment of retail that is unlike any other.
What cannabis retailing does have in common with other "growth" industries is its economic potential. A 2016 report by Cowen and Company indicated that:
The legal cannabis industry in the U.S. is projected to reach $50 billion in gross retail sales by 2026;
The formal market has already reached $6 billion; and
Total cannabis spending in the U.S. has generated more than $30 billion.
To put it in perspective, consider the U.S. wine industry, which reported sales totaling $38 billion in 2015.
As this new industry gains momentum, retailers considering opening marijuana stores have a number of factors to consider, including:
Companies that already are investing in the space;
The patchwork of laws and regulations to navigate;
Staff hiring challenges;
The need to be agile in securing funding; and
Creating a safe retail environment for customers.
"[The cannabis retail industry] is really a white sheet of paper that allows [retailers] to design it themselves," said Ray Hartjen, Director of Content Marketing and Public Relations at RetailNext in an interview with Retail TouchPoints. "It's not the reinvention of a marketplace; it's brand new. So it's up to the industry to do it right and shake off the stigma associated with cannabis and legalized marijuana."
Cannabis Gets Investment From Major Gardening Supplier
Gardening products company Scotts Miracle-Gro already has taken strides to remove the "bad business smell" associated with cannabis. The company created a subsidiary called Hawthorne Gardening Co., which is being led by General Manager Chris Hagedorn, the son of Scotts' CEO Jim Hagedorn.
In 2016, the company invested $500 million in the marijuana hydroponics space. Hydroponics is the process of growing plants and vegetables without soil. Scotts' investments include:
$4.5 million for a 30% stake in AeroGrow, a manufacturer and distributor of indoor gardening systems;
A $130 million buyout of General Hydroponics, a California-based maker of nutrients and hydroponics systems;
$136 million for Gavita, a Dutch lighting and hardware company; and
An agreement to purchase Botanicare, an Arizona-based manufacturer of plant nutrients and growing systems for hydroponic gardening.
These investments seem to have already paid off. Scotts' hydroponics business generates approximately $25 million in revenue per year, according to The Cannabist. The company currently offers a variety of cannabis-related brands such as Black Magic potting soil and hydroponics supplies. While most of Scotts' goods are sold through specialty cannabis stores, the Black Magic brand is available in 165 Home Depot stores as well.
"I think it's a matter of time before you see more states legalize it," Hagedorn told The Cannabist. "And (Scotts wants) to be able to supply that industry with growing media."
Laws And Regulations Vary By City And State
One of the major challenges faced by cannabis sellers and distributors is the number of laws and regulations to consider, which vary significantly by location. Each state has different laws, regulations and taxes to keep in mind, and in some states laws vary from city to city.
"Not only do you need a state license for all aspects of the business — whether you want to grow, process, transport or sell cannabis — you're also going to need to follow different city regulations as well for business licenses," said RetailNext's Hartjen. "Other regulations, such as how close you can be to a school (in California, it's approximately 600 feet), also need to be considered. There are a lot of regulatory hoops to go through just to get licensed in the state and a particular city within the state. Some cities might not want a recreational cannabis retail operator in their city."
For example, in Massachusetts, adults aged 21 and over are permitted to possess up to one ounce of marijuana outside their home and up to 10 ounces inside their home. Adults also are permitted to grow up to a dozen marijuana plants per household. Marijuana will only be sold legally by licensed retailers in the state, but no licenses will be granted until January 2018, Hartjen said.
According to ABC News, the Massachusetts law requires a three-member Cannabis Control Commission that is overseen by the state treasurer, who will be responsible for reviewing retail applications and eventually licensing cannabis shops. Even though it's legal to possess, marijuana cannot be sold in any fashion (except to registered medical marijuana patients).
The Cannabis Industry: A Blank Canvas For Retailers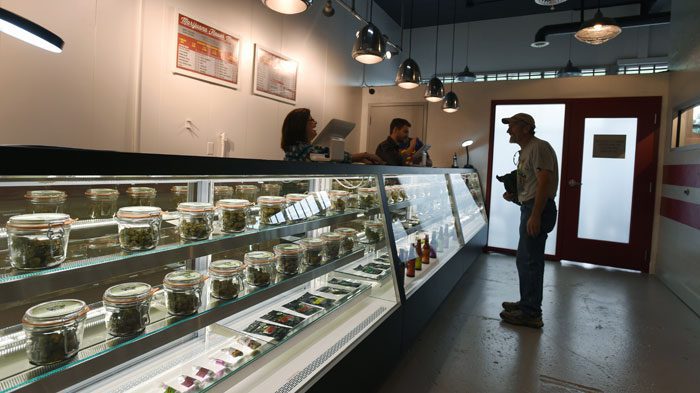 Before jumping into the cannabis business, retailers should consider a number of factors. First and foremost, cannabis should be sold through brick-and-mortar stores, according to Hartjen. So when opening a retail location, it's really about putting the same tactics into play as you would for any other industry segment.
"You can start from scratch and make your first impression the way you want to make it without having to rebuild a brand," said Hartjen.
Given the stigma around marijuana, Hartjen said it's crucial to create a safe and welcoming environment for customers. This hasn't always been the case for illegal marijuana transactions, so it's up to the retailer to make store environments feel both secure and enjoyable.
But forget about the stereotypical "stoner" storefronts that smell like pipes and have pot leafs plastered all over the walls. The new era of cannabis-related shopping features boutique-style stores with hardwood floors and well-lit cases displaying products and accessories — similar to what a boutique cosmetics store like Bluemercury would offer.
"It needs to be a nice, boutique brick-and-mortar experience that's attractive to people who have money," according to Hartjen.
Another important component of the brick-and-mortar store — like all others — is the quality of the staff. In the cannabis industry, employees are called "bud-tenders," explained Hartjen, and are expected to be experts on the product. But since recreational marijuana is so new to the U.S., there is no "bud-tender certification program."
Experts recommend hiring people who are knowledgeable about the product and its effects, as well as those who can make good recommendations based on the effect the customer wants to experience. But it's up to the vendors to educate the sales associates, according to Derek McCarty, VP of Marketing at hmbldt, a California-based manufacturer of therapeutic cannabis vaporizer pens.
"When it comes to actual product education, that's where [the vendor's] role is," said McCarty in an interview with Retail TouchPoints. "Our sales and brand team are going out and training each and every dispensary worker."
Aside from educating themselves on products, bud-tenders should also be able to engage with adult consumers of all ages. The cannabis industry caters to a wide demographic of both men and women, with significant interest coming from women over the age of 35.
"We see the demographic definitely trending older as more and more people realize the medicinal benefits," said Jamie Feaster, VP of Marketing at Eaze, a California-based medical marijuana delivery service, in an interview with Retail TouchPoints. "While cannabis has historically primarily been consumed by men 18 to 35, we're seeing high growth rates within women and the 35+ sector — something we've been able to identify in our user base, which guides us to build for the future demographic."
Eaze Raises $25 Million Through Strategic Fundraising
As the cannabis industry grows and more states legalize marijuana, many business owners will be looking to expand their businesses with help from VC funding rounds. Considering the product's reputation, it may seem difficult to raise billions of dollars for weed, but companies such as Eaze have already found success raising capital.
Since its launch in July 2014, Eaze has raised a total of $25 million. Most recently — in October 2016 — the company received $13 million in Series B funding from Fresh VC, DCM Ventures and Tusk Ventures. "From day one, we've considered the ability to raise capital as a competitive differentiator within the regulated cannabis industry," said Eaze's Feaster.
Still, the funding didn't come easily.
"It's important to be agile in terms of strategy, but stay true to your end customer," he said. "We faced a huge regulatory and stigmatized battle through all different stages of funding, but were able to overcome by adjusting our strategy without wavering from our mission to provide patients with safe and professional access."
Being strategic in your fundraising is crucial, Feaster said. Businesses should look for VCs that have similar experiences with their portfolio of companies. He also said it's important to nurture relationships with existing investors. "Making sure you're reaching or exceeding their expectations means they'll continue to invest in your vision and company."
It's time to put the stoner stigmas behind us and realize that the cannabis industry has a lot to offer in retail. While there may be a lot of hurdles to face when getting into marijuana retail, the highs are sure to outweigh the lows.