"Location" is a vital data point for just about every type of retail event, from the precise place a mobile purchase is completed to the real-time route of a delivery truck. Because location impacts so much of retail, displaying the data in a map format can facilitate decision-making capabilities across the enterprise.
Conversely, when information is delivered in just numbers or words, via a table or spreadsheet, "patterns of data can be elusive," said Gary Sankary, Retail Industry Manager at Esri. "But if you drop the data into a map with fairly simple symbology, it provides an instant spatial reference to data that makes interpretation easier and faster. This type of visual data mining is something that maps have excelled at for centuries."
Speaking on the December 7 Retail TouchPoints webinar, titled: Visual Data Mining: Making Sense of Big Data Quickly and moderated by Editor-in-Chief Debbie Hauss, Sankary made the case that location data "needs to be considered as an equal partner of product and customer data. To ensure a retailer is executing strategies in the right place and the right time, you need all three data entities."
Making sense of data quickly always has been a priority, and it's one that will grow even more important as the Internet of Things (IoT) boosts data volumes even further. "Data from smartphones, smart cars and smart sensors represents a tsunami that's still off shore, but it's coming," said Sankary. "Retailers need to prepare now for when it hits, with offers, engagement and apps that are even more relevant to customers."
Social media also is a fast-growing source of "unfiltered data about your products and store, which can be terrifying — but valuable," Sankary added.
Maps Consolidate Disparate Data Sources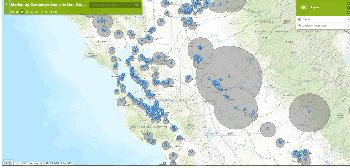 Sankary and his colleague Robby Deming, Marketing Program Manager at Esri, provided several examples of how using maps generated by a GIS (Geographic Information System) can quickly identify the most important questions a retailer faces, particularly when the maps combine multiple data sources. For example, a map showing the trade area for an urban store, combined with data revealing that many customers shop every day but only make small purchases, confirms that these shoppers are arriving on foot and carrying bags up to their apartments. "This retailer might want to offer a better product mix, by stocking quantities that offer a smaller number of items per unit," said Sankary.
A map displaying where customers were when they made mobile or online purchases could help retailers identify how effective a mobile coupon would be at getting these shoppers into a brick-and-mortar store. "It could also show whether there would be a market for a home delivery or one-hour pickup service," said Sankary. "This allows retailers to focus their resources on where people are most likely to take advantage of them, versus solving them for their entire trading area."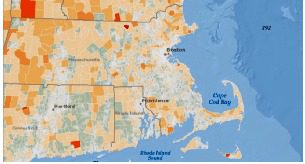 Maps that overlay social media mentions with Esri's lifestyle segmentation tool Tapestry can also help retailers with marketing and expansion plans. "We can show a brand's mentions on Twitter, Facebook and Instagram and whether they are positive or negative, or are being sent by a male or a female," said Deming. "By learning more about who a brand's 'fans' are on social media, a retailer can develop a market profile that can be extrapolated to other areas of the country. So if a retailer is going into a new market, or has additional opportunities for offers, they'll know that these are the people to look for, because they will already be predisposed to like the brand,"
Weather maps represent a data source that's "completely disparate from retail, but one that can have a huge impact," said Sankary. "It's important for forecasting, contingency planning and even real-time reactions."
The Location-Operations Connection
While location data can enrich almost all retail insights, some operational areas are particularly dependent on place-based information, according to Sankary and Deming. They include:
• Assortment and range planning: "GIS can tell a retailer who is around their stores, which helps them be more specific in terms of the products that are offered," said Sankary.
• Store operations: Location is vital for everything from facilities maintenance to helping people find items within stores.
• Real estate and location planning: Competitive analyses are needed for decisions about where to open a new store, or where to create a 'dark' store (one that is used for fulfillment but not for consumer sales).
• Home delivery: "Retailers need to know where customers are and the best routes to get there," said Sankary. "This is a capability that's pretty hot in grocery, and it can get really complicated really quickly."
• Supply chain management: Knowing where products are at any given point is a requirement in an omnichannel environment, and retailers need to accurately calculate ETAs and lead times. "And if a sudden snowstorm hits the Midwest, retailers need to know how to react," said Sankary.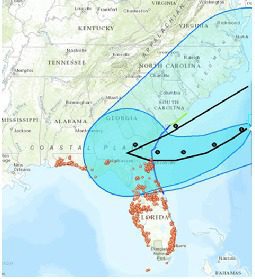 Location data can help retailers "harness the power of data to make better decisions," said Sankary. "It also helps businesses run in real time by monitoring changes as they happen, and can empower your staff and organization by providing tools to make smarter decisions."
To listen to the webinar on demand, click here.