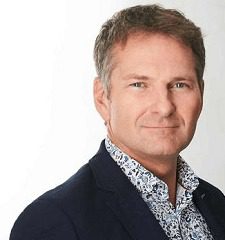 The rise of Amazon, Alibaba and mobile commerce have prompted many in the retail industry to pose the question: What, exactly, is the role of the store? According to Doug Stephens, Founder of Retail Prophet, brick-and-mortar's role as a gathering place where consumers get experiences means that "stores are becoming your most powerful, manageable media channel."
In his keynote address, The Future Of Retail In A Post-Digital World, at Retail TouchPoints Live! at RetailX, Stephens noted that "media is effective wherever people gather in numbers; 1,000 years ago it was the marketplace or bazaar." Face-to-face meetings and town criers gave way to "newsprint, then radio and TV, and now digital is the campfire that people gather around."
However, "it's hard to reach people through digital means, and it's expensive," said Stephens. "In 2018, costs per click went up 30%, but that led to only a 3% increase in clicks. But data shows that opening up a store can give a retailer a 27% to 35% lift in e-Commerce."
Stores remain powerful people attractors: "Starbucks sees 98 million customers per week, but only 2.5 million people get the Sunday New York Times," said Stephens. "Stores provide a 20-minute immersive brand engagement that reaches millions of people. The media costs for the equivalent of that would be incalculably high."
Stephens believes retailers must start accounting for physical stores' media value as part of their financial P&L. His formula for calculating that value would multiply the number of consumer impressions made by the store's Net Promoter Score (NPS). A positive NPS would add to the store's media value, while a negative one would lessen it.
"Stop thinking of stores as places that distribute products, and start thinking of them as places that create experiences," he added. "The consumer becomes your most powerful media agent when you provide the most amazing experience."
Just How Big Are The E-Commerce Giants?
Stephens provided several data points that outline the current e-Commerce dominance enjoyed by Amazon and other online behemoths:
• 66% of all product searches begin on Amazon, and for consumers who know exactly what they're looking for, the figure rises to 76%;
• During Singles Day 2018, Alibaba sold $10 billion of merchandise during the event's first hour, and a total of $31 billion throughout the day — a figure that is double the market capitalization of Tiffany's; and
• By 2020, Amazon, Alibaba and JD.com will control 40% of e-Commerce globally;
These retailers desire more than just e-Commerce dominance, however: "The $27 trillion of all retail on the planet, online and offline, is the real prize," Stephens noted. Mobile will be critical to any retailer's ability to get their share of this pie. Already, "80% of all retail transactions are impacted by mobile in some way, from looking up a store's address to buying an automobile online," he added. "Mobile is the first wedge to pry that door open."
Befitting the title of "prophet," Stephens also looked further into the future. "By 2033, I think online will outgrow the offline economy," he said. "To accommodate that, retailers will need a highly decentralized network of suppliers, which will make the use of blockchain non-negotiable."
And according to Stephens, even today's technology and innovation leader may have become old-fashioned by 2039: "In 20 years, Amazon may look like the Sears catalog looks to us today."