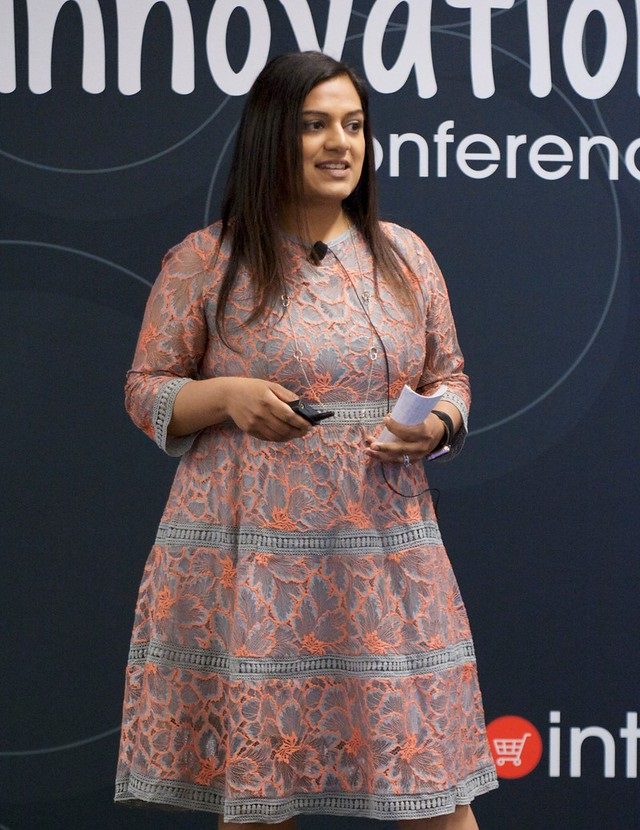 Top photo: 3DEN space in Hudson Yards
Right photo: Parinda Muley, VP of Innovation and Business Development at Macy's
The 2019 Retail Innovation Conference featured an intriguing duality within today's retail landscape, showcasing new companies that have been setting up unconventional physical spaces alongside traditional retailers doing everything they can to bring their brick-and-mortar experiences up to speed. Two sessions captured this dynamic perfectly: the closing panel moderated by b8ta CEO Vibhu Norby, and a presentation from Parinda Muley, VP of Innovation and Business Development at Macy's.
The event's closing panel discussion, titled: CEO Exchange: New Ways to Succeed In Physical Retail, featured CEOs of three growing startup businesses (3DEN, Batch and Iris Nova) sharing the stories of their Hudson Yards locations and revealing how they have carved out their experiences. Muley's presentation highlighted four key ingredients that the department store has adopted to change its formula:
1. Ensure top leadership, engagement and support;
2. Build a dedicated team;
3. Create a balance of tradition and disruption; and
4. Understand customer behavior.
Macy's already has taken plenty of steps to fulfill this formula, whether through its 12 The Market @ Macy's locations, the "See Your Space" VR implementation in 110 stores or the introduction of its Macy's Style Crew of style-obsessed social ambassadors. But the three companies represented on the CEO panel also have modeled their businesses with the same principles that Muley described.
Ensuring Top Leadership, Engagement Financial Support Remains A Challenge
Having the attention of the CEO is important, but Muley revealed a stark reality: a retailer looking to innovate needs the help of the corporate wallet too. "We want to make sure that all of our initiatives have the proper resources and funding behind it," Muley said. "It's really hard to lift ideas if you don't have that financial support."
The CEOs on the panel all happen to be founders of their respective companies, so by necessity they all are making major decisions while keeping their ears close to ground to find out what's working and what's not. But often that still isn't easy — even for young companies more willing to adapt, according to Lindsay Meyer, who founded Batch in 2016.
"One transition that I've been struggling with over the past few years is the journey from being the founder and the idea person to the day-to-day CEO that has to get things done," Meyer said. "The two personalities and skillsets are very much at odds with each other, and I can identify much more with being the visionary who can conceptualize something at a high level and help to crystalize it. In terms of what falls out of that, I've enlisted a lot of help. Because our team is also young, I've had to put a lot of coaching and resources around them, since I'm not always the best-equipped person to help people do the blocking and tackling of the career development they need."
Building A Dedicated Team
Muley described Macy's efforts to put together a team focused on a disruptive mindset — one that is "looking to break things and build things again" and also is willing to constantly challenge norms when thinking about new ideas. Ben Silver, Founder and CEO of 3DEN, echoed that ideas are vital toward building out innovative testing processes.
While 95% of a test may not work, that final 5% may be key to adding more value to the consumer experience: "I've always found with any company that I've been part of that it's important to create a flat organization, where I'm bringing people in who are experts in their field," said Silver. "It's important to let them have their opinions and provide feedback, whether it's people in our host teams checking people in at the front or people maintaining the space. We have weekly team meetings and we have different channels where everyone can throw out ideas. It doesn't matter what it is or how stupid it sounds, throw it out there and we'll discuss it."
Creating A Balance Of Tradition And Disruption
While Macy's is taking the tough route of transitioning from a traditional to a disruptive retailer, both Batch and Iris Nova have built their businesses from the ground up to assimilate both ends of the spectrum.
For example, Batch is bringing brand awareness to many local DTC home goods and furnishing brands via its San Francisco and recently opened New York Hudson Yards showrooms, enabling them to set up shop in an environment that looks more like the inside of a house than an actual retail store. Every "batch" lasts eight to 10 weeks before being switched out with new products and manufacturers, giving consumers a rotating shopping experience where they can discover new brands. The highly curated showrooms are designed to help shoppers create a look for their new homes from scratch.
But while this store format is already different from a typical retail space by design, Batch is rethinking its physical locations even further by working with real estate developers and realtors of multi-unit residential buildings to set-up "satellite spaces" or short-term shops.
"We're working on turning homes or residential spaces into a distributed store," Meyer said. "The idea is that someday you might be able to go to the house across the street, down the corner or around the block and be able to walk in and buy things from people's closets or shop things from their fridge, or open up the bathroom cabinet and peruse the beauty products within. We operate this part of our business like a staging company…rather than signing leases, we're actually getting paid to launch and open these micro-stores that exist for the small period of time where the home is for sale."
Iris Nova's The Drug Store looks very much like a traditional bar experience where customers can simply stop in and grab a beverage. But right next to this bar, which sells cocktails that include all-natural ingredients, is an RFID-based cashierless vending experience selling DIRTY LEMON beverages. Passersby can simply open the door, pick out a DIRTY LEMON bottle of their choosing and pay for it via text message.
The experience is powered by the Iris Nova SMS-based sales and communication platform, which is designed to facilitate frictionless direct-to-consumer transactions. Iris Nova has 24/7 customer service members to field order requests from consumers, whether they got the drink at the Drug Store or just purchased them on their mobile device. They deliver the orders same-day or next-day in the U.S., according to Zak Normandin, CEO and Founder of Iris Nova.
"We know that this direct connection with consumers is a more elevated experience than consumers would find in a grocery store or buying through Amazon," said Normandin. "Our model is direct-to-consumer so we're looking to remove the layer of distribution brokerage and retail from the experience that consumers have with our brand. The original intention of The Drug Store actually was to provide a convenient access point for our products for consumers who already live in concentrated areas."
CEOs Explain Mindset Behind Understanding Customer Behavior
The final ingredient of the Macy's journey is arguably the most obvious and necessary to developing a retail business that remains ahead of the curve: understanding modern customer behavior.
In her presentation, Muley said the Macy's team asked the following questions when developing new projects: "Where does our customer spend her time? Where is she spending her share of wallet? Where is she spending her energy? Does Macy's have the authority to play in that space, and what assets do we have to launch this initiative effectively?"
During the CEO panel, all three execs shared insights into how they collected and measured customer behavior:
Batch's Meyer said "The first question that our team is generally trained to ask people that visit our spaces is: 'Have you been to Batch before?' We then introduce the concept and parade them around introducing top picks or favorite products," she added. The company also migrates its best products from its showrooms into its staging locations, to eliminate the friction that some shoppers may have in going to a store.
Silver of 3DEN indicated that since the company requires people to download an app before they check into their space, the company can immediately track total and unique check-ins as well as first-time visits and use of promo codes. Since first-time entrants get 30 minutes for free, 3DEN can "track retention rates from that initial 30-minute period to how many people come back as repeat visitors," he noted. "We can understand dwell times during the week versus the weekend, where the demographics are totally different. During the week it's a more professional crowd; during the weekend it tends to be families and tourists, who stay about half the time."
Iris Nova's Normandin also pointed out the company's reliance on tracking customers that enter The Drug Store for the first time, in order to discover whether they'll become DTC consumers. While the company tracks retention rates, it's not just about repeat orders: "Because we're building a dataset around consumption behavior as it relates to our beverages, we know that if you come in and grab a bottle every week and then decide to stop, we can reach out to you and say: 'We saw you're not purchasing any more. Could you tell us why? And how can we make this a better experience for you?'"