Editor's note: This article has been updated with additional information about Amazon.
An Amazon fulfillment center in Bessemer, Ala. has become the first battle site in a war to unionize the ecommerce giant's workers. Depending on the outcome from a month of mail-in voting that ended March 30, approximately 5,800 workers at the facility, BHM1, could gain the right to join the Retail, Wholesale and Department Store (RWDSU) union. The National Labor Relations Board (NLRB) is in the process of counting votes, with results expected by approximately April 8 — longer if both Amazon and the RWDSU contest the ballots.
A "yes" vote could ignite additional calls for unionization at Amazon facilities across the country. This is the first unionization vote the company has faced in the U.S. since 2014, but RWDSU President Stuart Applebaum told CNBC that the union already has received more than 1,000 inbound requests from U.S. Amazon workers seeking to organize their own workplaces.(To put this in context, Amazon employs more than 950,000 people in the U.S., with more than 500,000 in these types of operational roles.) The vote also has drawn the attention of politicians, including President Biden, who signaled his support for the drive, and Republican Senator Marco Rubio from neighboring Florida.
Unionization Effort Will Resemble 'Trench Warfare'
Despite the high profile generated by this vote, one Amazon expert warns that the conflict over unionization will be long-term. Even if the union is successful in Bessemer, "this is not 'shock and awe' or the moment when the dam breaks," said Robin Gaster, President of Incumetrics and author of Behemoth: Amazon Rising in an interview with Retail TouchPoints. "In America you have to unionize plant by plant, and Amazon has approximately 120 fulfillment centers and who knows how many other facilities. This is World War I trench warfare with bayonets and mustard gas — and Amazon has plenty of weapons in its back pocket."
For its part, Amazon claims unions simply aren't necessary to protect workers' rights. While acknowledging that the company respects employees' right to organize, "we believe that Amazon already provides what unions are requesting for employees," said Kelly Nantel, Director of National Media Relations at Amazon in an interview with Retail TouchPoints. "We offer industry-leading pay, benefits from day one with no probationary period, great opportunities for growth and modern, safe, clean and inclusive working environments."
At the Bessemer plant, Amazon is touting its $15 minimum wage (more than twice the Alabama minimum wage of $7.25) and health benefits offered on day one of employment. The company also is stressing that workers can keep more of their paycheck if they're not paying union dues. This last argument is somewhat undercut, however, by Alabama's status as a right-to-work state, meaning workers don't have to join a union or pay dues if they don't want to.
Beyond the specifics at this facility, Amazon sees unions as barriers to direct communications between employees and the company. "Direct dialogue is essential to our work environment — we encourage associates to bring their comments, questions, and concerns directly to their management team with the goal of quickly improving the work environment and challenging leadership assumptions," said Nantel. "We firmly believe this direct connection is the most effective way to understand and respond to the needs of our workforce."
Amazon Aggressively Fighting Unionization Effort
The ferocity of Amazon's fight against the union indicates that the company, which has successfully fended off other unionization efforts, is taking this threat seriously and is prepared to continue fighting. The company had put up a "Do It Without Dues" website featuring employee testimonials to promote its position, but it appeared to have been taken down by press time.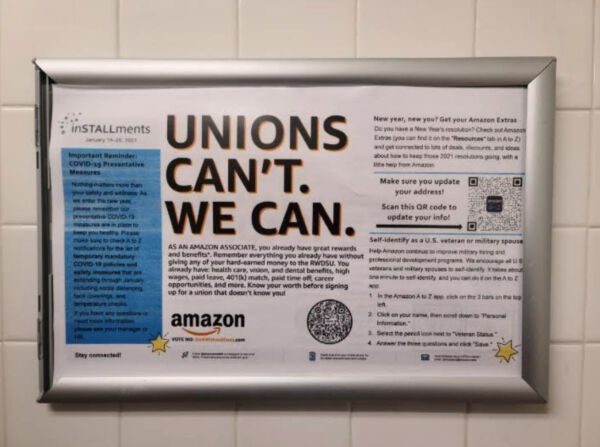 "Judging by the full court press Amazon is putting on, the company is concerned that the workers might just win this," said Jason Boyce, Founder of avenue7media and author of The Amazon Jungle in an interview with Retail TouchPoints. "If the union does win in Alabama, my personal opinion/guess is that Amazon will shut the warehouse down. They could easily set [another one] up."
Even if the company's response is not that drastic, it has the resources to wage a war of attrition. "First Amazon will undoubtedly challenge the election, saying NLRB rulings were wrong and that the election should be re-run," said Gaster. Amazon also has the right to call for another election in a year's time if 30% of the plant's workers ask for a recertification. "If I'm right that the turnover in Amazon's warehouses is enormous, which I think it is, the people who voted for a union in Bessemer might not be there by that time," said Gaster.
Fulfillment center employees in particular are at a disadvantage in labor negotiations because their work, while tough, doesn't require a lot of skills to accomplish. "Amazon brings on between 100,000 to 200,000 workers every holiday season. How is this possible?" asked Gaster. "They have 'deskilled' the work so that anyone can do it with five minutes of training. They can't do it as fast or as efficiently as someone with greater experience, but they can do it."
"Some of these overall labor conditions are not necessarily Amazon's fault," said Boyce. "Unions have been declining for decades in this country, and wages have been suppressed and eroded. So Amazon didn't create this situation, but because of its success — and its role as the standard-bearer for using robotics and other automation efficiencies — it makes Amazon a huge target, rightly or wrongly."
Lack of Employee Turnover Data Makes Objective Analysis Difficult
Additionally, despite Amazon's claims about its workplaces, hard data to back them up is in short supply. "How can you tell if [Amazon workers] are happy and satisfied? The easiest way to measure that is how long they stay in their jobs," said Gaster. "Amazon has released exactly zero data on this stuff, which would be a completely simple, slam-dunk way of showing that Amazon is a great employer. And the fact that they have not released this is the strongest indication that what they're telling us is public relations bull."
[Following the initial publication of this article, Amazon's Nantel noted that the company was ranked number two on Forbes' list of The World's Best Employers in 2020. These rankings are based on surveys of 160,000 full-time and part-time employees in 58 countries.]
Gaster noted that Amazon's response to a 2018 lawsuit revealed that the company fired approximately one-third of the workers in a Baltimore facility over a 13-month period for productivity-related issues. Additionally, workers that accumulate six demerits within a year can be fired. Demerits can be issued for being late, refusing to work overtime or not meeting quotas. Additionally, when 75% of the workers in a warehouse reach their quotas, the entire facility's quota is increased, creating what Gaster terms "a ratcheting treadmill effect.
"From what we can see about the warehouse environment, there's a lot of turnover, and the pace is relentless and very physically demanding," said Gaster. "I've seen myself the way that Amazon forces workers to manage their own productivity. There are digital clocks in front of their stations ticking off the number of seconds since you've last completed an action, and that time period can be as short as 12 seconds."
COVID has been another major stress factor: ecommerce volumes have skyrocketed, so it's possible workers' well-being has taken a back seat to productivity. "There was a New York Times Magazine article with reporting by Erika Hayasaki about the pre- and post-COVID behavior changes among workers at Amazon facilities in California's Inland Empire," said Boyce. "I believe the additional pressure put on the workforce due to COVID changed the viewpoint of a lot of these warehouse workers to think more negatively about their jobs."
Verdict Uncertain in the Court of Public Opinion
COVID also further entrenched Amazon into the U.S. and world economies, so it would take a massive sea change to shake consumers' loyalty to the company. Also, like its competitor Walmart, the company's sheer size frequently makes it a representation for everything that's wrong with corporate capitalism. However, it's clear the company doesn't relish its image as a union-buster.
"Amazon has unionized workers in European Union countries like Germany, so the company has managed to figure out how to work with the German unions," said Boyce. "Amazon knows how to do this, but they're taking on these tactics that are a really bad look for them, and that could ultimately erode consumer support for the Amazon brand."
"Amazon is a trust-dependent company; consumers rely on it to be the intermediator and to deliver," said Gaster. "This is not a good look for them."
Gaster added that while Amazon, like many other companies, is "anti-union for practical reasons," this fight goes deeper than dollars and cents. "The culture at Amazon is very demanding, and it requires that you fully buy into the notion that serving the customer is absolutely the greatest thing you can do," he noted, adding that the company also is known for overworking and firing white-collar workers who it perceives as lacking this level of commitment.
"It's the founding myth — that we're all a team, that everything we do is in service to the customer, and that's what makes us all great," said Gaster. "Now here come these workers who want to be represented as workers, not as consumers, who don't think Amazon is doing right by them." This culture clash makes unionization efforts not just a business battle but an almost religious conflict, according to Gaster, noting that he believes Amazon perceives the very fact that its workers would organize against it as "heretical."