The Concept:
Taggle is a new concept designed to allow consumers in a brick-and-mortar retail store to bid on items in a no-hassle way via the mobile device. While designed to work optimally for the iPhone and iPod touch, Taggle can also work for owners of other phones via SMS messaging. In September 2008, the Consumer Electronic Association selected Taggle as one of 15 finalists worldwide as one of the most innovative applications of 2008. 
The Team:
Taggle was conceived and developed by Las Vegas-based Sysgain, Inc., a privately held technical consulting and product development company. CEO Ram Thummala came up with the concept to nurture the changing consumer's preferences. Thummala partnered with Michael Brophy, who had previously worked in retail management/information system for 10 years.
Market Relevance:
"Haggling is a reality of the retail environment," says Brophy. He introduces an "elastic pricing" concept, which, he says, will ultimately mitigate margin loss. The retailer with Taggle controls the entire promotion, messaging, what SKUs are available, description image, quantity the store is willing to sell and at what price. Brophy says the Taggle application is not limited to the elastic pricing scheme, and can be extended to support a feature similar to eBay's "Buy it Now" feature, so consumers can purchase on the spot at a designated price.
Delivery: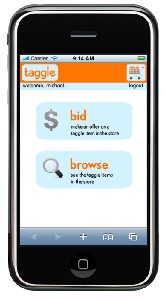 Without integrating with a POS system, data warehouse, UPC databases, etc., the core offering for Taggle is the piece that sits in the store. Sysgain brings in a wireless infrastructure, or can override the store's existing one, depending on the type of existing wireless technology.  An installed VPN appliance allows secure connectivity back to the Taggle data center where bids are evaluated and sent back to consumers. A back office work station within the store is necessary for nightly reporting and to create and maintain marketing messaging. Sysgain provides in store signage consistent with each retailers' style and guidelines.

Proof Points:
In November 2007, Sysgain conducted a consumer survey with input from over 2,100 consumers. Those that did haggle had an average 70% success rate at saving $50 or more. Nearly 40% felt so uncomfortable about the idea of haggling that they never even tried. Sysgain recently finished taking applications from pilot retailers to develop a user base and generate buzz. "Retailers know people are using their phones in the store for purposes that are working against the retailer's objectives," says Brophy.  "A lot of people are price shopping other retailers… let's try to influence their behavior by giving them a network to join once they're in the store so you can deliver your messaging."