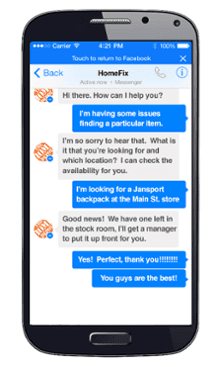 LiveWorld has launched chatbot management software for Facebook Messenger, designed to enable chatbots to automatically hand off consumer interactions to live human agents when necessary.
Retailers can conduct one-on-one conversations with customers in real time across marketing and customer service, with integration support for CRM and help desk applications.
The LiveWorld software includes:
Chatbot team collaboration framework, which includes bi-directional conversation transfer capabilities designed to provide organizations with instant visibility into whether the chatbot or human agent is maintaining the conversation;

Conversation tracking and resolution management to ensure brands can identify and prioritize high-opportunity and high-risk conversations for immediate communication. With the ability to access customer profiles and conversation histories, brands can assign, resolve, and deliver more personalized customer engagement;

Customer profile development and CRM platform integration to enable more effective resolution management. Integration with Salesforce software equips agents with access to CRM customer profiles, which are systematically updated with each social engagement; and

An open API to enable brands and developers to integrate their chatbots with the LiveWorld platform framework without the need for complex technical support.