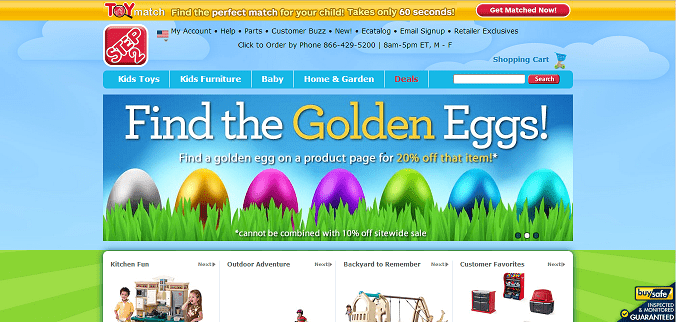 Up-and-coming retailers need to increase their exposure in an effort to stand out against online-only and multichannel competitors. Standing out in the currently, highly competitive retail industry hinges on a retailer's ability to create an online experience that exceeds the traditional brick-and-mortar store.
The Step2 Company, a manufacturer and retailer of toys for toddlers and preschoolers, wanted to gain exposure by selling more products online. Step2 products were already sold in third-party brick-and-mortar stores such as Lowe's and Toys "R" Us, as well as via eTailers like BabyAge.
To achieve this goal, Step2 sought a solution that could help boost the online brand, starting with product placement on web sites. With the retailer already reaching its annual paid search marketing budget, it could only allot a small portion of money towards a solution. Other criteria for the solution included easy implementation and short-term testing to help prove search results quickly.
In what was described as an "easy decision" by Tena Crock, Online Marketing Director at Step2, the company selected the Retail Search Exchange provided by e-Commerce performance marketing solution provider HookLogic. Retail Search Exchange is a cost-per-click auction marketplace that exclusively targets active shoppers across a network of e-Commerce web sites. With the solution, Step2 is able to place bids on products and product categories that the retailer intended to advertise in "featured" listings on sites partnered with Hooklogic such as Rakuten, Target and Walmart.
"Our whole mission is to help manufacturers increase their sales on those sites," said John Roswech, Chief Revenue Officer of Hooklogic. "We just look at the brands that are sold across our network of sites and we put a sales and marketing plan in place that spans across phone, email, online targeting through Facebook or search."
Step2 had specific goals in mind once Retail Search Exchange was implemented, including:
Increase share of voice and gain market share;
Enhance product visibility to a purchase-ready audience;
Generate more sales and revenue online; and
Influence highly engaged, in-market shoppers.
Since the solution includes live reporting capabilities that can track the performance of each individual product, these goals could be easily monitored. While expectations were running high across the Step2 management team, the results proved to be even more fruitful than originally forecasted.
"We never invest money unless we believe that we're going to get a minimum three-to-one return on our investment," Crock said in an interview with Retail TouchPoints. "That's our minimum threshold. Logically, as we were talking through this and I understood the product more, I was really confident that we could likely achieve that return. We've blown that number out of the water, which is great."
Exceeding Investment Goals
The initial goal to achieve a three-to-one ROI pales in comparison to the actual progress that Step2 was able to attain with the Retail Search Exchange. There were three key performance indicators that stood out after the implementation, including a:
45% average gain in market share on Retail Search Exchange sites;
12% average increase in product page views and; and
710% return on ad spending.
Step2 also saw quick time-to-display, or the overall time it takes for new products to appear on featured web sites.
"We've actually been able to target new products better and get those products in front of people more quickly than we had been before," Crock said. "Often times, you have to rely on a new product, such as play kitchens, being added to a web site. A lot of times, it will take a while for that product to get clicks and to lurk its way to the top of the play kitchen page. This [solution] actually allows our play kitchens that are new to be put in rotation and viewed more quickly than they would be otherwise."
With help from Hooklogic, Step2 has implemented a "test and learn" approach that enables the retailer to make better, more profitable decisions from an online marketing perspective.
Hooklogic saw the Retail Search Market as a great fit for Step2 not only due to the retailer's goals, but also its desire to learn about the solution's driving forces.
"It's great to work with marketers that actually want to implement some sort of test, get learnings from it, and then either expand on that test or not," Roswech said. "The people that we're successful with, like Step2, are people that want access to data and that will actually make changes after they review the data. We're showing Step2 actual sales data, such as how many people clicked on the play yard, how many actually purchased it and what was the purchase price."