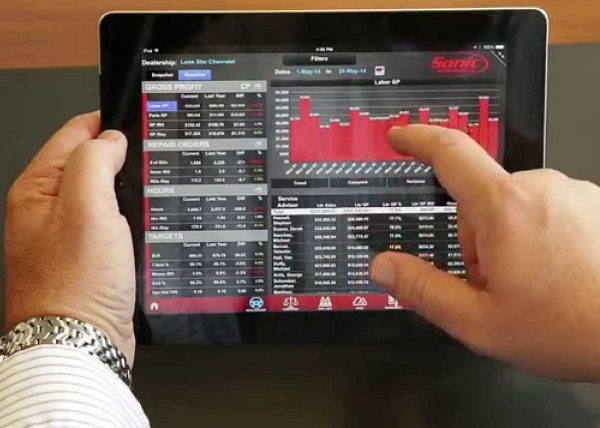 More retailers are arming their sales associates with mobile technology so they can properly inform shoppers about products, pricing and more. One particular automotive retailer is staying ahead of the competition by implementing this mobile strategy company-wide.
Sonic Automotive enlisted MicroStrategy to develop and deploy its mobile application, FIRE (Financial and Insurance Reporting Engine), resulting in an increase in car product sales by 38%. Since rolling out FIRE, Sonic Automotive has gone from selling between $800 and $900 in products per car, to nearly $1,100.
FIRE is designed to graph the sales team's performance within a single platform, essentially making it a scorecard for salespeople. Each sales associate at Sonic uses an iPad throughout the sales process to access a wealth of information, whether it's vehicle price, interest rates or financing options.
Sonic Automotive initially participated in the MicroStrategy Mobile QuickStrike program to become more well versed in mobile strategy and build a prototype app. Pleased with the service, Sonic Automotive went on to spend more than six months working with MicroStrategy to develop FIRE.
"When it came to mobile, we had a real need in the Finance and Insurance area of our business, where we sold aftermarket products, warranties and service contracts," said Mark Starnes, Director of BI Reporting Solutions at Sonic Automotive. "Within two months of the release, we started to see that the amount we were realizing on a deal would jump substantially, where previously, it stagnated and had been a little volatile."
In addition to the monetary benefits of the mobile strategy, Sonic Automotive realized that making sales performance more visible through the application encouraged associates across the company to improve performance.
"We had an ability to give every performer in our organization their personal results, as well as how they compared to others in the same position at different stores," Starnes said in an interview with Retail TouchPoints. "As part of our data warehouse initiative, we really opened up as much data to the organization as we could. The key in this application is that all stores can see any other individual store's data. We give them rankings across the company, across their region and their brand."
Streamlining Internal Processes
Using MicroStrategy, Sonic Automotive also built dashboards to address internal company issues and simplify certain processes. The retailer implemented an internal financial control dashboard that monitors every store on a monthly basis to ensure there are no company-wide financial irregularities, as well as a playbook dashboard, which provides employees with a series of best practices based on their position in the business.
"Early on when we wrote the playbook, there were teams that would go out once a year with a clipboard and a piece of paper to write down the scores for each region," Starnes explained. "The people who took the scores didn't enter the scores; they faxed them back to a team that would manually input them. Then, you had opportunity for mis-transcribing, and the data came in a couple days later before it got fully entered and the reporting would take place in a different location."
With the re-branded MicroStrategy app, Sonic Automotive can send out a team of people who are "playbook inspectors" to a specific region to monitor if stores are executing key processes. These inspectors can capture scores at individual stores, take photos and immediately upload the data into the app using their iPads.
"Now with this dashboard, that data can be validated at the time of input," Starnes said. "The person can enter what they meant to enter without any miscommunication. We have one team of five or six people that can support themselves in entering the dashboard to run their own reports immediately. Beforehand, all that data was captured manually by approximately 20 to 25 people and took days to compile."
While turnover in the auto retail industry tends to be high among sales associates, Sonic Automotive has weathered the storm, even after the recession period began in the late 2000s, according to Starnes. He attributes this positive performance to the commitment the company has made to eliminate layoffs during the period, as well as its new focus on training new associates with the MicroStrategy-powered solutions.
"I know from supporting the business that people really struggled with the tools that we used to have," Starnes explained. "They'd say 'Why can't I get this report,' but we don't hear any of that anymore. It's not completely the reason that our turnover is down, but it's helped for sure."