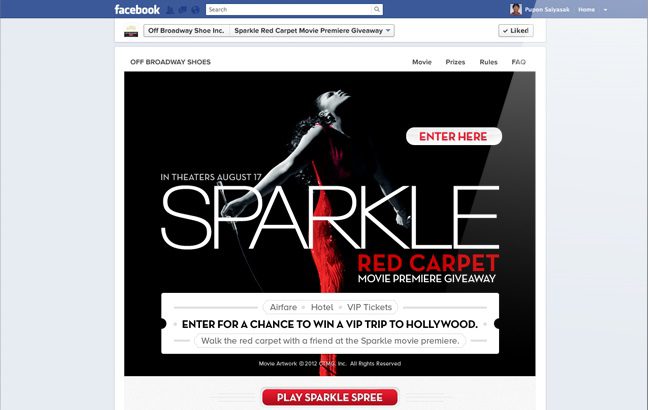 Looking to capitalize on its partnership with Sony Pictures to promote the feature film "Sparkle," footwear retailer Off Broadway Shoes wanted to improve its social media and email fan base.
Off Broadway Shoes saw the "Sparkle" connection as an ideal marketing opportunity, and in turn, tapped advertising agency redpepper to launch an integrated campaign that generated buzz around the film.
---
By the time redpepper fully implemented the campaign, Off Broadway Shoes had the fourth fastest-growing Facebook page in the shopping/retail category, accumulating more than 20,000 fans and gaining 18.5 million impressions in less than one month. During that same period of time, the retailer added more than 8,500 new contacts to its email database.
To boost social media presence and followers for Off Broadway Shoes, redpepper created an extra tab on the retailer's Facebook page dedicated to a Sparkle Red Carpet Premier Giveaway, which included an interactive game called "Sparkle Spree." The giveaway offered two major prizes: The grand prize was a trip for two people to Hollywood, VIP passes to the "Sparkle" premier and a pair of Off Broadway shoes. The second prize, which could only be won by playing Sparkle Spree, was a trip to Hollywood for a shopping spree at the retailer's Sunset Boulevard location.
"What we usually do is put together some kind of proponent that is either promo-like or game-like that adds value and makes it easy for our audience group to engage with the brand in a way that doesn't feel like marketing," said Tim McMullen, Founder and Executive Creative Director for redpepper. "It's very important just to give people a pure experience. In today's marketing environment, the consumer does not want what is essentially a marketing promotion. Consumers want an experience, and that experience needs to provide them with some sort of value. Sometimes that value can be entertainment, utility or education. In this case, it was entertainment."
The Value Of An Integrated Approach
Contestants participating in the Sparkle Spree game were able to craft their ideal red carpet outfits by selecting from an assortment of shoes and accessory items. They even were able to select a red carpet date from the movie cast. Sparkle Spree awarded coupons to contestants who shared their selections on Facebook, resulting in a 31% share rate. Throughout the promotion, the retailer offered $100 gift cards to contests on a weekly basis.
Redpepper deployed predictive analytics to establish goals and a projected ROI for the campaign before it even launched, according to McMullen. This provided confidence to the Off Broadway Shoes team that tangible results could be achieved.
"Integrated campaigns are scary," McMullen said. "Anything involving social media is scary. We have to bring that value up so that retailers can expect a return on it."
Redpepper published promotional tweets from the Off Broadway Shoes Twitter account, which were re-tweeted by "Sparkle" actors, including Jordin Sparks, Mike Epps and CeeLo Green. The integrated campaign also consisted of printed sign-up forms at store counters and QR codes, which allowed consumers to enter the giveaway using their mobile devices. Incorporating these extra touch points helped Off Broadway Shoes acquire approximately 9,000 mobile page visits and nearly 4,500 additional entries.
"We have coached our clients to believe in social media," McMullen said. "It's just like any other database that you want to build and leverage as a marketing asset, and that's what we've taught [Off Broadway Shoes] and other clients, as well. They get better over time at growing and utilizing that asset to drive consumer engagement and retail traffic."