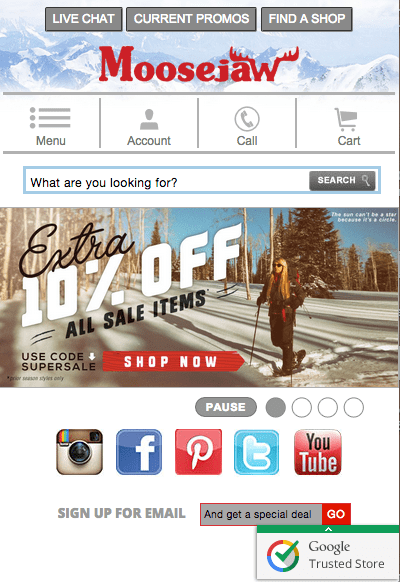 Over the past few years, outdoor retailer Moosejaw has embraced a series of cutting-edge technologies to improve the customer experience online and in-store.
For one, more than 70% of all transactions are now completed via mobile POS in Moosejaw stores, according to an article from Retail TouchPoints. The retailer has even used mobile POS technology to test a drive-through concept, and has crafted mobile-optimized shopping experiences to better connect with customers.
"Mobile and tablet continue to grow in their contribution to traffic, orders and revenue," said Dan Pingree, VP of Marketing at Moosejaw. "Because of its importance, making sure the user is presented with a simple search-and-find experience is of paramount importance."
To ensure mobile-toting shoppers have an exemplary experience, Moosejaw implemented cloud-based engagement optimization software from Yottaa. Since rolling out the technology, the retailer has seen page load times decrease, and customer engagement and conversions soar.
An early adopter of responsive web design technology, Moosejaw now tailors all content and components from the e-Commerce site to the specific screen sizes of mobile devices. Previously, content was not optimized and responsive to the mobile environment, which slowed site load times significantly. This was a big issue for the retailer's target customers who are constantly on the go.
"We needed to significantly increase load speed, leading to an improvement in conversion rate," Pingree said in an interview with Retail TouchPoints. "Utilizing Yottaa, we have been able to achieve these goals so far."
After all, more in-depth content plays a pivotal role in the brand experience, according to Pingree. It's what "makes Moosejaw unique."
While the retailer offers information to help consumers make buying decisions, such as materials, weight, best use, color and size, the web site also includes product content to "help transform your shopping session into more of an experience," Pingree added. "Two specific examples would be our Test Lab series, where we recently highlighted the Patagonia Nano Air Jacket, and our Gear and Love segment, where we recently featured the MSR Windboiler stove system."
Moosejaw was able to see significant success during the 2014 holiday season as a result of its faster mobile performance. During this time of year, consumers are increasingly demanding and eager to cross off their holiday shopping lists. If a site cannot handle sporadic traffic surges, customers would undeniably be turned off by the experience.
But conversion rates were high "despite weather that was significantly warmer versus 2013 across the country," Pingree said. "This would have been difficult to achieve without the page and site experience performing at a high level."