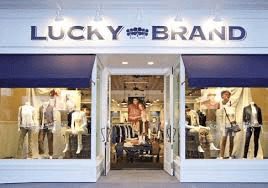 Lucky Brand is betting on larger stores to deliver greater profits, in a time when many retail companies are downsizing their physical locations. "We are moving toward larger stores," noted CIO Jason Richard in an exclusive interview with Retail TouchPoints. "For us, double the square footage equals greater than double the revenue per store."
In the immediate future, Lucky Brand is opening two concept stores — one in Manhattan Beach, Calif. with 2,500 square feet, and the other in Las Vegas with 5,000 to 6,000 square feet.
In the new stores, employees will be equipped with iPads and will have access to an expanded online assortment. Other new technologies available in the concept stores will include RFID product tags and interactive digital screens on the store floor and in dressing rooms.
Within the larger footprint locations, Lucky Brand also will offer more seating areas to help encourage customers to spend more time inside the stores.
Overall, Lucky Brand has seen significant growth in the past year, Richard said. "We're growing faster than our competitors," said Richard, "and we're planning additional product line expansion."
Expanding Without IT Constraints
Because Lucky Brand wiped the IT slate clean when the brand was sold and separated from Kate Spade in 2014, the company is now set for faster growth, said Richard.
"Most companies would have just made a copy of what was used at Kate Spade," Richard noted. "But they are using so many old and on-premise solutions, and we don't have to do that today. The public cloud is everywhere."
With that in mind, Richard gravitated to solutions from NetSuite, a company he worked with in his previous retail role at Williams-Sonoma. He also engaged help from Columbus Consulting, which reviewed different providers and put together the final plan. "They looked at other companies and options, but those companies could not meet our schedule, budget and flexibility," Richard explained.
Most recently, the company implemented the NetSuite ERP solution to help operate its 250+ retail stores and distribute merchandise through retail partners, including Macy's, Dillard's and Nordstrom.
With the cloud-based NetSuite system in place, Lucky Brand is operating less than 10 physical servers and has an IT staff of 38, helping to maintain and operate finance, accounting/payroll, pricing and inventory, according to Richard. Network management is outsourced.