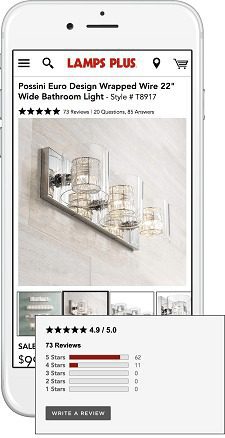 By increasing the variety and depth of UGC (User Generated Content) on its e-Commerce web site, Lamps Plus improved the customer shopping journey and armed consumers with significantly more information to guide their purchasing, both online and in-store.
While Lamps Plus has sought out, collected and posted online product reviews for several years, customers' questions and answers, visual reviews and checkout comments were put on the back burner — mainly because the retailer lacked the resources to implement the process.
"We've always seen customer UGC as a priority for best-in-class online customer service," noted Angela Hsu, Senior Vice President of Internet Business and Marketing for Lamps Plus in an interview with Retail TouchPoints. "Once we were ready to implement customer questions, we found a solution through TurnTo that best fits our needs," she said. Lamps Plus began using TurnTo in June 2017.
Lamps Plus customers are now posting about 3,500 questions a month, and customer service staff and other customers provide approximately 5,300 answers to those questions. This averages out to roughly 1.5 answers per query. The retailer garners approximately 1,500 product reviews per month, and the average product rating on the site is 4.5 out of 5.
Reviews Help Maintain High Product Quality
Lamps Plus maintains consistently high ratings for its products partly because low-star reviews signal that an item needs to be reevaluated. "Some products with low-star reviews are removed from our site, and negative reviews provide valuable data that we share with our manufacturers," Hsu explained. "This insight helps us monitor overall product quality and ensure similar issues don't occur with other products in the future."
In addition to shoring up the information that goes with each product, the Q&As help improve the copy and images for the Ideas and Advice section of the web site, which includes buying guides and informational articles. These help consumers understand lighting categories and trends before they drill down to an individual item, Hsu noted.
Measuring The ROI Of UGC
Although the number of reviews, questions, answers and other UGC can be counted, "it is difficult to isolate the impact of reviews and customer Q&As," Hsu admitted. "We know that when a question is answered within 24 hours, customers are more likely to purchase. And while we haven't been able to connect UGC from our web site to an impact on store sales, we know customers conduct thorough research before arriving to shop specific products or product lines."
A good portion of that research is conducted via mobile devices, and the entire Lampsplus.com web site is optimized for mobile, including all UGC. "We find a strong trend for customers researching and browsing on mobile and then purchasing on desktop," Hsu said. "Therefore, the mobile web site is a key driver for both mobile and desktop sales." She noted that most UGC is posted from desktop devices (60%) versus 40% from tablets and smartphones, but she expects that ratio to shift increasingly toward mobile over time.
To facilitate information gathering and online ordering in its stores, Lamps Plus provides in-store kiosks that account for a "significant amount" of brick-and-mortar sales, Hsu said. Although customers cannot add UGC when using these kiosks, they are able to view reviews, Q&As and other product-related content. "We regularly see customers become more comfortable about purchasing after seeing the reviews from others who have purchased the product," she explained.
Customers receive an incentive for providing a review or answering a question, in the form of a chance to win a $500 shopping spree at LampsPlus.com. There are no similar incentives for customers who ask questions or say why they purchased a product in checkout chatter. "Even without offering incentives in these two areas, we still receive substantial amounts of UGC that provide great value for other customers to better understand our products and find answers they need," Hsu said.