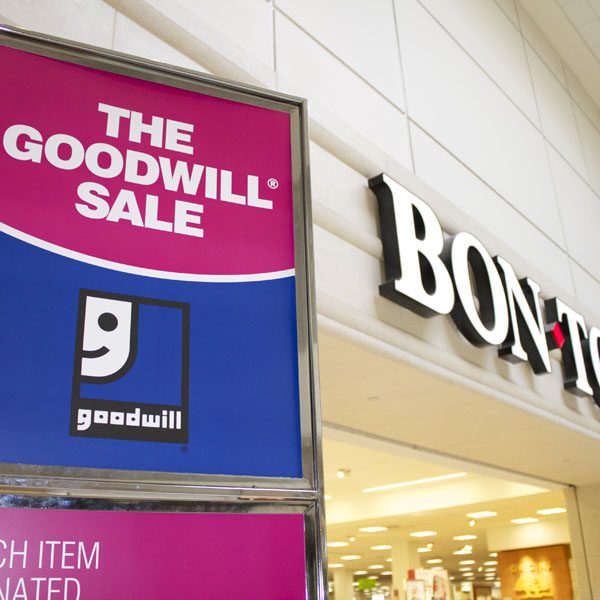 An increasing number of retailers are developing organization-wide strategies focused on social good and corporate responsibility.
Over the past 20 years, department store retailer Bon-Ton Stores has built a successful relationship with Goodwill Industries. As part of a semi-annual campaign, Bon-Ton Stores encourages customers bring clothing they no longer wear to their local department store to donate to Goodwill. In return, consumers receive discounts on new items they buy, and proceeds from donations go toward local community programs. To date, the collaboration has generated approximately $233 million in nonprofit revenue.
"Our Bon-Ton partnership has proven to be a great example of how two brands can work together over a long period of time," said Lauren Lawson-Zilai, Director of Public Relations at Goodwill Industries International. "Corporate social responsibility has become a 'buzz term,' but it's an initiative that we implemented with Bon-Ton 20 years ago. We use our partnership as a shining example of the overwhelming positive potential a partnership can have for both Goodwill and the other business."
During each sale, more than 270 Bon-Ton Store locations participate and 60 Goodwill member agencies are able to collect up to 2.5 million pounds of clothing and textiles. For each item donated, shoppers can receive up to 25% off their purchases.
"Our partnership with Goodwill allows us to positively affect lives in the communities we do business in," said Christine Hojnacki, VP of Public Relations and Events at The Bon-Ton Stores, Inc. "Our customers donate items during the sale and Goodwill sells the goods to enable them to train individuals and get them back into the workforce. We have built a strong foundation with our customers and associates by creating meaningful programs and providing opportunities for them to get involved. Over time, we believe this strengthens communities and builds loyalty with our customers and associates."
Although the donation component of the campaign has been consistently successful, Bon-Ton stores added a new element in 2013, allowing customers to donate $5 cash to Goodwill at the register in exchange for three additional coupons to use in-store and online. In 2013, a combined $749,000 was donated in cash for the fall and spring Goodwill sales, according toLawson-Zilai. In the spring of 2014, $482,000 in cash was donated. All funds raised go toward providing job training and support services to people with disabilities and disadvantages.
"Based on customer response, we found that new customers visiting our stores during the event without a donation in hand were less likely to engage in the event," Hojnacki explained. "The $5 donation at point of sale allows them to support Goodwill's mission and enjoy the benefits of the Goodwill Sale offers. It also has been beneficial to customers who donated, shopped and have depleted their coupon supply."
Partnering On An Omnichannel Strategy
The Bon-Ton Stores and Goodwill Industries International collaborate closely to ensure the successful execution of each sale, according to Lawson-Zilai. The planning process for each sale begins several months prior to the launch, and each team executes online marketing, PR promotions and other announcements for the sale.
Goodwill Industries International and Bon-Ton Stores also share content related to the sale to ensure the right messages are communicated to the public, Lawson-Zilai added. "Because of the partnership's long history and consistency, it has become a well-run operation that is anticipated by local teams season after season. When new stores open and the opportunity emerges to engage a new Goodwill, both teams work directly toward onboarding the new Bon-Ton store and the new Goodwill agency."
While local Goodwill agencies receive PR materials, such as news releases, social media messages and public service announcement scripts to promote the sale, Bon-Ton Stores works with each location using a comprehensive playbook.
"Both teams emphasize the importance of local engagement," Lawson-Zilai said, "encouraging Goodwills to work with Bon-Ton stores to educate staff on the mission of Goodwill and celebrate local successes in the partnership."
Shifting consumer preferences and behaviors required both teams to take a more integrated approach to their campaigns and promotional tactics.
"When the sale began, customer preferences were different," Hojnacki said. "Customers donated in our stores and shopped in our stores, there was no online shopping at the time. Customers can now use Goodwill sale coupons in-store and online."
Over time, Bon-Ton Stores has established an omnichannel marketing approach to reach consumers not only through print and broadcast, but also via email, social media and even mobile.
"Each season, Bon-Ton and Goodwill complete a full analysis of the Goodwill Sale and collaboratively discuss new ideas for the following event," Hojnacki said. "As we continue to learn about how Bon-Ton and Goodwill customers engage in this event, we will continue to evolve our marketing."