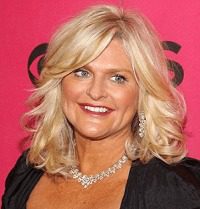 In a move akin to suddenly leaving your spouse just before Valentine's Day, Victoria's Secret CEO Sharen Jester Turney exited her post late last week after 16 years with the iconic brand. Retailing veteran Leslie Wexner, Chairman and CEO of parent company L Brands (formerly known as Limited Brands), will take over the CEO job.
Investors rattled by Turney's unexpected departure helped drive L Brands share prices down 5% at midday on Friday, Feb. 12. The stock's price was on the rise again, however, after the opening bell on Feb. 16. Victoria's Secret generates approximately 70% of L Brands revenues; other brands include Bath & Body Works, Henri Bendel and The Limited.
Turney's move is even more puzzling given her stellar record with the company. She started as president and CEO of Victoria's Secret Direct in 2000 and became CEO of the brand in 2006. "Victoria's Secret sales have increased more than 70% to $7.7 billion and profit has increased substantially during her nine years as CEO," said Wexner in a statement.
Wexner brings plenty of experience to the job: he has been a corporate CEO for more than half a century, and came up with the concept of offering only a selected assortment back in 1963 — a concept that eventually grew into The Limited chain. Wexner bought the original six lingerie stores that formed the basis for Victoria's Secret for $1 million in 1982, according to Fortune.
Turney, who will continue in an advisory role at the company, said "After 16 years and a record fourth quarter at Victoria's Secret, I have decided to prioritize my family and my personal life and consider what's next for me professionally. I leave the Victoria's Secret business well-positioned for the next chapter of growth…a strong brand with great momentum."