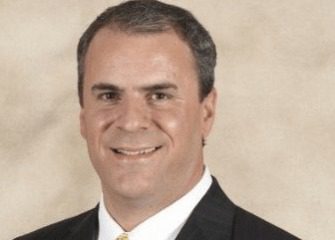 Just before hitting his one-year anniversary as CEO of Lumber Liquidators, John Presley is leaving the position, marking the second time the chief exec at the flooring retailer has resigned in 18 months.
Dennis Knowles, the retailer's current COO, succeeds Presley as CEO effective Nov. 9. Presley also will resign from the Lumber Liquidators Board of Directors on Dec. 15, with Knowles replacing him on that day.
Presley was diagnosed with a "very treatable form" of leukemia in February, but the resignation is not health-related, according to sources of the Wall Street Journal.
Lumber Liquidators continues to experience fallout from a 2015 "60 Minutes" report alleging that the brand sold flooring made in China that had toxic levels of formaldehyde, a known carcinogen.
An investigation from the U.S. Consumer Product Safety Commission ruled that Lumber Liquidators didn't need to perform a full recall of made-in-China laminate flooring that it sold, since no air-quality tests found formaldehyde levels above the regulation guideline. However, the brand agreed not to resume sales of Chinese-made laminate flooring, and further committed to continuing a free indoor air-quality testing program that it began in May 2015.
In part due to ongoing legal fees, the retailer experienced a net loss of $18.4 million in Q3 despite its first quarterly sales improvement in six months.
Knowles, who has been COO of Lumber Liquidators since March 2016, was responsible for the company's stores organization, sales, merchandising and marketing, installation, distribution and related operations. Since 2001, he had served in store operations leadership roles at Lowe's, most recently as its Chief Store Operations Officer.