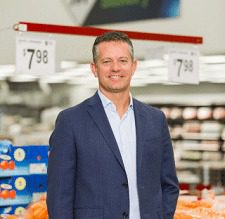 John Furner, who began as a Walmart hourly associate in 1993 and most recently served as President and CEO of Sam's Club, will become President and CEO of Walmart U.S., reporting directly to Walmart CEO Doug McMillon. The move will be effective Nov. 1. The current Walmart U.S. leader, Greg Foran, who is leaving to take a CEO role at Air New Zealand Limited, will stay on through Jan. 31, 2020 to help with the transition.
"John knows our business well, having held many different jobs in the company over more than 25 years, and he is helping transform it for the future," said McMillon in a statement. "He has the experience and judgment to know what we should continue doing and what we should change. He embraces technology and new ways of working, and he keeps our customers and Sam's Club members at the center of everything we do, while delivering results for the business."
Furner worked part-time in the garden center of a Walmart supercenter and worked his way up through roles including store manager, district manager and buyer. He has held leadership positions in operations, merchandising and sourcing, including a stint as Chief Merchandising and Marketing Officer for Walmart China. Furner was named CEO of Sam's Club in 2017. He will partner with Walmart U.S. e-Commerce CEO Marc Lore, who also reports to McMillon, to deliver seamless omnichannel experiences to Walmart's U.S. customers.
McMillon expressed gratitude to the departing Foran, noting that he has "built a strong plan from the beginning to strengthen the U.S. business — a plan that made significant choices around investing in wages and benefits for associates and investing in price for customers. Greg's ability to innovate, whether it's making our stores a competitive advantage in an omnichannel environment or equipping associates with next generation technology and training, has helped position us for the future. The results have been impressive — every quarter he led Walmart U.S. it has had positive comps."
"There's no better place than Walmart U.S. to touch the lives of millions of customers and associates," said Furner in a statement. "Together with the team, we will build on the progress under Greg's leadership and continue to make Walmart an even better place to work and shop."