Target's newly opened Times Square location — 30,000 square feet in the middle of Manhattan — features designs inspired by local culture. Additionally, as the retailer continues its $5 billion 2022 expansion, the Times Square store serves as an example of Target's smaller-format capabilities.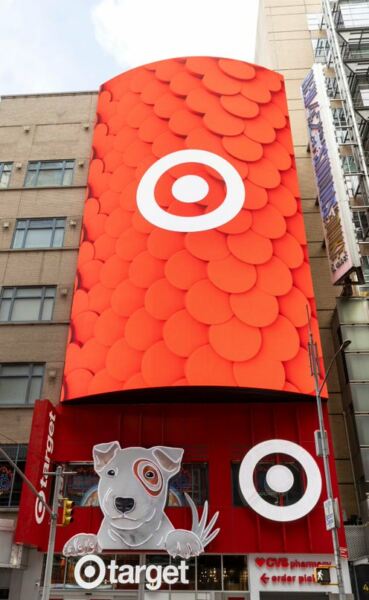 At the entrance visitors encounter a digital Target-red curved display measuring 84 feet high with the company's bullseye logo in the center of the space. This soaring display includes a base that features an illuminated design of Bullseye the dog with an animated tail that wags as the digital logo above it transforms.
Inside the store Target relies on locally inspired touches such as a colorful tile mosaic that features "Times Square" spelled out across the walls of the lobby. An industrial vibe inspired by a subway platform is supported by exposed ceilings and suspended steel panels.
The store's interior is inspired by the city's buildings and artwork that can be found while walking through Manhattan. Polished concrete floors, backlit wall art and striking graphics throughout the store support the theme of locally inspired design.
The Times Square Target location's offerings also take into account the bustling mindset for which the area is known. Grab-and-go food options provide quick bites that allow customers to refuel during a busy day, and Order Pickup services provide easy fulfillment options.