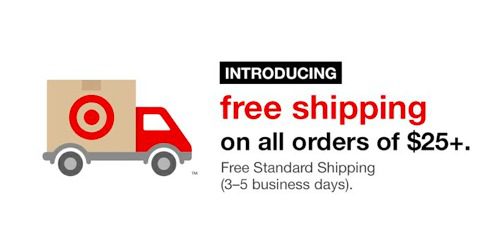 Due to the success of its free shipping strategy over the holiday season, Target has decided to lower its free shipping threshold. Now, all orders $25 or more will qualify for free shipping, a significant decrease from its initial $50 minimum.
"Lowering the free shipping threshold from $50 to $25 is one more way Target is putting guests first and making it easier for them to shop Target when and where they want," said Jason Goldberger, President of Target.com and Mobile. "Now, whether guests are stocking up or doing fill-in shopping, we've enhanced our year-round shipping offer to be one of the best in all of retail."
The new free shipping threshold is one of Target's myriad of free fulfillment options, which include: Free in-store pickup and free shipping for purchases made with Target REDcards.
Target saw significant e-Commerce growth during the 2014 holiday season. To support this surge in demand, the retailer has started shipping a portion of online orders from select stores. Early results have been positive, with company representatives outlining shorter shipping times and improved inventory management as benefits.
Later this year, Target will open two new online fulfillment centers in Memphis, Tennessee, and York, Pennsylvania.