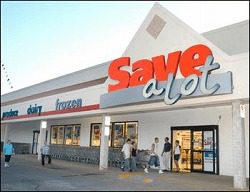 Ending more than a year of speculation as to who would buy Save-A-Lot, and for how much, Supervalu has sold the 1,368-store discount chain to private equity firm Onex Corp. for $1.365 billion in cash. As part of the deal, which is expected to close Jan. 31, 2017, Supervalu will provide supporting functions such as cloud services, merchandising technology, payroll and finance as part of a five-year professional services agreement.
Save-A-Lot operates 472 corporate stores and services and supplies another 896 licensee-owned stores across the country. Its stores are generally 15,000 to 20,000 square feet in size and reach five million shoppers per week, offering a limited selection of national and exclusive store brand products with a focus on fresh offerings. Save-A-Lot had accounted for approximately one-third of Supervalu's business, according to Supermarket News, but it has recently struggled with reduced SNAP benefits and product price deflation. The retailer also faces more aggressive competition from other discounters such as Aldi and Lidl.
Supervalu had announced more than a year ago that it was exploring a spinoff of Save-A-Lot as a private company that would have been controlled by Supervalu shareholders. As recently as September 2016, the chain's value had been pegged as high as $1.8 billion in reporting by Reuters. Supervalu expects to use net proceeds from the sale to prepay at least $750 million against its outstanding term loan balance, according to a company press release.
The sale moves Supervalu even further in the direction of operating as a wholesale-focused company, while providing Save-A-Lot with the opportunity to continue its development as a private company.
"As an independent company, we can more effectively focus on our growth and operating objectives," said Eric Claus, Save-A-Lot CEO in a statement. "Onex's experience and successful investment track record, specifically in corporate carve-outs, positions it as a strong partner for us, and we look forward to working with them."
The sale "is the result of a thorough process to maximize the value of the Save-A-Lot business and best position Supervalu for future success," said Jerry Storch, Supervalu's non-executive chairman of the board in a statement. "Supervalu is successfully executing on its long term strategic vision and positioning the company for continued growth and value creation."
Merger rumors have been rife in the supermarket industry recently, with many speculating that Kroger would make a bid for Whole Foods Market. Supermarket giants Ahold and Delhaize are in the process of merging, creating a combined chain worth approximately $28 billion.