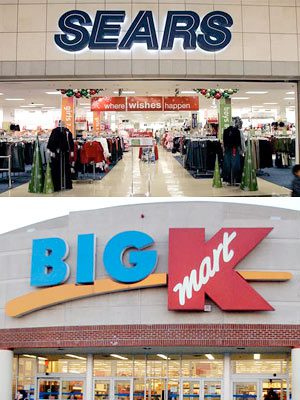 It's no secret 2016 was no picnic for the retail industry. And for Sears, the new year is shaping up to be just as grim. The company told employees that it will close 30 Sears and Kmart stores in early 2017, according to Business Insider.
Most of the stores will start liquidation sales on Jan. 6 and go out of business between late March and mid-April. Sears announced the closures internally, but did not publicly release a comprehensive list of the stores that would close.
This latest round of closures will bring the total number of stores that Sears has closed this fiscal year to more than 200. That means the retailer will have fewer than 1,500 stores left by early 2017, down nearly 60% from 2011, when Sears had more than 3,500 stores. Sears is shutting down stores to help stem losses from falling sales.
In the most recent quarter, Sears' revenue fell 13% to $5 billion and losses widened to $748 million from $454 million in the period last year. Same-store sales dropped 7.4%, including a 10% decrease at Sears stores and a 4.4% decrease at Kmart stores.