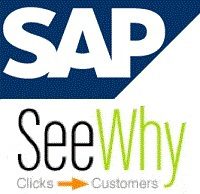 SAP AG has announced the intention to acquire behavioral marketing solutions provider SeeWhy to complement its hybris customer engagement and commerce platform. The transaction is subject to regulatory and other closing conditions. SAP expects to complete the transaction in Q2 2014.
SeeWhy solutions trigger real-time 1-to-1 marketing campaigns using email, advertising across desktop, mobile and social channels, based on individual customer behaviors. These solutions are designed to extend and differentiate the brand and stimulate purchase. The solution improves conversion rates at an average of 18% and has recovered more than $500 million annually in lost sales, according to a company press release.
The company's platform, SeeWhy CORE, uses real-time in-memory processing to calculate the best action of individual customers. The platform then triggers those actions across e-Commerce systems, email service providers, web analytics services and social networks via pre-packaged integrations.
"SeeWhy's solutions for automating personalized campaigns in real time are a natural fit with hybris and SAP and promise even higher returns for our customers' investments in the hybris omnicommerce platform," according to Ariel Lüdi, CEO of hybris, and Carsten Thoma, President and Co-founder of hybris, in a press statement. "This acquisition provides a fast-growing cloud business that will enable the next-generation platform for engaging customers and digital commerce."