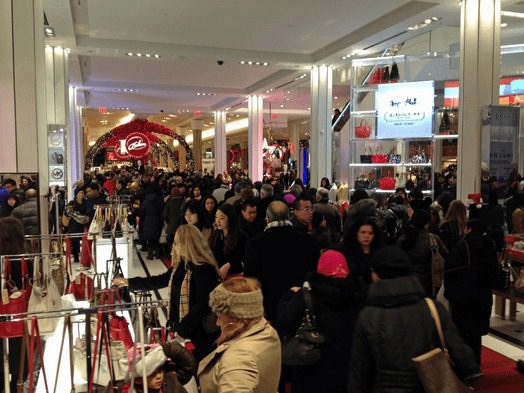 RetailNext has released its 2015 holiday predictions, forecasting a 2.8% year-over-year increase in November through December sales over 2014's totals. A 16.2% boost in digital sales serves as a primary driver in the total increase.
Although RetailNext expects in-store foot traffic to drop 8.1% during the same period, the in-store analytics software provider noted that conversion rates will rise 0.6%, with sales per shopper set to grow 3.5%.
Brick-and-mortar sales are expected to vary widely by retail segment, with increases in electronics, fast fashion, outlets and warehouse club stores. On the other hand, most other verticals are expected to experience a 7% to 8% decrease in sales.
"Today's shopping journeys require retailers to seamlessly share knowledge internally between digital, mobile and physical channels to optimize sales for the enterprise," said Shelley Kohan, VP of Retail Consulting at RetailNext. "Effectively implementing quick action strategies converging digital and physical channel experiences will build brand loyalty and drive sales, and more important than anything else, it will determine the retail industry's holiday winners and losers."
Kohan noted that more than ever, brick-and-mortar retailers need to focus on Thanksgiving week to build momentum into the rest of the season: "The event is a now a weeklong endeavor so planning accordingly will eliminate reactionary price reductions that diminish margins," Kohan added. "While Black Friday, Super Saturday and Cyber-Monday will still have starring roles, the best strategy to optimize sales will be with a well-laid out plan for the week."
Similarly, ShopperTrak predicted a 2.4% increase in brick-and-mortar sales through November and December. When it comes to holiday sales across all channels, the National Retail Federation expects sales in these two months to increase 3.7% to $630.5 billion.